As a leading analyst covering SodaStream International for Capital Ladder Advisory Group, I had the distinct pleasure of visiting with SodaStream's management team in Israel last week. For those investors who are new to the story of SodaStream (NASDAQ:SODA), the company is the world's largest manufacturer, distributor and marketer of Home Carbonation Systems. SodaStream products are sold in over 64,000 retail stores in 47 countries including home & electrical appliance stores, hypermarkets, supermarkets, department stores, convenience stores, DIY, specialty and "green" stores, water specialists & dealers, as well as online and in catalogs. The purpose of Capital Ladder's visit was to see, first hand, the operational aspects of SodaStream's unique manufacturing facility, to discuss the goals and objectives of the business and to achieve any updates on the current status of recently outlined goals and objectives for fiscal 2013. Our goals were fortunately realized on this trip and will be discussed further in our SodaStream Q3 2013 Quarterly Preview due out later this week. SodaStream will report earnings next Wednesday ahead of the opening of the trading day and investors are eagerly awaiting these results.
The business of SodaStream is very complex to investors, not because of the actual intricacies, but because of the lack of knowledge surrounding what really drives the business, the CO2. Tell me if you've heard this before; "Anybody can make a soda maker." Anytime you hear something like this, you know the individual doesn't understand the business of SodaStream and what it takes to grow the business in 47 countries. The fact is that the statement is absolutely true; anybody can make a soda maker. The problem is that not just anybody can create a CO2 distribution and supply chain the way SodaStream has over the last 7 years or so. The CO2 is the most essential piece of the business and operates as the lifeline keeping the entire system going. If you have not guessed it by now, this article aims to disseminate some of Capital Ladder Advisory Group's latest thoughts on this, most fundamental aspect of the SodaStream business.
It looks pretty simple at first glance right, just a simple CO2 canister that could be developed anywhere. Unfortunately, that's not the case at all as many would-be competitors have come to find over the years and current competitors are now finding out the hard way. SodaStream holds patents for various aspects of its CO2 and CO2 technology and the most important ones don't expire well into the next decade of this century. From the thick outer walls of the CO2 canister to the valve head, there are many unknown intricacies in between these two sections of the canister which house the trade secrets of how SodaStream's CO2 is not only unique, but at the head of the class if you will. When it comes to the bottom line, the goal of a soda maker being used is to achieve the same, if not better, level of carbonation that one would experience when drinking from a bottle of Coca-Cola (NYSE:KO) or Pepsi (NYSE:PEP).
The typical high/strong level of carbonation in a KO or PEP product is above 8 grams per liter. To date, SodaStream is the only at-home CSD soda maker company, which can lay claims to this feat of technological strength and know-how. The technology behind the construction of its CO2 canister combined with the technical components built into the valve and walls of the CO2 canister have propelled SodaStream's success in the newest beverage category, the at-home carbonated soft drink category.
In 2012, I had the opportunity to sample several soda makers from a few different companies, none more widely anticipated at the time than Primo Water Inc. (NASDAQ:PRMW) and its "Flavor Station" soda maker units. The company was distributing its products through BJ's Wholesale Club and Lowe's (NYSE:LOW) at the time, but nowhere else as both Primo Water and SodaStream were hoping to land a big deal with Wal-Mart (NYSE:WMT). In sampling the Flavor Station product, the first thing I noticed was that the level of carbonation achieved was quite weak. Of course, this weak level of carbonation also altered the taste of the beverage. SodaStream managed to land the big deal with Wal-Mart while the Flavor Station managed to be scrapped from the Primo Water product line in the coming quarters.
So what was Primo Water to do with all its left over CO2 components, which aimed to service its Flavor Station soda makers? The answer is simple, wait for another company who thought, "Anybody can make a soda maker" and partner with them to provide the same poor quality CO2 canisters that failed in the market place for your company. Cuisinart was just that company to partner with as they aimed to tackle the at-home CSD market late in fiscal 2012. Sadly, Cuisinart has performed just as poorly with the same incapable CO2 canisters used by Primo Water.
For those of you who follow Capital Ladder's coverage of SodaStream and have watched the progress of the Cuisinart soda makers over the last 12 months, we don't have to tell you that Cuisinart is performing just as poorly as Primo Water had with its attempt in the at-home CSD market. While Cuisinart has gained greater retail distribution of its product, the sell-through has shown itself to be extremely poor. Our latest channel sales data indicates that both Belk and Bed Bath and Beyond have taken permanent price cuts on the Cuisinart soda maker from $99.99 down to $79.99. We don't hesitate to offer that it is likely the Cuisinart soda maker system will witness further price reductions in 2014 if not an all-out clearancing of the product. The bottom line with Cuisinart, much like with its predecessor Primo Water, is that the CO2 just can't live up to the 8 grams or better per liter carbonation mandate.
Cuisinart saw this coming in early 2012, which is why they decided to take another approach with a new system, which is hand-held and uses CO2 disposable pellets. Besides the fact that these types of soda makers don't deliver the 8 grams per liter necessary to deliver a strong carbonated beverage, these hand-held soda makers don't allow the user to personalize the level of carbonation, which SodaStream systems allow the user to do. Now, while these hand-held systems are cheaper than the average SodaStream soda maker we still run into problems from the future cost comparison. SodaStream systems offer the user a liter of sparkling water at the cost of $.25/liter while these hand-held soda maker units, also offered by Hamilton Beach's Fizzini now at Target (NYSE:TGT), offer users a liter of sparkling water at the cost of $.90/liter.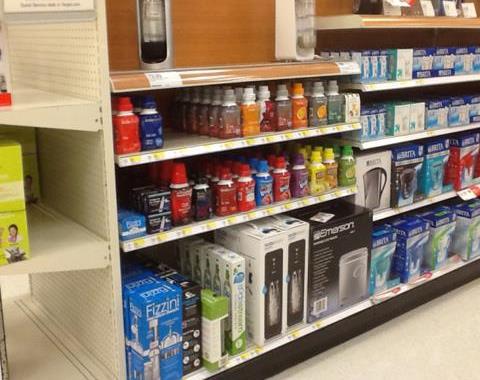 Those little pellets of CO2 simply cost too much to deliver a value-added proposition to the consumer when compared to a liter of the leading carbonated beverage or a SodaStream carbonated beverage. I think it is safe to say that SodaStream has a barrier to entry like many have not witnessed before in any specific consumer category and maybe that is one of the reasons the company is so misunderstood.
During my visit at SodaStream's headquarters and manufacturing facility in Israel, I discussed potential competition in the future with Green Mountain Coffee Roasters (NASDAQ:GMCR) while witnessing the CO2, heavily automated production line at work. What struck me most was the level of automation, which SodaStream has scaled into over the years with regards to CO2 production. (See Photo below)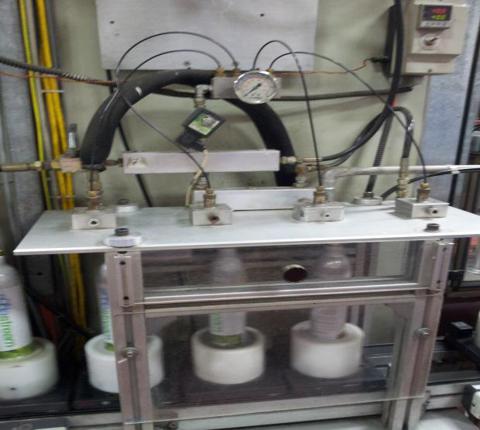 In talking with SodaStream's corporate officers, they noted the technology alone would cost would-be competitors like GMCR roughly $100 million in capex when all was said and done and the materials had been procured. I point this out for a few reasons.
The first reason is that GMCR has indicated its desire to enter the at-home CSD market and develop new platforms to deliver CSDs. However, if the necessary cost assumed above comes into play, then why is GMCR consistently reducing its capital expenditures each and every quarter? The first answer one might gravitate toward is that the CEO of GMCR, Brian Kelley, stated in a recent Investor/Analyst Day meeting that the company has cracked the code on carbonated soft drinks. I'm skeptical, but not ruling out the statement as factual just yet.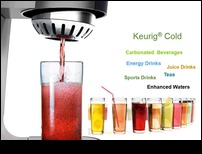 The artists' rendering above outlines what a potential Keurig Cold platform system could look like. Naturally, when pouring liquids into a glass of any kind, bubbles will tend to formulate. With that in mind, we are hesitant to assume that this device, which looks like a single-serve soda maker, actually is a single-serve soda maker. Additionally, when we discussed the carbonated soda maker offering by GMCR, management disclosed that they don't yet have a prototype to display for would-be buyers of the retail industry. I found it odd that Brian Kelley would make the claim that the company has cracked the carbonated soft drink code, display this artist rendering in their slide show presentation for investors and not yet actually have a soda maker prototype. Let's not forget about the continual lowering of capital expenditures, which one could argue have to increase with such product developments and technological needs.
But let's give Brian Kelley the benefit of the doubt and assume they have cracked the code on carbonated soft drinks and that they will use CO2 pellets as outlined in a patent filing. Well, we all know how well those pellets work now don't we? I think Mr. Kelley might want to meet with SodaStream's corporate officers to discuss a partnership of some kind before laying out the big bucks to go-it-alone. All one knows for certain regarding GMCR and its future venture into the at-home CSD market is that we will have to wait and see…while SodaStream adds to their current brand dominance and market share of course. Kind of funny that Brian Kelley couldn't crack the so-called "carbonation code" for Coca-Cola isn't it.
So what is SodaStream doing to further drive this extreme barrier to entry? Naturally the company is driving greater convenience and value for the consumer by distributing more broadly its 130L CO2 canister. During the most recent quarter ended, SodaStream expanded its CO2 assortment with several retail partners in the United States. Staples, Office Depot and Bed Bath & Beyond are all carrying the 130L CO2 spare canister at a cost of $49.99, which essentially lowers the cost/liter of a SodaStream carbonated beverage even more. SodaStream's CEO, Daniel Birnbaum, noted that it is highly likely that Wal-Mart would carry the 130L CO2 exchange and spare canister in the future to compete with its fellow retailers.
With SodaStream's business strength relying so heavily on its CO2 production and CO2 sales rate, the company has to maintain high levels of quality. In the photo below, taken at SodaStream's factory in Israel, an inspector is shown inspecting each and every single CO2 canister for quality control and safety purposes. SodaStream boasts a quality performance rate on its CO2 canisters of greater than 99.2%.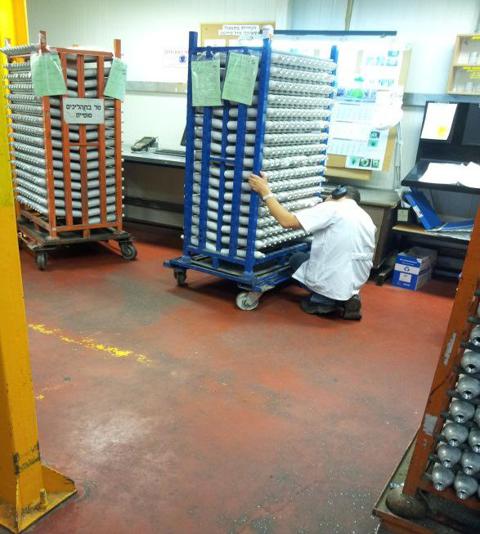 As investors can clearly see, CO2 is the most fundamental aspect of the SodaStream business and SodaStream has been able to do CO2 in a way never done before for the at-home CSD market. The fundamentals, which drive the SodaStream business, have been laid out before you and proven to be a fundamental barrier to entry in the at-home CSD market by consistent failures of its competition over the years. The examples offered via Primo Water and Cuisinart are just a few from the United States as there have been a number of companies which have tried to crack the CO2 code before and failed in doing so internationally. When Green Mountain Coffee Roasters attempts to enter the at-home CSD market, will they be the next company to fail? Only time will tell.
Disclosure: I am long SODA. I wrote this article myself, and it expresses my own opinions. I am not receiving compensation for it (other than from Seeking Alpha). I have no business relationship with any company whose stock is mentioned in this article.