As a kid, McDonald's (NYSE:MCD) was one of my favorite places to go. Their fries were always delicious, the Big Macs were cooked to perfection, and a chicken nugget value meal always hit the spot. Lately, however, I got to thinking. It's been at least 2 years since I've paid a visit to my childhood staple. Those chicken nuggets just don't sound as appealing. The Big Mac has lost its luster. But why? Did my tastes change? I've generally decided to eat healthier, but that's not it. A burger and fries still has its place at the top of my meal rotation. There must be something else going on.
Now, when I think of McDonald's, the first words that come to mind are "cheap", "quick" and "unhealthy". Which is fine. That's the image that McDonald's personified for a very long time, and it still became the #1 fast food restaurant in the world. However, as obesity rates in America have soared, and films like Super Size Me exposed just how unhealthy McDonald's could really be, the company has done a lot of introspection. Amid pressure from a multitude of lobbying groups, McDonald's has removed supersized portions from their menus, introduced fruits and salads, and experimented with many new menu options including oatmeal, lattes and lettuce wraps. This is all well and good, but it appears that in an attempt to be all things to all people, McDonald's has backed itself into a corner.
Not surprisingly, salads and fruits are not selling well. Salads make up a paltry 2.5% of all US sales. Nobody wants a side of apple slices with their Big Mac. Anyone I know who is remotely health conscious would never set foot inside of a McDonald's for a healthy meal in the first place. You go to McDonald's for that quick, cheap, consistent and delicious combo you expect. When the menu becomes so cluttered that it's hard to pick out what you want, there's a problem. When your favorite fast food restaurant starts suggesting lattes, apple and walnut salads, and a yogurt parfait with your meal, you may start to feel alienated and go to one of the local competitors, many of which are right down the street. As analyst Howard Penney stated in a recent WSJ article, "They've gone so far afield from their core menu that they're not really resonating with anyone." In fact, the menu is now so complicated that the average speed of service is 189.49 seconds, the slowest time ever recorded for McDonald's. (Source: WSJ)
Further, many of McDonald's customers are extremely price sensitive, restricting the company's ability to sell upmarket products. A line of premium beef burgers was a flop, and more expensive fish items have never sold well either. While a Taco Bell, Burger King, or Wendys customer may go into McDonald's, a Panera Bread, Potbelly's, or Chipotle customer may not. Any recent attempt to innovate has fallen flat. Nothing has stuck. Taco Bell has seen a huge amount of success with their new Doritos Taco. Wendys has seen its pretzel burger catch on. Burger King just made a big change to their fries (which have always been their weak point, in my humble opinion).
A revamp to the vaunted dollar menu at McDonald's, which represents between 13-15% of sales, is the latest attempt to push through subtle price increases. Called Dollar Menu and More, the dollar menu will now have price points like $1.29, $2.09, etc, with only a few items remaining an actual $1. I think this will further disillusion and confuse customers. To me, dollar menu means $1, not $2.19. (Source: CNN Money)
Has expansion run its course? How much brand growth is really left? Has the competition finally begun to unseat the king of fast food? Let's take a look at stock performance over the last 2 years in comparison to Wendys (NYSE:WEN), Yum Brands (NYSE:YUM) and Burger King (BKW).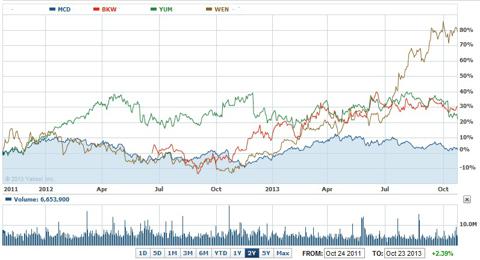 (Source: Yahoo! Finance)
Clearly McDonald's has been the laggard here. It seems like everyone else is getting better and innovating, yet McDonald's is stagnating. They are a truly global company, with 35,000 restaurants in 119 countries. Revenues were $7.32 billion last quarter, up 2%. The market cap is $95 billion. This is still an absolute behemoth of global commerce, yet it feels like they are a giant truck that's stuck in neutral. Existing customers are increasingly alienated, yet no new customers are being drawn to the restaurants. Recent surveys by Goldman Sachs and Janney Capital Markets confirm this sense of customer antipathy. Franchisees are starting to become inpatient. (Source: Financial Times)
The stock still has a strong dividend yield of 3.4%, and a PE of 17 is in line with historical averages although analysts are projecting 10% yearly EPS growth. There could be plenty of room to the downside upon a few misses, as a 14-15 PE would land the stock in the high 70s to low 80s. This is not a bad stock to own, per se, just not a necessarily good one right now.
On the 3Q conference call, CEO Don Thompson talked about a bifurcation of the customer base. The core McDonald's customer skews in their direction for value, first and foremost. They are generally on very limited incomes, don't care much about the nutritional value of their food, and order similar meals over and over again (eg #1 with a coke). The sooner McDonald's can get back to satisfying their core customers, the sooner the stock will get back on track. Without the apple slices.
Disclosure: I have no positions in any stocks mentioned, and no plans to initiate any positions within the next 72 hours. I wrote this article myself, and it expresses my own opinions. I am not receiving compensation for it (other than from Seeking Alpha). I have no business relationship with any company whose stock is mentioned in this article.