Coca-Cola (NYSE:KO), introduced in 1886, has paid dividends for 120 years and is recognized by 94% of the world's population. With 1.8 billion people enjoying a coke every day, it is a little harder to deliver the kind of growth you see in smaller companies but the company has managed to increase revenue by an annualized 8.5% over the last decade. Global scale and brand recognition, combined with a solid record of financial performance makes the shares a forever stock that investors can buy and not have to worry about market dips.
Death, Taxes and Coca-Cola Dividends
Other than death and taxes, the quarterly cash return on shares of Coca-Cola may be the only sure thing in life. The company has paid a dividend since Benjamin Harrison was President and has increased the cash payout by an annualized 7.5% over the last 50 years.
You get that kind of surety from very few investments.
Annualized sales growth of 6.7% may not be as exciting as that seen in smaller firms but Coca-Cola has been able to do it over the last 20 years and I have little doubt that they will be able to do it for at least 20 more. On top of the constant stream of dividends and sales growth, investors get a stock with about half the volatility as others in the market. Shares fell by 20% during the tech crash of 2000, half of the 40% decline in the S&P500. The shares also outperformed in the most recent financial crisis, falling 30% against a 50% market drop.

Click to enlarge
Teaching the World to Sing
The company has been able to keep its pace of relatively strong sales growth because it is constantly engaging markets and consumers across the globe. With 94% global product recognition, there are not a lot of untapped markets but the company can still build on market share and consumption through its brand campaigns.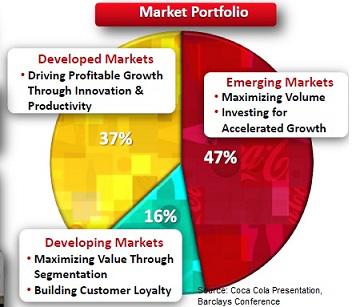 More than two-thirds of sales come from developing and emerging markets, with 37% of consumers under 21 years old. In China alone, management projects a 10% compound annual rate of growth to 2020 and an increase of $3.3 trillion in personal consumption. Africa may be an even bigger opportunity with projected 11% compound annual growth and seven of the top 10 fastest growing global economies.
Coca-Cola has been able to brand itself so well globally because it actively integrates its image into the local culture. Instead of using its international image, it attaches itself to local celebrities and events. The company has two huge events coming up in 2014, the FIFA World Cup and the Winter Olympics. In Brazil, Coca-Cola has teamed up with a local producer to record its "World is Ours," anthem. The company is also using local Russian talent to create an anthem for the Sochi Winter Olympics.
Is the stock too expensive?
Shares of Coca-Cola trade for a premium to the market at 20.5 times trailing earnings, above the 17 times multiple on the S&P500 and just above the 20 times industry multiple. Worse yet, shares are priced well above their own five-year average of 17.5 times earnings.
For stocks with a stable growth rate and an almost perpetual cash return, I like to look at the minimum expected return from fundamentals rather than the current price. I do this by combining the dividend yield by annual growth in earnings and then compare it across different investments. The method provides investors, especially those that invest regularly without timing the market, a way to make sure they are getting a relative long-term value.
Revenue has grown an annualized 6.7% over the last 20 years and 8.5% over the last decade with net profits just above 18% over the last few years. If we assume revenue growth of 7.5% on a 19% profit margin, we get 1.4% a year for a fundamental return. Adding in the dividend yield of 2.9% yields a minimum expected return of 4.3%.
Actual returns will vary depending on market sentiment and have been just under 9% annualized over last decade but a minimum return of 4.3% is still pretty good against other reduced-risk investments. It is above the 3.1% yield on U.S. corporate bonds and above the minimum expected return of 3.6% from shares of Exxon Mobil (NYSE:XOM). (20-year annualized sales growth of 7.3% on margin of 9% and a cash yield of 2.9%)
Shares have done well as the market recovered from the last recession and are priced above their longer-term multiple. Investors with a bent to value may be hesitant to buy the stock or add to a position. If your plan is to hold the shares for the extremely long-term, the best strategy given lower growth but an almost perpetual outlook, you may want to compare the stock to alternatives with similar risk. The company has an iconic brand and global recognition that should help it to virtually guarantee a continuation of its historic cash return and stable sales growth.
Disclosure: I have no positions in any stocks mentioned, and no plans to initiate any positions within the next 72 hours. I wrote this article myself, and it expresses my own opinions. I am not receiving compensation for it (other than from Seeking Alpha). I have no business relationship with any company whose stock is mentioned in this article.