CarMax (NYSE:KMX)is the largest used car dealership in the United States. CarMax is a holding company that operates two main subsidiaries namely CarMax Auto Finance and CarMax Sales. The company recorded a huge 17.5% growth in used car sales, almost equaling first-quarter's 19% gain.The recent ''cash for clunkers'' program resulted in a spate of heavy selling of used cars by their owners, which in turn raised inventory levels and pushed prices down.
Although the average prices of used cars have been heading south (partly due to higher inventory levels and partly due to the average age of used cars increasing), the bigger sales volumes have helped offset the tanking prices.
CarMax's revenues have been steadily improving. The firm's revenue in the second-quarter came in at $3.24 billion, a 17.7% improvement over the previous year's comparable quarter revenues. CarMax recorded improvements in almost all its business segments: Used Vehicles revenues were up 21 %, Wholesale Vehicles revenues rose 10% while Other Sales and Revenues were up 5%. CarMax's management attributed the huge growth in the used cars business segment to better access by consumer to credit facilities, as well as significant improvements in the company's execution at its stores. EPS in the quarter came in at $0.63 compared to last year's $0.49.
U.S. cars growing too old
The average age of cars on US roads is about 11.5 years, the oldest in 18 years. Auto dealerships are some of the key beneficiaries of a recovering economy, as consumers look to renew their aging cars. Industrywide new car sales have hit a five-year high, and the trend looks set to continue. Edmunds forecasts that the new car industry will grow at least 6% next year.
But used car sales are also growing too. In the first half of 2013, the segment grew 8.5% Y-o-Y, according to a report by Manheim Consulting. Although the economy is showing clear signs of recovery, it's actually moving at the speed of cold molasses. The anemic recovery pace has instilled a spending-conscious mind-set on consumers, and dealerships such as CarMax, are ironically, benefiting as a result.
The car dealership business
The leading car dealership stocks have been doing exemplarily well, even as the economic recovery continues being less-than-ringing. CarMax, Group 1 Automotive (NYSE:GPI), AutoNation (NYSE:AN) and Penske Automotive Group (NYSE:PAG) stocks have all quadrupled their share prices in the last five years, trouncing the gains made by the S&P 500 in a similar time-space by a mile.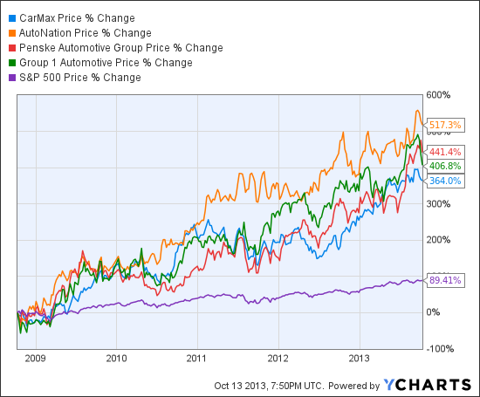 The share prices of the leading car dealerships are not particularly cheap at the moment, and this has led to mixed recommendations for the sector. Penske recently earned itself a new ''Buy'' recommendation by a cross-section of analysts after its earnings beat. Many investors consider CarMax's shares pricey at a 21.89 forward P/E ratio. Several analysts including Goldman Sachs recently pulled its previous ''Overweight'' rating on CarMax, based on valuation concerns. Capital IQ also joined the bears bandwagon and currently has a ''Sell'' rating on CarMax.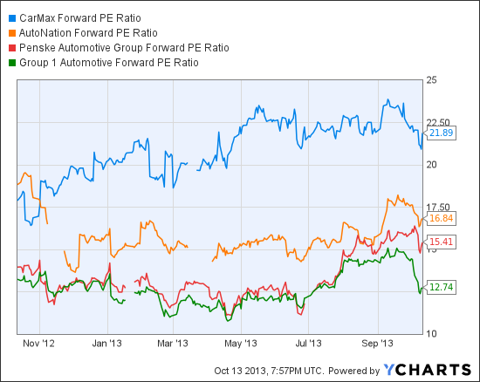 The four car dealerships are expected to realize 10% -19% revenue gains by the end of 2013, and to grow their sales by 6% -12% in 2014. Their EPS is expected to grow by 9% or more in 2014, thus extending the four-year run of profit growth. AutoNation recently announced that it sold more cars in the third-quarter than in any other quarter since 2007.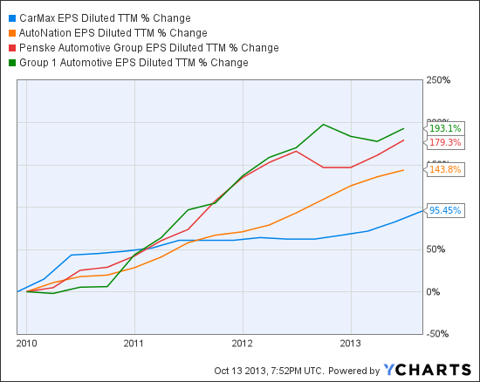 AutoNation's investors are waiting with bated breath to see what Edward Lampert, the billionaire investor with a 29% stake in AutoNation, after having sold down his 55% majority stake, will do with the remaining stake. Share repurchases have so far helped limit the damage on AutoNation. Lampert has reportedly used AutoNation shares worth $393 million to meet client redemptions from his ESL Partners hedge fund, which has a huge stake in Sears too. Investors have been pulling money out of the fund due to worries about Sears' continued underperformance. This has led to AutoNation sporting the highest buyback yield among the four auto-dealers.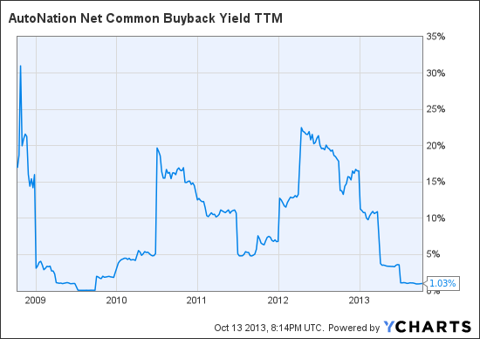 Penske happens to be the most diverse company of the four, and derives nearly as much revenue from new car sales as old. Half of its dealerships are located in the U.K., where rapid economic recovery is set to support the company's growth in the coming years. Penske recorded 11.5% growth in same store sales in 2012.
Group 1 offers its investors a good measure of protection against a glitch in sales with its large and profitable Parts Division as well as its Sales & Finance Division. Investors are a little wary of the stock due to the recent downgrades that it has received from leading analysts, particularly in the last two months or so. The downgrades have been precipitated by growing concerns that certain convertible notes might dilute its shares.
Conclusion
CarMax continues performing well among the leading auto-dealers, the recent downgrades notwithstanding. But most of its close peers are doing well too. The pricey auto-dealership stocks might be frustrating for investors looking for fresh entry points into the industry. Perhaps it might be wise for investors to wait a little and see if the prices will come down a bit before getting in.
Disclosure: I have no positions in any stocks mentioned, and no plans to initiate any positions within the next 72 hours.
Business relationship disclosure: Syncopy Research is a team of financial analysts. This article was written by Alex Kimani, the firm's senior analyst. We did not receive compensation for this article (other than from Seeking Alpha), and we have no business relationship with any company whose stock is mentioned in the article.