On September 23, Apple (NASDAQ:AAPL) announced that it had sold over 9 million units of its new iPhone models over the first weekend. With Apple setting hopes high, the key question that many investors are asking now is if Apple's 5s and 5c iPhones have been a success even after the 9 million sold in the first week. Though in recent quarters Apple hasn't met analyst expectations, with expectations running at an all-time high this quarter, all eyes are on Apple to meet earnings estimates.
Apple is expected to report FQ4 2013 earnings on October 28th after the market closes. The information below is derived from data submitted to the Estimize platform by a set of Buy Side and Independent analyst contributors.
The current Wall Street consensus expectation is for APPL to report $7.88 EPS and $36.809B revenue while the current Estimize consensus from 70 Buy Side and Independent contributing analysts is $8.10 EPS and $37.422B revenue. The magnitude of the difference between the Wall Street and Estimize consensus numbers often identifies opportunities to take advantage of expectations that may not have been priced into the market. In this case, we're seeing a decent sized differential between the Estimize and Wall Street numbers compared to previous quarters.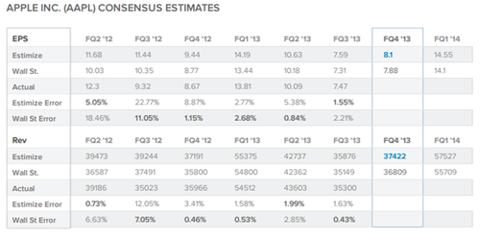 Over the past four months the Wall Street consensus trend for EPS has risen from $7.31 to $7.88 while Wall Street revenue expectations have increased from $35.149B to $36.809B. The Estimize EPS and revenue consensus have surged throughout the quarter with EPS going from $7.59 to $8.10 and revenue increasing from $35.876B to $37.422B.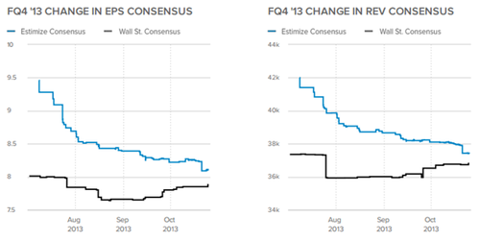 Over the previous 8 quarters, APPL has beaten the Wall Street consensus for EPS 6 times while beating the Wall Street Revenue consensus 5 times. Over the same time period APPL has beaten the Estimize EPS consensus 7 times and the Estimize Revenue consensus 5 times.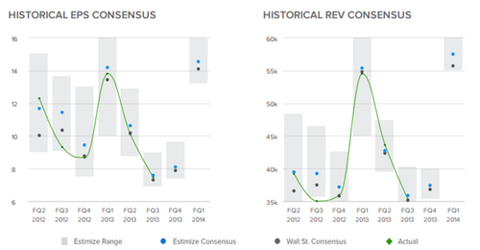 The distribution of estimates published by analysts on Estimize range from $7.40 to $9.63 EPS and $36.150B to $36.789B revenues. We're seeing a wider than normal distribution of estimates this quarter for APPL than normal. The size of the distribution of estimates relative to previous quarters often signals whether or not the market is confident that it has priced in the expected earnings already. A wider distribution signaling the potential for greater volatility post earnings, a smaller vice versa.
The analyst with the highest estimate confidence rating this quarter is Harmonic Reason who projects $8.74 EPS and $37.710B revenue. Estimate confidence ratings are calculated through algorithms developed by our deep quantitative research which looks at correlations between analyst track records and tendencies as they relate to future accuracy.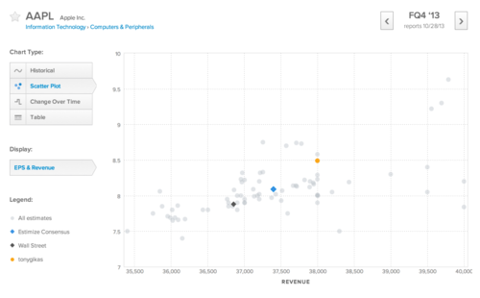 Apple recently updated its guidance for the top end of the $36B-$37B revenue range triggering a rash of revisions from Wall Street estimates, which the Estimize consensus was already at that level. These revisions coupled with the delta between the two data sets has caused Apple to see a good deal of momentum heading into the report. Based on the Estimize data we see a good chance that Apple exceeds estimates but given the updated guidance we don't foresee a huge outlier report.