By David Urani
Background
In 1981 Ely Callaway sold his vineyard for $14 million, and the following year he saw new steel-core wedges made by Hickory Stick, bought a stake in the company and renamed it Callaway (NYSE:ELY). He hired a club designer who helped to make a superior product. It became the first company to use computer milling for super flatness in 1986 and sales doubled from 1988 to 1989 on new steel woods, then doubled again in 1990 to $21.5 million while their drivers were #1 on the Senior PGA tour. By 1995 it was the No. 1 maker of woods and irons, and in 1996 became the world's largest club manufacturer. It acquired Odyssey in 1997. Ely Callaway retired in 2001. The company started sliding in 2008 due to recession, while brand image fell as well. However, Gold Digest was still giving the company the top medal count on annual product hot lists so it seems like the products were still good but perhaps marketing and overall focus fell. Callaway hired Chip Brewer last year to turn things around, and this year the company finally appears to be back on track.
Owns Callaway and Odyssey Brands (Callaway is 87% of sales)
Sales breakdown: 68% Hardgoods (clubs), 17% balls, 15% clothes/accessories
Geography: 45% US, 20% Japan, 15% Europe
Industry Overview
US Industry golf sales hit a floor and flattened just above $1.8 billion between 2009 and 2011, and just started to turn higher in 2012.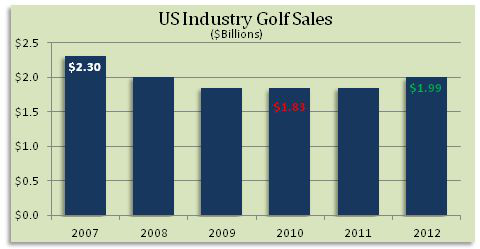 Within the industry, Callaway saw its market share drop significantly versus the likes of TaylorMade and Ping at the same time as the industry as a whole softened. Market share finally started to turn higher in early 2013 due to management initiatives, coinciding with higher brand rating.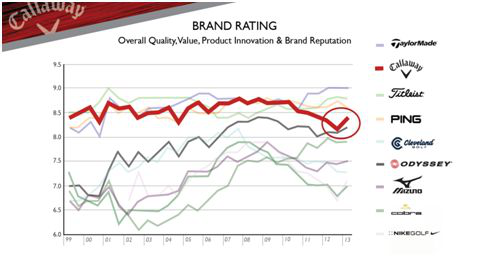 Q3 Results
Callaway's turnaround that finally started to take hold in Q1 has really picked up traction now, and we can see new management focus that began initially with Woods (through new X Hot products) spreading to its other products. It also changed the message of advertising from one of imagery to one of performance/distance. Management also notes better than expected market conditions during the quarter, including better weather. That led to a $0.10 per share beat on the bottom line along with revenue of $178 million that trounced the $152 million consensus estimate.
Revenue +20.3% to $178 million
Revenue in constant currency excluding discontinued operations +38%
Gross margin (non-GAAP) from 21% to 34%
Despite the increase in sales, operating expenses declined from $78.7 million to $75.6 million
Woods continued its momentum while the other club categories made big turnarounds, especially putters
Geographic (constant currency ex. discontinued ops): US +33%, Japan +47%, Europe +52%, Rest of Asia +45%
Management cites further market share gains
Despite the boost in sales and margins, the company still ran at a $13.0 million net loss
Guides FY13 EPS for range of -$0.03 to +$0.01, versus -$0.07 consensus; guides revenues $836 million versus $814 million consensus

We love the success Chip Brewer is having with the company's turnaround initiatives. They've refreshed the brand and introduced exciting new products that have brought Callaway out of a slump back and into the hearts of golfers. Combined with a better than expected golfing environment in Q3, those turnaround initiatives really appeared to shift into the next gear this quarter. Looking ahead there remains room ahead for the golfing industry to return to its former glory as sales remain below the 2007 peak. Likewise, management's turnaround efforts are still underway and in particular we expect the company to be turning profits next year. From a valuation standpoint ELY's total market cap stands at $597 million whereas just this year the company expects revenue of more than $830 million. Obviously continued net losses are a plausible drag on that valuation but the company appears to be pulling through. Likewise, Callaway has a heritage of past success being the No. 1 golfing brand; it's a stock that was as high as $18 in 2008, currently trading below $9 and may be teed up for more.
Disclosure: Our firm has held the stock since August 2013.