Lockheed Martin (NYSE:LMT) recently announced its 11th consecutive double digit dividend increase, in terms of percentage. To put that into context, only 10 other companies have done this according to the website that SA contributor (and the well respected) Robert Allan Schwartz maintains.
This article was written in 2012 when LMT announced its dividend increase last year. With the recent increase in mind, let us re-run the numbers.
New Dividend and Yield: The new annual dividend of $5.32 per share gives LMT investors a current yield of 4%, in spite of LMT's stock price surging along with the rest of the market. LMT's yield is significantly higher than Raytheon's (NYSE:RTN) and The Boeing Company's (NYSE:BA), which stand at 2.9% and 1.6% respectively.
Payout Ratio: The payout ratio currently sits at a very handy 59%. Income investors are usually comfortable until the payout reaches about 80%. Well known dividend stocks like Altria Group (NYSE:MO) come to mind as companies which pay about 80% of its earnings back to investors. The fact that the payout ratio is still low in spite of 11 consecutive double digit increases speaks about LMT's earnings potential and stock buybacks.
Dividend Growth Rate [DGR]: This is where Lockheed has been firing on all cylinders. The 5 year dividend growth rate right now stands at 18%. While this has been slowing down a bit (24% to 22% to 18% over the past 3 years), there is no doubt this is still impressive.
Not many income investors would complain about a dividend chart like the one below.
(LMT's Ballooning Dividend: click to enlarge)

(Source: YCharts.com)
Cash on Hand: LMT's cash on hand has gone down from almost $4B at the time of the previous writing to about $2.7B, which is still a significant number.

(Source: YCharts.com)
Buyback: Lockheed has a history of share buybacks as well, which adds more value to investors by reducing the share count. The graph below shows the share count has gone down from 400 Million in 2009 to about 320 Million in 2013. There were significant buyback announcements in 2009, 2010, and 2011 but one can see there has not been any reduction of late. One can attribute this to the uncertainty over the defense spending. However, given their history if there is a share price pullback, LMT should announce a buyback.

(Source: YCharts.com)
Extrapolation: Even though LMT has been very impressive in its dividend growth so far, one cannot expect the same super growth going forward. This is already evident as the 5 year DGR has slowed from 24% to 18% over the past 3 years. Also, the past decade was very lucrative for the defense companies with the Government spending being lavish on multiple wars.
Hence, the table below assumes a "depressing" 8% DGR for the first 5 years and a 6% DGR for the next 5 years. Even then, the yield on cost is expected to at least double.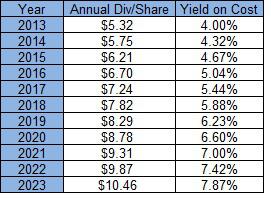 Conclusion: LMT has so far been a great story for income investors over the past 10 years and the numbers presented above hint it will continue to be so at least in the near future.
The company's biggest red flag is the dependence on Government's defense spending. Boeing, for example is dominant in commercial aviation as well whereas Lockheed is pretty much depending on the military spending for its revenues. At the same time, it is hard to imagine the Government being too harsh when it comes to cutting down the defense budget. Plus, LMT has shown it can still keep the numbers growing impressively by cutting costs.
Bottomline, we believe LMT will keep surging in Robert Allan Schwartz's list by increasing dividends by double digit percentage over the next few years. This stock will remain in our watch list to buy on any significant pullback.
Disclosure: I am long MO. I wrote this article myself, and it expresses my own opinions. I am not receiving compensation for it (other than from Seeking Alpha). I have no business relationship with any company whose stock is mentioned in this article.