By G.C. Mays
While it came as no surprise that revenues would be a problem this quarter, the 30 percent drop in third quarter revenues reported by Potash Corp. (NYSE:POT) were sobering in my opinion. The company was in the unenviable position of kicking off third quarter earnings season for an industry that is widely expected to report both slack revenues and earnings. Investors are wondering out loud whether this is a blow-off representing the bottom of the cycle or is more pain in their foreseeable future.
Potash
More than two-thirds of the nearly 30 percent drop in overall 3rd quarter revenues is due to falling potash sales. Combine a 24 percent decline in sales volumes with a 28 percent decline in price and you get a quarterly revenue decline of more than 40 percent to $539 million as customers continue to delay purchases. Gross margins fell off a cliff, diving to 42 percent from nearly 58 percent during the same period a year ago. Production cuts played a huge role in this. The more potash the company can mine during a given period spread over their fixed cost structure, the lower the unit cost and the higher the gross margin. Potash Corp. was simply unable to lower its cost per ton in Q3 as it curtailed 600K tons of potash production.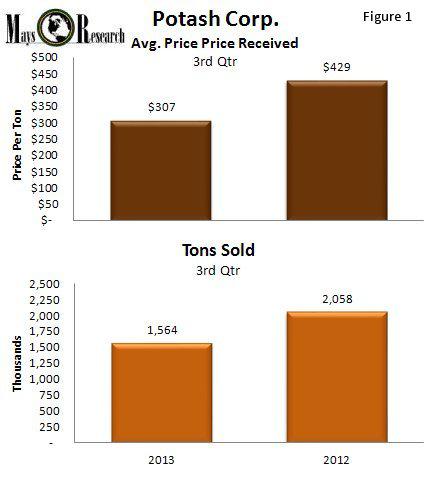 Both price and volume declines were across the board as both international and North American potash sales were off last year's pace. CEO Bill Doyle said in the company's press release, "The most recent quarter can best be characterized as a predictable response to an unpredicted event". The breakup of the Belarusian Potash Company, the joint venture controlled by OAO Uralkali (OTC:URALL) and Belaruskali was in fact unpredictable, but the fall in fertilizer prices was not. U.S. Dealer reluctance to take on inventory risk at the end of 2011 marked the beginning of falling global prices. As figure 2 Illustrates, fertilizer prices have fallen since the end of 2011.
Falling crop prices have added to this reluctance and had a strong influence on all fertilizer prices. The breakup in Russia did accelerate the most recent fall in prices. However, in my opinion, prices had already headed south as we moved towards harvest season. In the U.S., phosphate prices have held up, but only slightly better than globally, down 18 percent year to date compared to 20 percent globally. Revenues in the company's phosphate operating segment illustrate this.
Phosphate
Revenues of $488 million during Q3 are 14 percent off the company's 2012 pace of $568 million. Unlike the potash segment, higher year over year production allowed the phosphate segment to offset in part the 13 percent year over year price decline. This limited the decline in gross margins to 5 percent in Q3. Since Late 2011, gross margins have tumbled from 26.8 percent to 16.4 percent in Q3.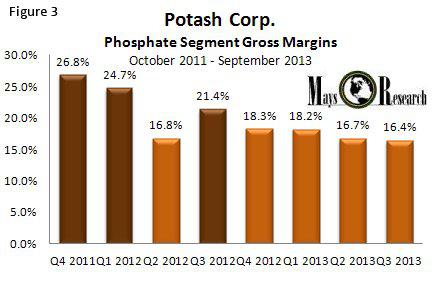 U.S. phosphate inventories had remained pretty well aligned with production until they recently begin to rise above year ago levels as well as the five-year average. While the market has been abuzz about the breakup of the Belarusian Potash Company, the breakup of the 39-year old Phosphate Chemicals Export Association or PhosChem has garnered little attention. PhosChem served as the phosphate export arm for Potash Corp and Mosaic (NYSE:MOS). Mosaic's allocation of revenues had expanded to 93 percent as Potash Corp. had begun selling its phosphoric acid directly to customers. Additionally, Mosaic saw an advantage in supplying phosphate to India from Saudi Arabia and not Florida.
When you see joint ventures begin to disband like this, the industry is moving from cartel like "co-operation" to competition, which generally means lower prices than if the companies had continued to cooperate. It is also indicative of previous high prices, which attracted many smaller new entrants to enter the market and cause prices to adjust.
Nitrogen
The company's nitrogen segment did not fare any better in Q3. Revenues of $493 million were down nearly 20 percent compared to Q3 of 2012. However, for the year sales are only down 1.2 percent. The difference is that year to date, ammonia prices are actually 4 percent higher versus the 28 percent decline compared to a year ago in Q3. Overall, sales volume was also higher; however, ammonium nitrate was the only nitrogen product that saw higher sales volumes and this was with firm prices.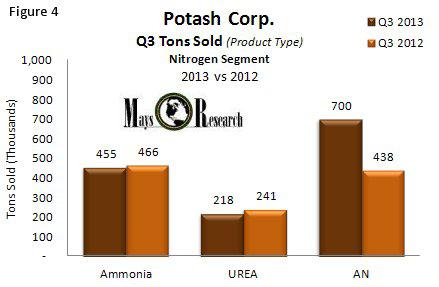 At an average price of $226 per ton, the price had only dropped 5 percent in Q3 while prices for ammonia and urea slumped 28 and 25 percent, respectively. Exports from China have hurt urea prices in 2013. Additionally, the Chinese Government is considering lowering or perhaps even eliminating the export tax on urea in the future. This would place more pressure on urea prices going forward.
Is The Bottom in Yet?
Technically, the stock has held up well since it tumbled to close just below $29 a share on August 2. A recent closing price of $31.06 leaves a cushion as we move through the fertilizer producer earnings period, which will end on November 6 when Agrium (NYSE:AGU) reports. Each announcement until then will place pressure on the stocks in the industry. In my opinion, the industry and stocks are in a process of bottoming. Belarus recently signed a 3 year potash deal with Sinofert Holdings (OTCPK:SNFRY) of China. Sinofert is one of Potash Corps strategic investments so it will benefit indirectly from the transaction. However, Canpotex negotiations with China are not likely to close until early 2014. Once that is complete, investors may find out where the bottom is.
Disclosure: I have no positions in any stocks mentioned, and no plans to initiate any positions within the next 72 hours. I wrote this article myself, and it expresses my own opinions. I am not receiving compensation for it (other than from Seeking Alpha). I have no business relationship with any company whose stock is mentioned in this article.