The reasons for the incredible rise of the ETF industry are numerous. Intra-day trading, enhanced transparency, and efficient tax features are all features that investors, individual and institutional alike, have embraced in record numbers. But perhaps the main reason why ETFs have attracted hundreds of billions of dollars in assets in recent years is the competitive cost structure they offer relative to traditional actively-managed mutual funds. Investors frustrated with the inability of most active managers to consistently beat their benchmark have been fleeing mutual funds in record numbers, embracing indexing as a strategy and ETFs as a preferred investment vehicle.
But investing in ETFs doesn't necessarily mean that investment expenses are kept to a minimum. Expense ratios among ETFs can vary significantly, and several of the most popular ETFs charge more than twice the fees of otherwise similar products. Reducing a portfolio's weighted-average expense is a relatively easy task that can have a big impact on the bottom line. With the holiday season in full swing, we've channeled our inner Ebenezer Scrooge, identifying five ETFs found in most investor portfolios that can be replaced by low-cost competition:
All Cap Equities: Sell IYY (0.20%), Buy SCHB (0.08%)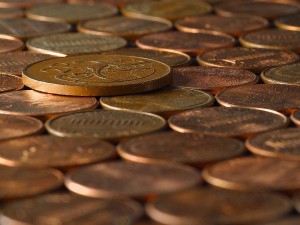 For investors who elect to go the "one stop shop" route for the domestic equities component of their portfolio, all-cap equities can be a powerful tool. ETFs in this category strive to offer exposure to the entire U.S. market, spreading holdings across all sectors and market capitalizations. The iShares Dow Jones U.S. Index Fund (NYSEARCA:IYY) features a relatively low expense ratio of just 20 basis points, but this still makes it more than twice as expensive as the ultra-cheap SCHB, which currently holds down the top spot on the list of cheapest U.S.-listed ETFs.
The indexes underlying IYY and SCHB (the Dow Jones U.S. Index and Dow Jones U.S. Broad Stock Market Index, respectively), aren't identical, but they're pretty darn close. SCHB recently had about 1,500 individual holdings, while IYY has almost 1,400. If IYY is at the core of your portfolio (it has almost $600 million in assets), it may be time to consider a lower-cost alternative.
Total Bond Market: Sell AGG (0.24%), Buy BND (0.14%)
Bonds may not be as sexy as equities, but they play a critical role in the portfolios of most investors, providing a level of current return and smoothing out overall performance when stock markets experience a bumpy ride. At the core of many investors' fixed income holdings is the iShares Barclays Aggregate bond Fund (NYSEARCA:AGG), which seeks to deliver the return of the Barclays Capital U.S. Aggregate Bond Index. With allocations to Treasuries, high-quality corporate bonds, and securities issued by agencies of the U.S. government, total bond market ETFs such as AGG offer well-diversified fixed income exposure.
AGG has accumulated some $11 billion in assets, making it almost twice as large as an ETF that tracks the same benchmark for nearly half the cost. The Vanguard Total Bond Market ETF (NYSEARCA:BND) has an expense ratio of just 14 basis points (compared to 24 for AGG), and offers significantly more depth of exposure. BND has over 4,000 individual holdings, while AGG has just 265.
Mortgage Backed Securities: Sell MBB (0.34%), Buy VMBS (0.15%)
For many investors, MBS is still a dirty word, a reminder of exactly what started the recent global economic downturn. Others who waited until the market's anxiety pummeled mortgage-backed securities into the ground may have seen MBS ETFs deliver some big gains in recent months. For investors outside of Washington DC, investing in MBS through ETFs makes sense – the risk inherent in these securities is tempered (somewhat) by spreading exposure across multiple securities.
The Barclays Capital U.S. MBS Float Adjusted Index is designed to measure the performance of U.S. agency mortgage-backed pass-through securities issued by Ginnie Mae (NASDAQ:GNMA), Fannie Mae (OTCQB:FNMA), and Freddie Mac. There are multiple ETFs based on this benchmark, with the iShares Barclays MBS Bond Fund (NYSEARCA:MBB) being by far the most popular. But MBB is also the most expensive, charging well more than twice the fees of a Vanguard funds designed to replicate the exact same benchmark. The Vanguard Mortgage-Backed Securities ETF (NASDAQ:VMBS) has an expense ratio of just 0.15%, making it one of the cheapest fixed income ETFs available. By comparison, MBB charges 0.34%.
Commodities: Sell DJP (0.75%), Buy DJCI (0.50%)
The rise of the ETF industry has "democratized" commodity investing, making this asset class available to more investors than ever before. With concerns over inflation spreading like wildfire, many investors have taken advantage of the numerous exchange-traded commodity products offering exposure to natural resources ranging from copper to gold to wheat.
In addition to single-commodity products, there are a number of diversified commodity ETFs available to investors. One of the most popular such funds has been the iPath Dow Jones-UBS Commodity Index Total Return ETN (NYSEARCA:DJP). Linked to the Dow Jones-UBS Commodity Index Total Return, this ETN offers exposure to nearly 20 different commodities, including oil & gas, agriculture, livestock, and precious and industrial metals.
If you're an investor in DJP (it has more than $2 billion in assets), there's a cheaper alternative that tracks the exact same index. The recently-launched E-TRACS DJ-UBS Commodity Index Total Return (NYSEARCA:DJCI) charges only 50 basis points, a savings of 0.25% compared to DJP.
Emerging Market Equities: Sell EEM (0.72%), Buy VWO (0.27%)
Just like any experienced gift-giver, we saved the best for last. As the "home country bias" has faded, many U.S. investors have made significant allocations to emerging markets in their portfolios. And the majority who have done so through ETFs have bought into the iShares MSCI Emerging Markets Index Fund (NYSEARCA:EEM), which tracks the MSCI Emerging Markets Index and charges an expense ratio of 0.72%.
Why EEM has almost $20 billion in assets more than the Vanguard Emerging Markets Stock ETF (NYSEARCA:VWO) is a mystery to us. Vanguard's emerging markets ETF also tracks the MSCI Emerging Markets Index, but does so for a whopping 45 basis points less than EEM. VWO also has lower tracking error, making it a much better option for achieving emerging markets exposure. If any of the $37 billion dollars currently in EEM belong to you (or your clients), you're paying a lot more than you should be.
Game of Basis Points
The relative savings of the ETFs highlighted above may seem negligible to some investors. But avoiding what Vanguard Group founder Jack Bogle calls the "tyranny of compounded costs" can have a major impact on the size of your portfolio over the long term.
If football is a game of inches, investing is a game of basis points, and the opportunity to add a few dozen basis points to your net return without any additional risk is an opportunity too good to pass up. Consider two hypothetical portfolios composed of the ten ETFs discussed above (ETFdb Pro members can access our complete set of all-ETF model portfolios

– if you're not a Pro member yet, sign up for a free trial or read more here):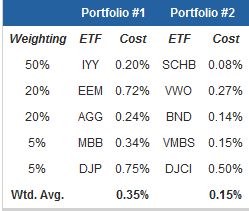 If Portfolio #1 bears a strong resemblance to your holdings, it may be time to start looking for a new financial advisor (we've got a list of ETF friendly advisors to help). The changes outlined above are relatively simple changes that can make a significant difference on the bottom lines of investors in it for the long run. If both of these portfolios returned 10% a year before expenses, the effects on a $1 million portfolio become very large very quickly:

There's no shame in being a Scrooge this time of the year – at least not when it comes to your portfolio. Twenty basis points a year can buy presents for the whole Cratchit family.
Disclosure: No positions at time of writing.