One thing I have noticed over the past three months and especially since the successful launch of the new 5S & 5C versions of the iPhone in Mid-September is that the skeptics of Apple (NASDAQ:AAPL) seemed to have disappeared into the woodwork. Of course, a stock chart like the one below tends to silence pessimists.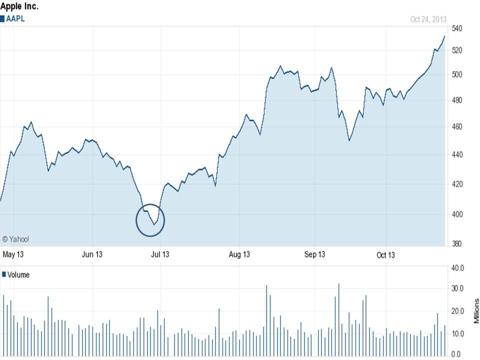 Click to enlarge
(Click to enlarge)
I don't know about most Apple investors, but I kind of miss all the "Has Apple lost its Mojo?", "Why Apple misses Steve Jobs" and "Is Tim Cook the right man to lead Apple?" stories that were a hallmark of the financial press as the shares fell from a high of $705 a share in September of last year to under $400 a share in late June.
The contrarian in me always feels better when a major investment of mine is treated to at least some skepticism. Other than the recent rapid rise in the stock price, the pessimism around the stock has receded for three major reasons.
Evolutionary turns out to be "good enough"
One of the main themes of Apple skeptics prior to its recent rise in the stock was that the company could not innovate without Steve Jobs. Furthermore, they postulated Apple needed to develop a killer product in a new category (iTV or iWatch as examples) to get out of its funk.
This thesis turned out to be embarrassing false. What the company needed to do was to have a successful launch of the new versions of its iPhones where it gets ~70% of its revenue from. Apple did add a neat new fingerprint sensor, a faster chip and longer battery life with the new 5S; but none of these new features could possibly be called "revolutionary".
However, they turned out to be enough to ensure that Apple had the most successful launch of any of its versions of the iPhone to date. Initial weekend sales came in at 9mm versus the consensus calling for 5mm to 6mm units. Even better is it appears the new iPhones and the huge volume of sales they are driving will allow the company to arrest the recent year long decline in margins. This has caused analysts to up earnings estimates and raise price targets over the last month. It turns out "evolutionary" change isn't so bad after all.
Shareholder friendly moves took hold
The company's decision to greatly increase its stock repurchase program to an S&P company record $60B and raise its dividend payout some 17% earlier this summer turned out to put a nice floor under the stock. The company had great timing in pricing its $17B debt offer issued to accelerate its stock repurchase program as well. It closed right before rates starting to rise.
This increased dividend yield and huge stock buyback put a nice floor under the stock and helped to reverse the negative sentiment that had been hovering over the stock for some nine months since the stock started falling from its all-time highs last September.
The company has almost repurchased $20B of its float since it announced the new program which will start showing in earnings per share gains in the quarters ahead. The stock has also attracted noted activist Carl Icahn who has a substantial stake now and is pushing for a $150B buyback plan. There is no way the money manager will get his entire wish, but his consistent agitation probably means the company will continue to buy back stock at an accelerated rate.
Eventually value won out
Warren Buffett has said many times that in the short run the market is a voting mechanism but in the long term it is a weighing mechanism. As the stock fell to under $400 a share, the value was just too cheap to ignore. At the stock's bottom the shares were selling at ~6x forward earnings once the company's huge cash hoard was taken out of the equation.
This was just too cheap for the leader in the smartphone space. Even though growth of smartphones is slowing somewhat, it is still increasing at a nice clip. This is a far different story that the PC industry which is experiencing a secular decline. Pricing Apple at a lower earnings valuation than major PC makers like Dell (NASDAQ:DELL) was just not rational on a longer basis.
So where do we go from here?
The stock is up more than 30% since its lows in late June. It is probably overdue for at least some sort of consolidation phase. I have sold some out of money covered calls this week on the position I added under $400 a share a few months ago.
Longer term I see the stock hitting $600 a share over the next 6 months or so. This is around 10x forward earnings after equating for net cash which I think is more than reasonable given the company's prospects, dividend yield and revenue growth. However, investors might need to wait for the anticipated deal with China Mobile (NYSE:CHL) and/or solid earnings results when the company reports next week before we take the next leg up.
Disclosure: I am long AAPL. I wrote this article myself, and it expresses my own opinions. I am not receiving compensation for it (other than from Seeking Alpha). I have no business relationship with any company whose stock is mentioned in this article.