Small and mid-sized commercial banks have been slaughtered over the past year, even while their Goliath counterparts like Bank of America (NYSE:BAC) and Citi (NYSE:C) have rebounded. Investors have leaned on the "too big to fail" doctrine, seeing that the US government is determined to save the big banks no matter the cost. Conversely, smaller banks have been shut down by the FDIC with greater frequency and it's not unusual to see a few bank closings every Friday. It's precisely because of this dynamic that many regional and community banks still offer very attractive returns for investors.
The truly great thing about bank investing right now is that you can find attractively priced banks with almost any kind of risk profile you'd like. You can find high-risk/high-reward plays; you can find banks with medium-risk profiles that still might provide relatively high rewards; you can even find some relatively safe plays that could still double from the current price. Given the risks with banks, my strategy has been to buy a basket of banks with different risk profiles, so that I can be "wrong" a few times and still come out ahead overall.
My last article dealt with Green Bankshares, which I view as a medium- to high-risk play that is (a) in a safer region and (b) offers strong earnings potential in the future relative to the stock price. For this article, I am moving in a different direction and will focus on West Coast bank, Pacific Continental (NASDAQ:PCBK); which is one of the best capitalized banks I have come across.
Criteria
Before getting started, here are the attributes I've been searching for in commercial banks:
Lower to moderate leverage when compared to other commercial banks

Less exposure to the huge bubble markets

Revenues are increasing, staying the same, or not significantly declining

Market share is increasing; potential for acquisitions

Interest margins are strong/increasing

Inside ownership

Insiders have made significant buys

Strong earnings potential, and most importantly,

Stock price offers very highly favorable risk-reward balance
Realistically speaking, I don't expect many banks to meet all my attributes. I simply want them to meet as many as possible. Pacific Continental definitely has exposure to bubble markets. I've mostly veered away from West Coast banks for that very reason, but there are a few exceptions: I like West Coast banks that can potentially capitalize on the bank failures in the region. PCBK looks to be in as good shape as any bank in the region to take advantage of opportunities that might arise.
PCBK could also potentially meet most of the other criteria I set out; though, it should be noted that insider transactions have been mixed for PCBK with several insiders buying in recently; but also one insider liquidating his shares. The one insider liquidating seems to do this on a regular basis, so I am not necessarily viewing it as cause for concern, but it is something to watch.
Overview and Attributes
Pacific Continental Bank is headquartered in Eugene, OR and operates in three metropolitan markets: Portland (including SW Washington), Eugene, and Seattle. PCBK makes loans to community-based businesses, professionals, and not-for-profit organizations. It also deals with construction and mortgage loans.
Loan concentration for PCBK is laid out in the chart below: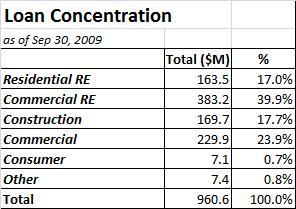 Despite exposure to a few bubble markets, it is very well capitalized and has reasonable stats. As of September 30, 2009, here were its vitals: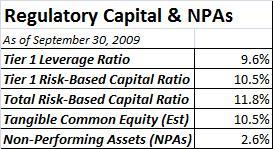 Also see the balance sheet below, as of 9/31/2009 below: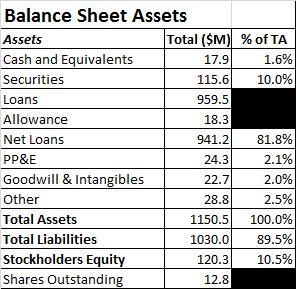 However, PCBK closed a secondary offering in October, which has modified their picture a bit. A chart showing the projected balance sheet post-offering is below: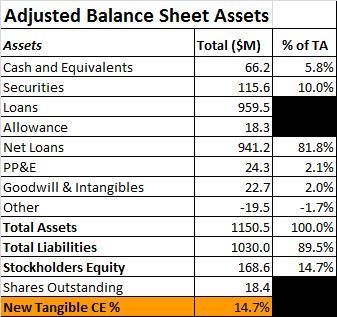 Given their strength, it is unclear why they would need additional capital unless they wanted it for potential acquisitions or growth opportunities. 14.7% tangible common equity is extremely strong, even for a West Coast bank, so unlike the banks I analyzed in my previous two articles, a bank failure in the near term seems very unlikely for PCBK.
Among the things I like about PCBK (on top of its strong equity position) is its deposit growth and interest margins. The following chart shows deposit growth over the past few years and also over the past few quarters: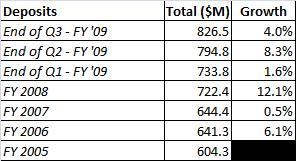 PCBK's growth in deposits is impressive and there's no reason to believe they can't grow more given their strong capital position in an unsure environment. What might be more impressive, however, is PCBK's net interest margins, which have hovered above 5%. For the most recent quarter, PCBK had a net interest margin of 5.19%.
Nonperforming assets for PCBK in the most recent quarter were 2.62%, which is an improvement from the previous quarter's figure at 2.85%. While this is not spectacular, it is still fairly good considering their geographic locale. Taking a look at some publicly-traded banks in the Oregon and Washington state area, PCBK's portfolio compares favorably.
In the chart below, I have found the non-performing assets (by percentage) of a few banks in the region, including a few that made Calculated Risk's "Problem Bank List". The problem banks are highlighted in the grayish tint at the bottom: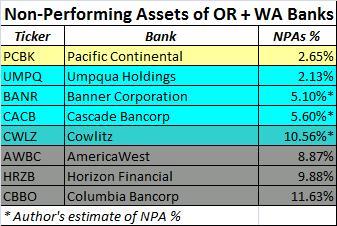 As an aside, Cowlitz looked like it should have been considered a potential problem bank but I did not spot it on the list (might have been an oversight). Of the banks on the list, PCBK compares very favorably to almost all of them, only trailing behind Umpqua (NASDAQ:UMPQ).
To do a little bit more balance sheet analysis, here is a chart I cooked up showing PCBK's "Adjusted Tangible Common Equity" in the event that their allowance for loan losses increases or decreases. Keep in mind that this is based on my projected post-offering figures --- not actual figures:

Click to enlarge
If we assume that somewhere between 3% - 4.25% represents an accurate level for the provision, then that gives PCBK adjusted TCE of about $7 per share. Currently selling at about $11.25, that would give it a Price/ATCE ratio of about 1.6; which is to say, I don't want to give you the impression that PCBK is dirt cheap right now. It's not. Rather, my belief here is that based on earnings potential, equity cushion, and growth potential, PCBK might be a good buy. We'll take a look at earnings to get a clearer picture of valuation.
Earnings Potential
The following chart shows PCBK's earnings over the past three fiscal years, plus the first three quarters of '08 and '09.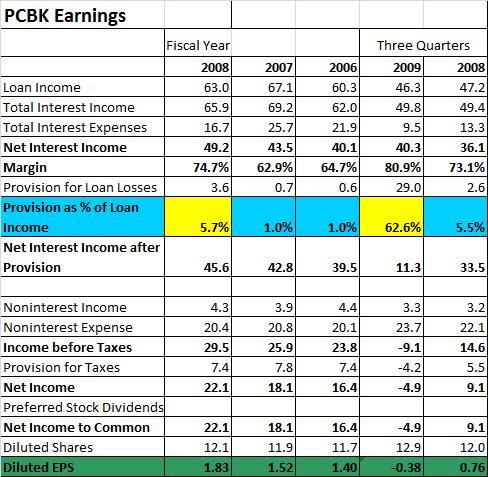 The next chart shows my attempt to create a "normalized earnings" scenario for PCBK. I semi-arbitrarily selected one column as my "conservative – likely" estimate to base things off of (in green):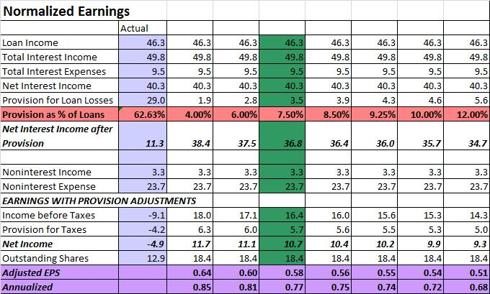 Click to enlarge
My green column might be overly conservative, but I'd prefer to be somewhat conservative with West Coast banks. Even beyond that, there is a major flaw with the above chart. Due to the recent equity offering, I used the projected post-offering number of shares outstanding to calculate earnings potential. Yet, PCBK has more cash now and can either use it to expand operations or possibly acquire other banks. This might mean that my earnings potential projections are very much on the conservative end of the spectrum.
We could try to compensate for the weakness in the above chart by simply reverting to the pre-offering number of outstanding shares. This would not be completely unrealistic due to the fact that the offering only took place in October and was not reflected in previous financial results that my models are based off of. The results are below: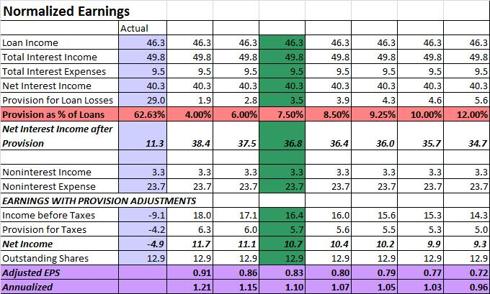 Click to enlarge
There are potential flaws with this methodology, too, in that it could overestimate PCBK's profitability due to an increasing level of conservatism among banks and higher capital requirements that could potentially come from the Feds. Alternatively, if PCBK were able to acquire a failed bank at a cheap price, it might possibly significantly underestimate PCBK's earnings potential. We should keep both of those factors in mind.
One final chart that I created shows PCBK's operating cash flows over the first three quarters of '08 and '09: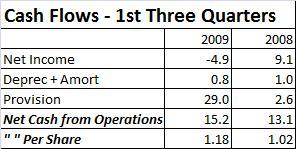 I don't know that these cash flow charts I have been creating are that insightful, but it at least reminds one that operating cash flows for a lot of the banks are still quite good.
Valuation
Valuation is tricky for PCBK due to all the factors I have mentioned in the article. If we want to play things conservatively and assume that PCBK will only have minor growth in revenues and will make no future acquisitions, I would value it as follows:
Low-end Probable = $12
High-end Probable = $25
Best guess in current environment = $19
On the other hand, we could also give some value to PCBK's future prospects. What if they do acquire another bank cheaply? Then, maybe they could have future earnings upwards of $1.25 - $1.50. In which case, it might not be unrealistic to see the bank's true value upwards of $25 per share.
Conclusions
In sum, my current view on PCBK is that even if they did absolutely nothing with the new capital they have raised, the bank would still be worth significantly more than it is worth now; possibly 40% - 80% more. But there's also this upside potential lingering because of the growth and acquisition potential. Don't be surprised if PCBK eventually manages to gobble up a failed bank or two in the Pacific Northwest region.
For the long-term, I like Pacific Continental. I bought in at around $10 for both my personal account and a small fund I manage. It is part of my basket of banks and my basic hypothesis is that I can invest in some riskier banks and offset the risk by investing in some safer banks, as well. PCBK fits onto the safer end of the bank spectrum, but they also offer some strong fundamentals and good growth potential. All the same, I would warn that no bank is completely "safe" and there are significant risks with all the West Coast banks right now; but PCBK is significantly safer than many of its counterparts.
If one wanted to take advantage of the value in the banking sphere right now, without buying into very risky companies, PCBK is a very good option. I believe risk-reward is moderately favorable for the long-side. If the price were to dip below $9 again, it would be highly favorable in my view.
Disclosure: Author is long PCBK and GRNB in both his personal account and a fund he manages. Author holds a smaller long position in BANR.