"Precious metals are regaining their role as the ultimate reserve asset. That means many, many more people are buying and holding these metals that at any time in the last 30 years." - Peter Schiff
Precious metals, such as gold, silver and platinum serve several purposes. These metals are used for industrial and retail use, which vary among the metal. They are also used as a reserve asset (that is often a central bank component) as well as a hedge against inflation. Finally, precious metals, especially physical gold, are used as a general investment against currency depreciation and poor government policy.
In many developing nations, such as China and India, gold is seen as a desired investment in a similar regard to an IRA account would be to a U.S. Citizen. China and India control most of the physical gold demand in the world, with over half of the purchases stemming from jewelry demand.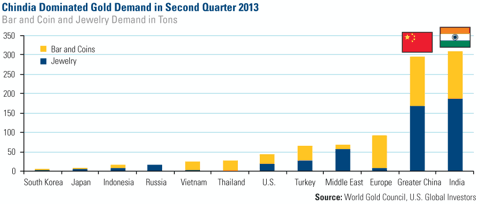 Click to enlarge
(Click to enlarge)
What is interesting to note is that in the U.S., and especially Europe, most of the demand for physical gold in the second quarter of 2013 was for investment purposes rather than jewelry. It could be said here that wealthier nations increase physical gold investments. In this regard, future Chinese and Indian economic growth could signal an increase in the percentage of their respective physical gold investment demand versus jewelry, thus increasing total demand.
Alongside the increase in the demand of gold is an increase in the demand of other precious metals. In the current market, there are several ways to invest in such demand without the cost of actually owning or storing the metals.
When Do Precious Metals Rise In Value?
Commodities rise due to inflation, speculation and a pickup in industrial demand. When the global economy is booming, the aggregate industrial demand of metals increases accordingly. With rising incomes, investment increases in physical precious metals, also, jewelry demand rises accordingly. Finally, with rising prices in commodities, speculation will further drive demand.
How To Invest In Precious Metals
According to Peter Schiff, "every investor should have at least 5-10% of his portfolio in physical precious metals." While it is common to hear that range, investors must consider which metals to purchase upon the agreement of metals participation.
Throughout history, the clear precious metals leader has been gold. It is likely the preferred holding for most investors, however diversification among other precious metals can offer increase exposure that may result in higher cumulative returns of a metals portfolio. In this regard, silver and platinum are also popular investments within the precious metals group.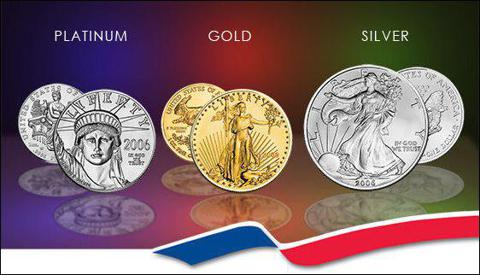 Click to enlarge
(Click to enlarge)
Rather than own coins, which are susceptible to sales commissions, storage constraints, premium pricing versus actual value and the potential of theft, investors can purchase these metals through ETFs that charge a small fee to hold them in a vault. Also, this method allows liquidity with low commissions versus actual metal sales, as investors only pay any applicable trading fees.
Below are three ETF options available today to purchase gold, silver and platinum. The following options offer low-cost, diversified precious metals exposure with ample liquidity.
1. iShares Gold Trust ETF (NYSEARCA:IAU)
The iShares Gold Trust ETF backed by physical gold and only charges an expense ratio of 0.25%. This fund trades over 4.3 million shares a day and holds assets of $7.58 billion. While there are other physical gold funds available, IAU offers the lowest expense ratio and ample liquidity.
2. ETFS Physical Silver Shares ETF (NYSEARCA:SIVR)
The ETFS Physical Silver Shares ETF copies the iShares Silver Trust (NYSEARCA:SLV) strategy by owning physical silver, however it has an expense ratio of 0.30% (versus SLV at 0.50%). SLV is a smaller with close to $390 million in assets, the fund has ample liquidity of over 114k shares per day traded. Until SLV lowers their fee, SIVR is the top choice here.
As noted below, gold and silver (silver measured by SLV as SIVR opened in 2009), are up approximately 100% since mid-2006, however silver has been more volatile. Also, both metals are discounted heavily today from the 2011 peak prices.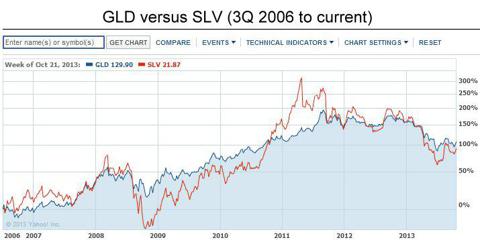 Click to enlarge
(Click to enlarge)
3. ETFS Physical Platinum Shares ETF (NYSEARCA:PPLT)
The ETFS Physical Platinum Shares ETF is the only ETF that holds physical platinum. This fund has an expense ratio of 0.60% with assets of nearly $780 million. The fund has a lower level of liquidity versus GLD and SVIR, with just over 30k shares per day in volume.
Precious Metals YTD Performance
As noted below, all three precious metals are down for the year. PPLT is down less than GLD and SIVR, showcasing relative strength and the value of diversification in this down market.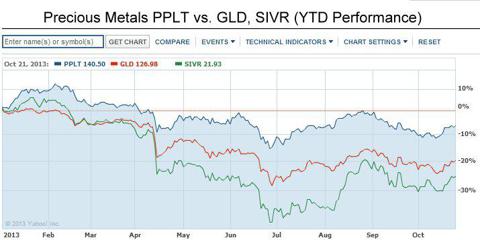 Click to enlarge
(Click to enlarge)
To learn more about the alternate gold and silver ETFs available today, please read "Peter Schiff's Anti-U.S. Dollar Picks."
Disclosure: I have no positions in any stocks mentioned, and no plans to initiate any positions within the next 72 hours. I wrote this article myself, and it expresses my own opinions. I am not receiving compensation for it (other than from Seeking Alpha). I have no business relationship with any company whose stock is mentioned in this article.