Microsoft (NASDAQ:MSFT) earnings beat estimates and show promise for a very strong year. Revenues rose 16% to a record $18.5 billion and the company reported net income of $5.2 billion or $0.62 per share.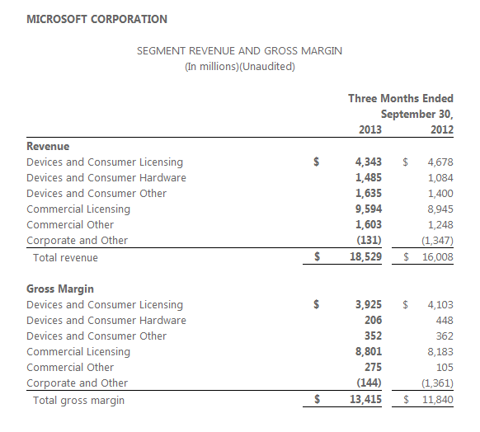 Click to enlarge
This was the first report in Microsoft's new reporting format and shows revenue and gross margin mix in a way that facilitates more transparent analysis. While commercial revenues of $11.2 billion and margin of $9 billion continue to dominate the income statement, there are signs of modest growth in the Devices and Consumer segment with revenues totaling $7.5 billion, up 4% year over year. Microsoft broke out Surface sales for the quarter of $400 million which it reported showed growth in both revenue and units sold from the prior quarter. Given the release of the new Surface 2 and Surface Pro 2 products did not take place until the quarter had ended, these data suggest the original Surface tablets were not dead on arrival as many had thought.
Growth in the commercial side was a tidy 10% to $11.2 billion fueled by over 100% growth in Microsoft's cloud-based business which includes Azure, CRM Online and Dynamics.
The Christmas quarter should be interesting. By then Microsoft should have completed the acquisition of the Nokia (NYSE:NOK) handset business and the results should provide an insight into the progress Windows Phone is making, particularly with the very attractive new 6-inch Lumia phones and the first Windows 8 "phablet" now in the market. As it stands, most reports show Windows phone gaining share in world markets with share in Europe approaching 10%, not far behind Apple.
For Q2 Microsoft's guidance adds to $24 billion revenue which implies earnings of $0.65 to $0.71 per share. Despite revenue increasing on the order of 12%, net income is likely to decline slightly owing to higher operating expenses (including costs of closing the acquisition of the Nokia handset operations) and a shift in mix to lower margin hardware.
Microsoft Corporation Q2 outlook
($ billions)
Revenues
Low
High
Devices and Consumer Licensing
$ 5.20
$ 5.40
Devices and Consumers Hardware
$ 3.80
$ 4.10
Devices and Consumers Other
$ 1.70
$ 1.80
Commercial Licensing
$ 10.70
$ 10.90
Commercial Other
$ 1.70
$ 1.90
Total revenues
$ 23.10
$ 24.10
Cost of goods sold
$ 7.90
$ 8.30
Operating profit
$ 15.20
$ 15.80
Operating expenses
$ 8.50
$ 8.60
Pre tax income
$ 6.70
$ 7.20
Income taxes
$ 1.34
$ 1.30
Net Income
$ 5.36
$ 5.90
Earnings per share
$ 0.65
$ 0.71
Microsoft will beat that guidance if Windows 8.1 has any traction and the new Intel processors prompt a corporate upgrade cycle for PCs as IT managers take advantage of strong 2013 earnings to get the upgrade expense into the current year.
The Microsoft of today is an exciting and vigorous competitor determined to stake out a meaningful piece of all computing markets and will be a contender not only in enterprise where it is clearly the dominant player but also in consumer and mobile where it has had little to crow about until recently.
I am long MSFT through options.
Disclosure: I am long MSFT. I wrote this article myself, and it expresses my own opinions. I am not receiving compensation for it (other than from Seeking Alpha). I have no business relationship with any company whose stock is mentioned in this article.