Marriott International Inc. (NYSE:MAR) has provided a better guidance for the fourth quarter of 2009. The company now expects to add around 38,000 rooms to its worldwide lodging system by the end of 2009. This is up from its previous guidance of gross addition of 33,000 rooms for 2009, which was provided along with its third quarter earnings release in October 2009.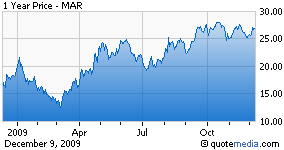 Marriott has also updated its guidance by two percentage points for systemwide revenue per available room ((REVPAR)) outside North America. The company now expects its systemwide REVPAR to decline by 14% - 16% in the fourth quarter of 2009. However, systemwide REVPAR inside North America is expected to remain in line with the previous guidance of a decline of 13% - 16%.
Marriott has also provided a better outlook for its timeshare business. The company now expects its contract sales of timeshare intervals in the fourth quarter of 2009 to be somewhat better than the previous guidance of $185 million to $190 million. This improvement will be driven primarily due to the realization of a $37 million gain from its note sale securitization during the current fourth quarter and better-than-expected rental profits.
Marriott's third quarter earnings of 15 cents per share were two pennies above the Zacks Consensus Estimate. Results were also above the company's guidance of 9 cents to 14 cents issued at the time of the second quarter earnings release on July 16, but were down 55% year-over-year.
Results reflected higher-than-expected revenue as a result of sustained leisure demand driven by promotional activities such as rate cuts. Combined with this, the company experienced the benefits of several cost-control initiatives implemented over the last few quarters.
While the operating environment in the lodging sector has continued to deteriorate in the recent months and we expect RevPAR to keep falling in the near term, we believe that the company's strong development pipeline will provide some relief and offset the anticipated declines. Also, we note that declines in RevPAR have moderated of late.
With some early signs of economic recovery, we believe that Marriott is better positioned to command a premium room rate relative to the overall lodging industry.