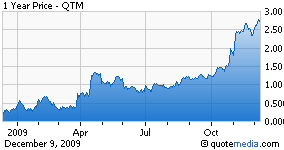 Quantum (NYSE:QTM) is a global storage device maker specializing in backup, recovery and archiving technologies. Of late, the company has begun to reap the benefits of the cost-cutting strategies management implemented over the course of last year. In the second quarter of FY2010, QTM delivered strong bottom-line results and other impressive milestones including the highest non-GAAP gross margins in 10 years, the highest operating margins in 9 years and the most profitable Q2 in 9 years.

The most compelling aspect to QTM's turnaround story resides with its DXi7500 disk-based backup product line, targeted at the data de-duplication market. For those unfamiliar with the term, data de-duplication is a technology that eliminates the need to store unnecessary data, allowing users to reduce disk requirements for backup while also reducing network bandwidth requirements for replication of backup data. In non-Geek-Speak terms, it allows a company to back up its most important commodity, its data, more efficiently and economically, thus extending the size and value of its data center.
To say data de-duplication is one of the hottest areas of growth in technology right now is an understatement. According to a study (pdf file) conducted by TheInfoPro Research which interviewed 245 IT Storage Professionals at large Fortune 1000 enterprises, "The backup and recovery process has not kept pace with the sheer growth of data or the increased requirements for higher data protection… As a result, many storage organizations are redesigning their existing backup architecture." The study also found:

Nearly 80% of Fortune 1000 organizations either have plans to deploy de-duplication or have done so already.



De-duplication also tops the list of TheInfoPro's Backup and Recovery Technology Heat Index, which gauges the immediacy of user needs and planned spending for each technology.
For further validation, one but need look to EMC Corp.'s acquisition of data-storage and de-duplication company, Data Domain (DDUP), which took place earlier this year after a prolonged takeover battle with NetApp Inc. (NASDAQ:NTAP). Ultimately, EMC spent over $2B, or over 8x 2008 revenues, to wrest DDUP from NTAP. This represented a $500M premium to NTAP's $1.5B offer. Say what you will, but when a storage bellwether like EMC is willing to pony up an extra $500M for a de-duplication specialist like DDUP, there is obviously great growth potential to this market.
Quantum has begun to see a positive response to its new "de-dup" product line, the DXi7500. In the second quarter, QTM closed three deals in excess of $1M and logged a number of large follow-up orders from pre-existing customers. Additionally, the company also experienced significant demand for its larger DX17500 systems and published a major software release which dramatically increased its replication capabilities and overall system performance.

Keep in mind, however, a higher multiple is contingent upon the company's continued success in making inroads with its product-line. One outstanding issue at this time is EMC's takeover of DDUP. QTM should see its de-dup sales from EMC decline as the storage company begins to phase out QTM products in favor of its own DDUP solutions. While this is something of a concern, QTM's management has solid experience in the industry and remains confident they can make new inroads with other OEM partners.
While QTM's revenues were down year-over-year in its most recent quarter, Q2, the company still beat the consensus by $11M. The bottom-line also saw marked improvement. QTM surprised the Street by reporting $0.10 EPS, beating estimates by over 100%. Analysts have subsequently raised their FY10 estimates from $0.17 to $0.29 a share. Needham & Company raised QTM to BUY and lifted its price target to $3.50 a share, citing its improved balance sheet and cash flow, enhanced profitability and its compelling disk/software portfolio.
Not surprisingly, the good news surrounding QTM has not gone unnoticed by the market. After almost doubling in price after its stellar earnings report, Quantum is trading at fresh 52 week highs. Even with the stock at new highs, if company management can continue to perform on par with their recent efforts, we think that $4-5 is a reasonable target longer term. With this in mind, we are continued buyers of the stock on pullbacks as we patiently wait for the market to give QTM a higher valuation as its de-dup business garners more attention.

Disclosure: Long QTM