The Dow Jones STOXX® Global Select Dividend 100 Index tracks the performance of the 100 highest-yielding dividend companies in North America, Asia/Pacific and Europe. Of the 40 stocks from North America, 28 are from the U.S. and the rest are from Canada. Some of the Canadian components in this index include Enbridge (NYSE:ENB), Bank of Montreal (NYSE:BMO), Trans-Canada Corp (NYSE:TRP), and National Bank of Canada [NA.TO]. In this post, let's take a quick look at the US companies represented in this index.
The 28 US stocks in the DJ STOXX Global Select Dividend 100 Index and their current dividend yields are shown below:
click to enlarge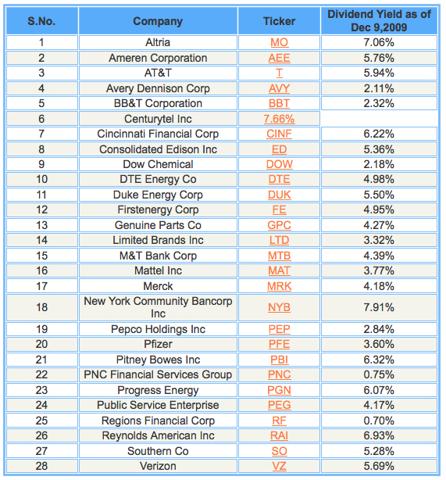 Altria (NYSE:MO), CenturyTel (NYSE:CTL) and New York Community Bancorp (NYB) offer over 7% dividends now. Altria is a favorite stock among many US dividend investors. It expects to maintain a dividend payout ratio of about 75% of net earnings. A $10,000 investment in the stock on January 2, 1970 would have grown to $516,533.33 for a return of 22,216.14% based on the closing price yesterday. The original 277.78 shares would have increased to 26,666.67 split adjusted. (Source: Investment Value Calculator at Altria's IR site).
New York Community Bancorp Inc (NYB) is offering 60 Million shares of common stock at $13.00 per share to fund the acquisition of the failed Cleveland, Ohio-based AmTrust Bank. PNC and Regions Financial (NYSE:RF) are not great dividend payers at this point. Utilities such as Duke Energy (NYSE:DUK) and Consolidated Edison (NYSE:ED) offer yields above 5%.