Something strange happened two days ago. All of a sudden an update was available in the App store of my brand new Macbook Air. I was asked to update to Apple's new OS called Mavericks, or otherwise know as OS X 10.9. I don't remember ordering or paying for anything, but there is was, Apple (NASDAQ:AAPL) for the fist time was giving its OS for free to everyone with a Mac machine at no extra charge.
As noted by many commentators, this might be a move against Microsoft (NASDAQ:MSFT). Some say this is a tactic to steal users from the Windows world. I don't think so. While this might indeed be a very good move for Apple to gain market share, I do not think it's something deliberately targeted against Microsoft.
To begin with, Microsoft runs about 91% of the worlds computers. While Apple has the possibility to increase its market share (as it has been doing over the years) by a lot, saying that Apple can threaten Microsoft in the operating system market is nonsense. Besides, there are tons of machines that use Microsoft's operating system in the enterprise that Apple can't even begin to scratch. So I don't think Apple will be the company to take over Microsoft's market share any time soon, at least on the PC desktop side of things.
However getting free software updates is a very good reason to buy a piece of hardware any way you look at it. That is especially the case with Apple, that builds machines that last a lot longer than Wintel machines.
Apple makes money from selling hardware. Software is a very small part of its revenue. So if people know they could buy a computer and get unlimited free updates, that is a very good incentive to buy a Mac. People are not expected to pay OS updates for their tablets, why should they be charged anything extra for their desktop computer?
So will this help Apple to sell more PCs? Yes, I think it will and by a lot.
In fact very few people know that Apple's PC market share in the U.S. has been going up for quite some time now.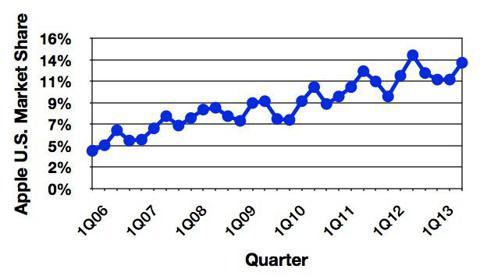 Click to enlarge
(*Apple's U.S. Market Share Trend Gartner)
If you look at the above chart, Apple's PC market share has almost tripled since 2006. And as I see it, Apple will continue to gain market share in the future, simply because it makes very good machines, and Free OS updates is an additional incentive.
Is Apple already number one in PC sales worldwide?
Well depending on your definition of a computer, the answer is yes and no.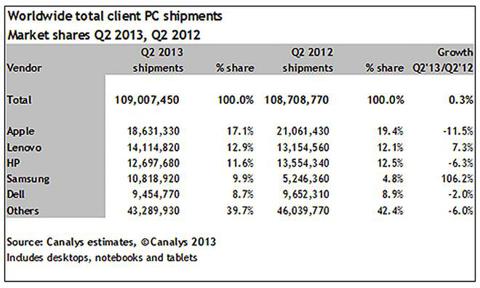 Click to enlarge
If one considers PCs to be desktops and tablets alike, then according to Canalys (that does) for Q2 of 2013 Apple shipped more PCs than anyone else and commands 17% of the global market. In fact, Dell (NASDAQ:DELL) and Hewlett-Packard (NYSE:HPQ) combined only slightly beat Apple in shipments.
The bottom line
If you add it all up, paying for the OS and updates over the life of any machine is not pocket change. Microsoft for example is asking as much as $200 for a brand new copy of Windows 8.
And while I think Windows 8 is a great operating system, I would prefer to buy a machine in which the OS and any updates thereafter cost me nothing, thus not having to think about being up to date with the latest version.
While Apple does not make as much money selling PC's as it does selling other devices, if it manages to double its PC market share in the U.S. from current levels, then PC sales might become as important to its product mix as the iPhone is today. And giving its OS away for free is the right step in that direction.
Disclosure: I have no positions in any stocks mentioned, and no plans to initiate any positions within the next 72 hours. I wrote this article myself, and it expresses my own opinions. I am not receiving compensation for it (other than from Seeking Alpha). I have no business relationship with any company whose stock is mentioned in this article.