Copper prices are no longer indicative of global economic activity; they will remain under pressure due to oversupply and high worldwide inventory levels.
Introduction:
Copper mining first began in Cyprus during the Roman Era, and the metal was historically used to manufacture ornaments and monuments. Over the years, however, it has been adopted across various industries due to its high electrical and thermal conductivity and easy malleability.
Its most important modern applications are in the construction industry, and in the manufacturing of electrical appliances, industrial machinery, automobiles and various other consumer products. Due to its widespread usage, its demand was, until recently, considered an important indicator of global industrial activity.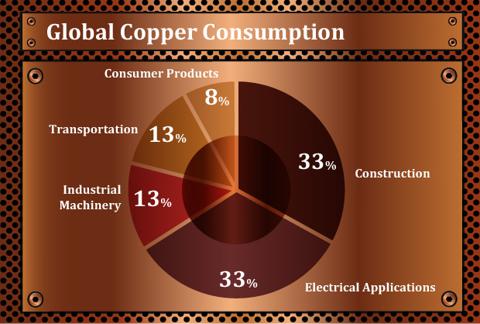 Click to enlarge
Copper occurs naturally as an ore, which is extracted from underground and surface mines. Once extracted, the ore is crushed and ground for refining and smelting.
The largest copper ore deposits are located in South and Central America, with almost 42% of the world's copper ore output produced in this region. On the other hand, China, with over 100 copper refineries and more than 30 copper smelters, is the largest copper refining region, which accounts for around 29% of the global refined copper output.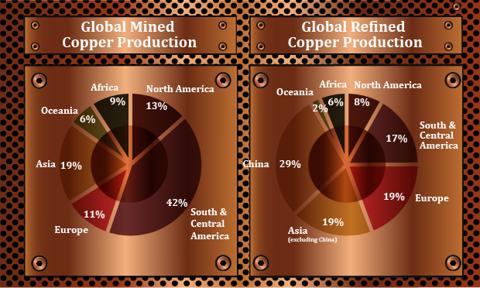 Click to enlarge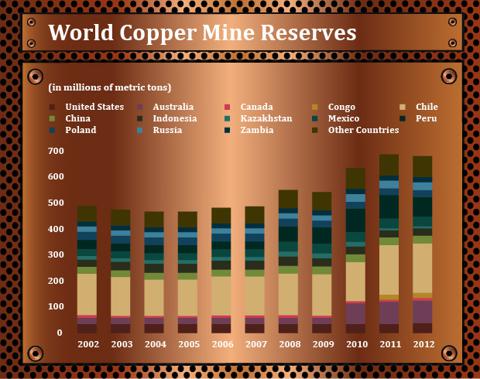 Click to enlarge
Demand Drivers:
Copper is used in the construction industry for plumbing and electrical wiring, which are installed before the completion of an under-construction building. Construction activity accounts for nearly 49% of total refined copper demand in the US, and indexes that track construction activity are reliable indicators for copper demand.
The US Architecture Firms 'Work-On-The-Boards' Billings Index, a leading indicator for US construction activity, was up 4.3% month-over-month (MOM) and 6.5% year-over-year (YoY) in August, indicating an increase in demand for copper over the same period.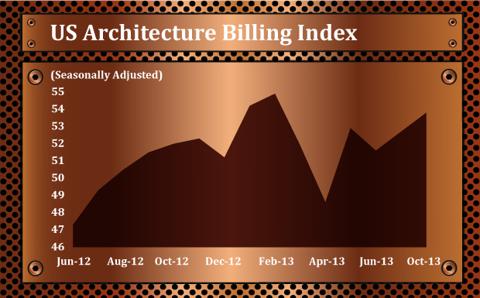 Click to enlarge
Similarly, building and construction activity accounts for 9.4% of China's total demand for refined copper. However, although the number of completed construction and residential spaces in China has been increasing consistently, it has recently been doing so at slower rates.
For example, residential and commercial space completed in China was up by 1.4% and 4.6% respectively in August 2013 over the same month last year. Compared to the double digit rates at which new residential and commercial spaces were being completed every month till February 2013, this is a significant slowdown in activity, and indicates slowing demand for copper going forward.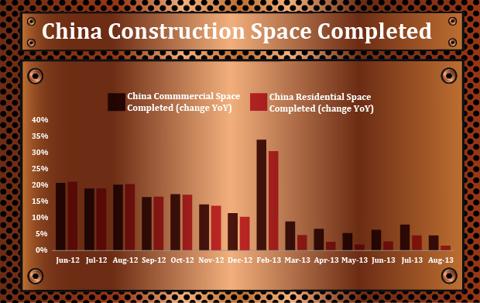 Click to enlarge
Apart from its applications in the construction industry, copper wire is also used in the manufacturing of electrical appliances and motors, and in tubular form in the manufacturing of air conditioners, refrigerators and other electrical appliances, including television sets and computers.
China produced 1.6% more color TV sets and 7.9% more computers in August over the same month last year, while the US produced 6.9% more computers and electronic equipment in August over the previous year.
The automobile industry is also a major consumer of copper products. 2013 has been a good year for the automobile industry, with sales increasing worldwide. Subsequently, total vehicle production in the US was up almost 10% YoY in August, while Chinese automobile production was up 10.3% YoY, resulting in sustained demand for refined copper.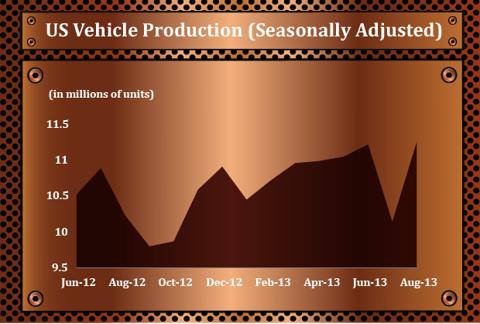 Click to enlarge
Copper Pricing:
Over the years, global demand for refined copper - including demand from the construction industry, manufacturers of electrical appliances and machinery and automakers - has largely been matched by global output. In recent years, however, the supply of refined copper has outstripped demand, which has put pressure on prices.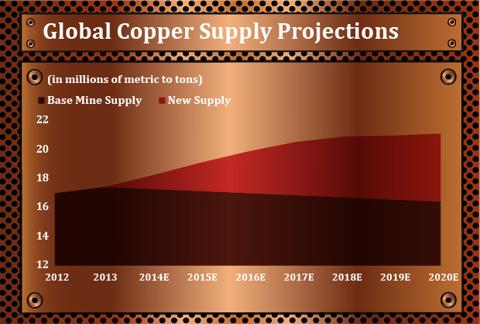 Click to enlarge
The demand for copper was traditionally considered an indicator of global industrial production levels and economic growth, as the metal was (and is still) used in almost every major industry. However, the relation seems to have weakened considerably in recent years.
In August 2013, the global economy showed signs of expansion, with the JPM Global Manufacturing PMI rising 0.4% MoM and 6.15% YoY to 51.8.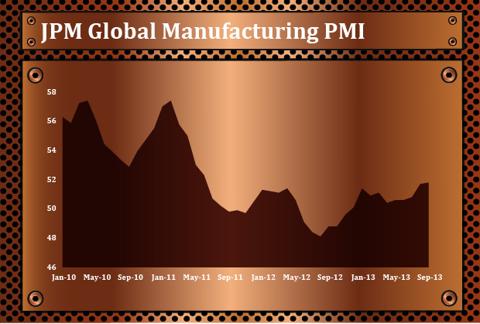 Click to enlarge
But copper prices, which had historically been highly correlated with trends in the global PMI and the Industrial Production Index, have shown immunity to global manufacturing and industrial data since the last quarter of 2012.
Prices are currently down 11.6% from the levels at the start of 2013, even though the global manufacturing PMI was up 0.2% MoM and 6.1% YoY in September. Despite improvements in global manufacturing activity, copper prices have moved in a range of $6,700-$7,500 per ton since April 2013.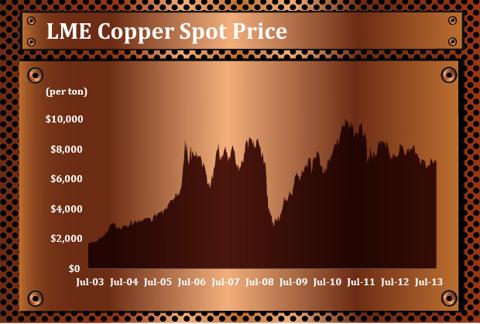 Click to enlarge
Overstocked Inventories:
The London Metal Exchange (LME), on which copper and other metals are traded, issues warrants to its member warehouses, which gives the exchange the authority to take physical delivery of copper on behalf of traders. The LME cancelled 36% of its issued warrants in June 2013, after copper inventories surged following a drop in demand. To date, total known refined copper inventories are up 4.6% over last year, and are close to the five-year high.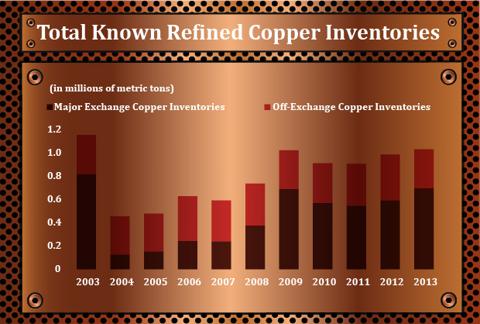 Click to enlarge
On the other hand, inventory levels at the Shanghai Futures Exchange (SHFE) are down 31.2% to date from last year. The country's scrap copper imports are also 42% lower than last year's, indicating that the inventory released was used up by Chinese industries as a substitute for scrap copper imports.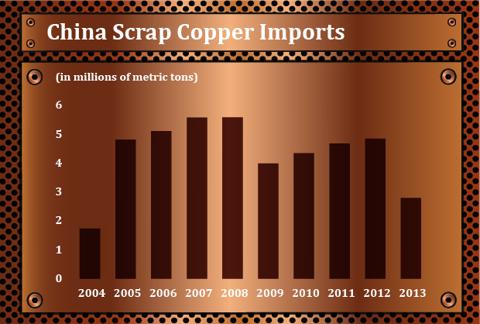 Click to enlarge
Because of the metal's importance to nearly every major industry, its prices historically had a high correlation of 0.72 with the performance of the S&P 500 Index up till late 2012. From October 2008 to October 2012, the S&P 500 and copper prices were up 64% and 43%, respectively.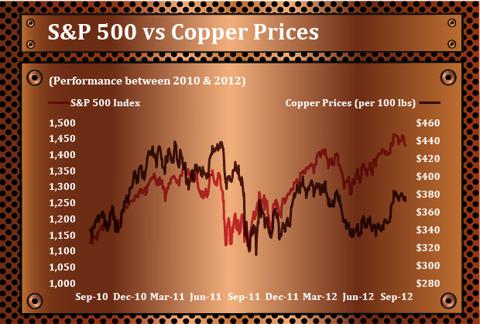 Click to enlarge
This correlation broke at the start of 2013 following a dampened outlook on China's economy, the strengthening dollar, and an increase in the supply of copper. Due to these factors, the correlation between the S&P 500 Index and copper prices has dropped to -0.41 since the start of the year, with the S&P 500 up 19% over the period, while copper prices have fallen approximately 10%.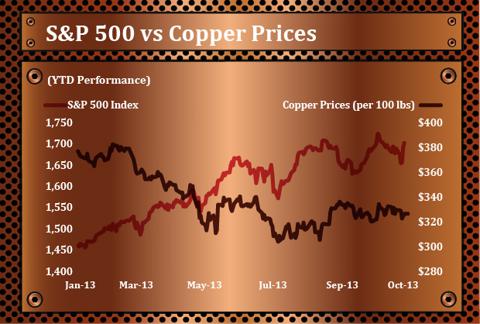 Click to enlarge
Changing Dynamics:
Analysts' forecasts for the Chinese economy have been too pessimistic, and new data suggests that China is in position to achieve its 7.5% GDP growth target for 2013. As a result of this, copper demand is expected to grow moderately in the future. However, the increase in demand will be offset by greater supply from new mines, and output is expected to remain at a surplus till 2018.
Inventory levels at major exchanges are already near record highs, and further destocking by the SHFE will cap copper prices. We will discuss the impact of declining copper prices on the valuations and stock prices of various copper mining stocks in our next piece.
Sources:
Company Reports
Bloomberg
Disclosure: I have no positions in any stocks mentioned, and no plans to initiate any positions within the next 72 hours.
Business relationship disclosure: This article is written by Bidness Etc's Commodities Analyst. Bidness Etc is not receiving compensation for it. We have no business relationship with any company whose stock is mentioned in this article.