In Frontier Markets: An Antifragile Suggestion I discussed frontier markets contributing to a more diverse and robust portfolio as they exhibit far less correlation with world markets. There are several reasons for this: their economies can be rapidly growing due to local economic growth; their stock exchange is not electronic and not readily traded real-time; their stock market is small and illiquid making it unsuitable for large funds and investors to trade or hedge; regulatory laws are being adopted for the first time creating barriers for foreign investors; foreign language and custom barriers along with time intensive administrative processes (opening accounts, etc.,) dissuade international investors who are more likely to trade based on international events, total investment exposure and their own fluctuating Net Asset Values and/or Assets Under Management. These all contribute in different ways to frontier markets trading independently of emerging and world stock markets. However, one should not underestimate the last point, fluctuating and especially declining NAV or AUM in one part of the world impacts long positions in another market. With this last caveat what follows are a list of fairly easy ways for global investors to gain exposure to frontier markets. They are listed from traditional (mutual funds) to self-directed investors and investment professionals opening a foreign brokerage account.
I would encourage readers to review the entire article and then read specific sections relevant to their interests and investment style. For those with mutual fund only retirement accounts interested in portfolio diversification through frontier markets the section, Mutual Funds, will be your focus. For those wanting only frontier market ETFs the section, Exchange Traded Funds, will be your focus. The brief section, Private Equity Funds, is more appropriate for high net worth individuals and money managers. The last section, Mongolia, discusses the deep value that it offers and I hope all will read this section, especially investment advisors.
Mutual Funds
The Wasatch Frontier Emerging Small Countries Fund (MUTF:WAFMX) is a true frontier fund reflecting excellent global diversity with investments in Africa making up 42.7% [Nigeria (16.6%), Kenya (11.8%), Morocco (3.9%), South Africa (3.5%), Zimbabwe (2.5%), Ghana (2.1%), Egypt (1.7%), Botswana (0.4%), Uganda (0.2%)], Asia with 28.6% [(Sri Lanka (6.9%), Pakistan (6.1%), Vietnam (5.3%), Bangladesh (3.2%), Philippines (2.7%), Malaysia (1.7%), Cambodia (1.3%), Korea (0.9%), Indonesia (0.5%)], Middle East with 18.7% [Saudi Arabia (7.2%), United Arab Emirates (6.1%), Kuwait (3.5%), Qatar (1.0%), Oman (0.9%)], Latin America with 5.9% [Costa Rica (2.0%), Peru (1.6%), Mexico (0.9%), Colombia (0.8%), Chile (0.6%)], and Eastern Europe with 2.9% [(Turkey (1.8%) and Croatia (1.1%)]. The fund manager, Laura Geritz, is doing an excellent job with strong performance but has a lot of countries and companies to keep track of and Mongolia is not (yet) on her list. WAFMX has a 1yr return of 23% (as of 9/30/13), a net expense ratio of 2.2%, and is a no-load fund.
Matthews Asia funds are some of the best in the world. They opened a new one May 2013, Matthews Emerging Asia Fund (Investor Class: MEASX, Institutional Class: MIASX) managed by Taizo Ishida and Robert Harvey. It is country specific with a mandate to invest in Bangladesh, Cambodia, Indonesia, Laos, Malaysia, Mongolia, Myanmar, Pakistan, Papua New Guinea, Philippines, Sri Lanka, Thailand and Vietnam along with companies in India, China and Taiwan. The last three are clearly well-established Asian markets and many would consider some of the others belonging to emerging markets versus frontier markets. I checked their June 30th, 2013 reported holdings and none are located in Laos, Mongolia, Myanmar, and Papua New Guinea. These true frontier markets have yet to benefit from investments from Matthews Asia. Having recently opened, 1yr returns are not available. MEASX has a net expense ratio of 2.2% and is a no-load fund if sold after 90 days.
The largest and well known Templeton Frontier Markets Fund (TFMAX, FFRMX, FFMRX, FFRZX) is managed by the one and only Mark Mobius, and a well-seasoned team that includes Allan Lam, Dennis Lim, and Tom Wu. The fund's 93 holdings as of September 30, 2013 includes frontier markets in the Middle East (31%), Africa (22%), Europe (15%), Asia (13%), Central & South America and the Caribbean (12%). Their current investment focus is the Middle East (in particular Saudi Arabia), and Africa (in particular Nigeria), although they do have the resources to cover a wider range of countries which will hopefully include Mongolian companies trading on the Mongolian Stock Exchange (MSE). Currently their new focus is Romania, however they apparently have limited interest in growing their frontier portfolio as they closed their $1.4B fund to new investors June 28, 2013. For those interested in their detailed portfolio holdings reported June 30, 2013, they do have a 0.47% position in Mongolian Mining Corp. which listed on the Hong Kong Stock Exchange (HKE). TFMAX has a 1yr return of 15% (as of 9/30/13), a net expense ratio of 2.1%, and an initial sales charge of 5.75%.
The Harding Loevner Frontier Emerging Markets Fund (Investor Class: HLMOX, Institutional Class: HLFMX) is managed by Pradipta Chakrabortty, Rusty Johnson, and Richard Schmidt. As of June 30th, 2013, their fund had 78 holdings in frontier markets around the world (Africa 26.6%, Asia 25.5%, Europe 5.8%, Gulf States 17.5%, Latin America 17.1%, Middle East 1.2%) but apparently none are (yet) in Mongolia. HLMOX has a 1yr return of 19% (as of 9/30/13), a net expense ratio of 2.2%, and is a no-load fund if sold after 90 days.
The Morgan Stanley Frontier Emerging Markets Fund (NYSE:FFD) (Investor Class: MFMPX, MFMLX, Institutional Class: MFMIX) has been managed by Timothy Drinkall since September 2012. As of September 30th, 2013 their fund had 52 holdings in frontier markets around the world but none are (yet) in Mongolia. MFMPX has a strong 1yr return of 29% (as of 9/30/13), a net expense ratio of 2.2%, an initial sales charge of 5.25%, and a 2% redemption fee if held less than 30 days.
The HSBC Frontier Markets Fund (Investor Class: HSFAX, Institutional Class: HSFIX) lists its top ten countries as United Arab Emirates (14.5%), Qatar (13.9%), Nigeria (11.2%), Pakistan (9.9%), Saudi Arabia (8.7%), Kuwait (6.3%), Vietnam (4.1%), Oman (4.0%), Philippines (3.3%), and Georgia (3.1%), and is managed by Andrew Brudenell. On reviewing its semi-annual report dated April 30, 2013 no investments are in Mongolia. HSFAX has a 1yr return of 22% (as of 9/30/13), a net expense ratio of 2.2%, and an initial sales charge of 5%.
The T. Rowe Price Africa and Middle East Fund (MUTF:TRAMX) by way of its geographic selection invests in both emerging and frontier markets but those looking for exclusive exposure to frontier markets should consider one of the above funds. As of August 31, 2013 country exposure was Saudi Arabia (30.9%), South Africa (28.5%), United Arab Emirates (12.3%), Qatar (9.0%), Nigeria (7.3%), United Kingdom (3.8%), Kuwait (3.2%), Oman (2.4%), Kenya (1.2%), and Ghana (1.1%). The fund is managed by Oliver Bell and TRAMX has a 1yr return of 22% (as of 9/30/13), a low net expense ratio of 1.5%, and a 2% redemption fee if held less than 90 days.
As the name suggests the Nile Pan Africa Fund (Investor Class: NAFAX, NAFCX, Institutional Class: NAFIX) focuses on Africa's 53 countries and is managed by Larry Seruma and Andy Chen. However, those looking for Frontier market exposure should note that their top two country exposures are South Africa (~40%) and Nigeria (~30%), which is very concentrated for a Pan Africa fund and South Africa is not a frontier market. NAFAX has a 1yr return of 9% (as of 10/18/13), a net expense ratio of 2.5%, and an initial sales charge of 5.75% which may be reduced.
Although some may consider market exposure to frontier markets via countries with business interests in frontier economies, for example South African companies for frontier markets in Africa, Portuguese companies for exposure to Angola, etc., this secondary gearing is complicated (changing trade laws), subject to additional political risk (as more countries are involved), and company performance is usually dominated by their local economy.
The 1yr plot below compares the four frontier-market mutual-funds, WAFMX (green), MFMPX (pink), HSFAX (purple), and HLMOX (black):

Looking at the top two 1yr performers, WAFMX (green) and MFMPX (pink), since their inception dates one sees how strong the frontier markets in these funds have performed in a short time-period: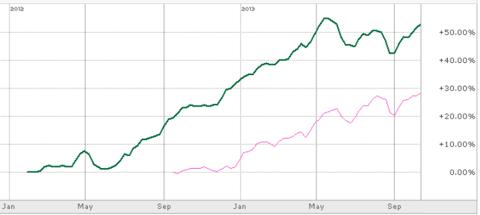 Laura Geritz and Wasatch Frontier Emerging Small Countries Fund (WAFMX) are the ones to note along with their investor friendly website and no-load fees.
The following mutual funds were not included in the above plots as MEASX opened five months ago, TFMAX is closed to new investors, and the relative performances for TRAMX and NAFAX are not reflective of frontier markets.
Exchange Traded Funds (ETFs)
There are many ETFs on exchanges around the world. Many international investors have access to US markets and those listed below trade on US exchanges. In addition several, for example iShares, are also listed on the London Stock Exchange, etc.
Most ETFs are index funds and therefore the role of the manager(s) is less important. Fund manager experience and ability plays an important role in frontier markets as most of the major news outlets typically provide mis-information in general but particularly so for frontier or 'exotic' markets and countries that make for a 'good' story.
ETF Stock-Encyclopedia.com is an extensive resource for ETF basics. ETF expenses are nearly always less than mutual and private equity funds. They allow for trading during market hours and can be used to hedge positions. Some are liquid whereas others are highly illiquid. They provide much variety and also allow investors to select specific markets and countries.
The iShares MSCI Frontier 100 (NYSEARCA:FM) is a global frontier ETF with 103 holdings based on the MSCI Frontier Markets 100 Index. The top ten country weightings account for 94% of all holdings. They are, by country and as of 10/14/13, Kuwait (26.27%), Qatar (18.09%), United Arab Emirates (14.44%), Nigeria (12.20%), Argentina (4.94%), Kenya (4.43%), Pakistan (4.30%), Oman (3.70%), Kazakhstan (3.42%), and Vietnam (1.80%). Note the very heavy Middle East weighting (~63%). As is typical of ETFs the low 0.8% net expense ratio is enticing and this ETF, unlike many, has little tracking error with its index. Since its inception 9/12/2012 FM has a 23.3% gain versus its index with 23.6%.
The Guggenheim Frontier Markets (NYSEARCA:FRN) is another global frontier ETF with 34 holdings as of 6/30/13 in Chile (50.55%), Colombia (14.70%), Argentina (9.31%), Egypt (6.10%), Kazakhstan (4.97%), Peru (4.95%), Nigeria (4.62%), Lebanon (1.93%), Isle of Man (1.25%), Luxembourg (0.86%), etc. For a global frontier ETF it has an extreme South America weighting (~80%). The fund managers must believe that South America, in particular Chile, are undervalued. The FRN net expense ratio is 0.7% and has a 1yr performance of -14.4%.
The following ETFs by way of their geographical focus give exposure to emerging and frontier markets:
Market Vectors Africa (NYSEARCA:AFK)
SPDR S&P Emerging Middle East and Africa (NYSEARCA:GAF)
WisdomTree Middle East Dividend (NASDAQ:GULF)
Market Vectors Gulf States (NYSEARCA:MES)
SPDR S&P Emerging Asia Pacific (NYSEARCA:GMF)
SPDR S&P Emerging Latin America (NYSEARCA:GML)
However they can have unexpected country weightings by including foreign companies doing business in frontier and emerging economies. For example has 54% of its holdings from companies in South Africa, UK, Canada, Netherlands, France, Ireland, Singapore, Australia, and US.
All the ETFs in this article are hot-linked to Seeking Alpha so that future articles on specific funds will show on clicking their hot-linked tickers.
Unlike the above six ETFs with exposure to emerging and frontier markets, the following country specific ETFs are frontier markets providing easy access to investors who want to invest in specific countries or some combination of countries and regions:
Market Vectors Colombia (NYSEARCA:COLX)
Market Vectors Egypt (NYSEARCA:EGPT)
iShares MSCI Turkey (NYSEARCA:TUR)
iShares MSCI Malaysia (NYSEARCA:EWM)
iShares MSCI Thailand (NYSEARCA:THD)
Market Vectors Indonesia (NYSEARCA:IDX)
Market Vectors Vietnam (NYSEARCA:VNM)
MSCI Philippines (NYSEARCA:EPHE)
iShares MSCI Chile (NYSEARCA:ECH)
Global X/InterBolsa FTSE Colombia 20 (NYSEARCA:GXG)
MSCI All Peru Capped (NYSEARCA:EPU)
These 11 frontier markets allow for country-specific investments but this typically comes with greater volatility and more so with ETFs that are easily traded and therefore more susceptible to short-term emotional swings. The current secular growth in frontier markets makes them suitable for long-term investments, notwithstanding the volatile cyclical swings along this secular growth pathway.
The 1yr plot below compares three of the above ETFs with strong 1yr gains, FM (green), GULF (pink), VNM (purple):

Not surprisingly the single country Vietnam ETF, VNM, is more volatile. What is surprising is the Middle East ETF, GULF, with a very strong 1yr 27% gain and less volatility, notwithstanding a volatile year in the Middle East. This is a prime example of headline news and investment returns not being correlated.
General Comments
Having reviewed several ways to facilitate frontier market investing through readily accessible funds, investors should be aware that investment mandates and descriptions in a fund's prospectus provide a general description and one needs to review current holdings to get a real sense of their current investment focus. For example the largest frontier fund, Templeton Frontier Markets, may list the following countries as frontier markets in its prospectus (Central and Eastern Europe: Belarus, Bulgaria, Croatia, Czech Republic, Estonia, Georgia, Hungary, Latvia, Lithuania, Macedonia, Montenegro, Romania, Serbia, Slovakia, Slovenia, Turkey, Ukraine; Africa: Botswana, Cote d'Ivoire, Ghana, Kenya, Malawi, Mauritius, Morocco, Mozambique, Namibia, Nigeria, Swaziland, Tanzania, Uganda, Zambia, Zimbabwe; Middle East: Bahrain, Egypt, Jordan, Kuwait, Lebanon, Oman, Qatar, Saudi Arabia, Tunisia, United Arab Emirates; Asia: Azerbaijan, Bangladesh, Cambodia, Indonesia, Kazakhstan, Mongolia, Pakistan, Philippines, Sri Lanka, Thailand, Turkmenistan, Vietnam; Central and South America: Argentina, Chile, Colombia, Ecuador, Jamaica, Panama, Paraguay, Peru, Trinidad & Tobago, Uruguay, Venezuela) but as pointed out above it does not imply that they are invested in all of these markets.
Investors should also be aware that current frontier markets have been doing very well for some time in part due to traditional infrastructure barriers being overcome by less expensive mobile technologies that are easier to adopt by individuals and facilitate long distance communication (mobile phones, internet, etc.,). To quote from the Templeton Frontier Markets Fund Fact Sheet: "Frontier markets are viewed as the next generation of emerging markets and many frontier market countries have experienced exceptional growth. Over the last 15 years, frontier market countries such as Qatar, Kazakhstan, Nigeria, Kuwait, Vietnam, Oman, United Arab Emirates and Serbia have experienced annual growth rates of over 11%, while developed markets such as the UK and the U.S. have grown less than 5% per year."
Some frontier markets have made exceptional gains and for me currently fall under imprudent investment which I generically described in When Not To Buy: A Visual Primer. This is confirmed by the industry benchmark, MSCI Frontier Markets, with a 1yr return of 22% (as of 9/30/13).
The above review informs US and international investors on the availability of mutual funds and ETFs with exposure to frontier markets through their brokerage, retirement account, etc. Some of the investments discussed below may require opening additional accounts.
Private Equity Funds
There are many private equity funds investing in frontier markets. Here are two that fill the gaps mentioned in the above sections.
Asia Frontier Capital specializes in public equities of Asian frontier countries with favorable demographic trends, rising incomes, and high GDP growth which they currently define as Bangladesh, Bhutan, Cambodia, Iraq, Laos, Maldives, Mongolia, Myanmar, Nepal, Pakistan, Papua New Guinea, Sri Lanka and Vietnam. Their AFC Asia Frontier Fund has a 1yr gain of ~17%, minimum investment is 50,000 USD/EUR/CHF, and is run by fund manager Thomas Hugger.
Firebird Mongolia Fund and Firebird New Mongolia Fund were co-founded and are managed by James Passin at Firebird Management. James has an excellent knowledge of Mongolia and investments in Mongolia, and serves on the board of directors of several Mongolian companies.
Mongolia
Excluding the private equity funds mentioned above there are no mutual funds and no ETFs with investments in public companies trading on the Mongolian Stock Exchange (MSE). This is somewhat incomprehensible as Mongolia, compared to many frontier markets, is a stable multi-party democracy with religious and academic freedom, no border disputes, no terrorism, no religious fundamentalism/fanaticism, a focus on education, huge natural assets, double digit GDP growth, and absurdly undervalued stocks.
Mongolia's military expenditures are ~1% of GDP while its education expenditures are ~6%, and has favorable demographics: median age 27, literacy 97%, college and university education (often international), and a professional work force.
Mongolia's 2013 1H GDP growth was 12.3% yet the MSE Top 20 Index has a median P/E of approximately 7. MSE listed companies are divided into the A board with 36 companies currently trading, and the B board with 143 companies. Margin (leveraged) brokerage accounts are not permitted. The entire MSE market cap as of 10 October 2013 is ~USD 862 million. Mongolia's mineral assets alone (copper, coal, gold, etc.,) are estimated to be USD 2 trillion.
On October 3rd, 2013 Mongolia's parliament approved the new "Investment Law" ending the derisive different investment rules for domestic and foreign investors. It also sets stable tax periods between 5 and 22.5 years depending on the industry and investment amount. This confirms the government of Mongolia's conviction in opening up their local market to foreign investors. The result will be much improved FDI and private equity investment which Mongolia needs to develop infrastructure and long-term productive industries thereby reducing the need for imported foods and goods. Collectively, and more importantly, this will facilitate the development of its most important asset, the educated and hard-working citizens of Mongolia.
What follows are two examples of well-established under-valued Mongolian companies trading on the MSE. (For personal comments on using the MSE and an excellent Mongolian brokerage, see the very last section below.)
| | | | | | | | | |
| --- | --- | --- | --- | --- | --- | --- | --- | --- |
| Ticker | Company Name | Revenue Growth | EPS Growth | Price/ Book | Price/ Sales | Price/ Earnings | ROE | Debt/ Equity |
| TCK | Talkh Chikher | 9% | 8% | 0.5 | 0.6 | 8.6 | 8% | 0.5 |
| TTL | Tavan Tolgoi | 25% | 326% | 2.4 | 1.3 | 4.3 | 80% | 0.3 |
The 1H 2013 numbers speak for themselves.
Talkh-Chikher (TCK), established in 1984, is Mongolia's leading bakery and confectionery company providing 40% of the total consumption of flour-made products in Mongolia.
Tavan Tolgoi (TTL) has been mining coal in Mongolia since 1967 and in 1994 was listed on the MSE. Tavan Tolgoi has 40 million tons of coking coal reserves and pending licensing may result in another 30 million tons of coking coal reserves. Both revenue and earnings have grown while coal prices have declined and with its P/E currently at 4 this falls under prudent buying/investing.
TTL 2yr plot ending Oct. 21, 2013, y-axis price/share in local currency (3,099 MNT):

As discussed in Crowd Psychology Makes For Irrational Decisions Or When Not To Buy: A Visual Primer the MSE Top 20 Index plot below, along with its median P/E ~7, and Mongolia's double digit GDP growth, suggests prudent long-term investing is ignored while momentum short-sighted 'investing' is yet-again all the rage: LinkedIn (NYSE:LNKD) $27B market cap, P/E 760, P/B 22 (industry average 6); Netflix (NASDAQ:NFLX) $19B market cap, P/E 530, PEG 18; Facebook (NASDAQ:FB) $128B market cap, P/E 224; etc.
As mentioned the entire Mongolian Stock Exchange market cap is currently under $0.9B. This is likely to increase as MSE listed companies dual list on foreign exchanges in 2014 which will be possible due to recent passing of new Mongolian securities laws.
MSE Top 20 Index, 3yr plot ending Oct. 21, 2013: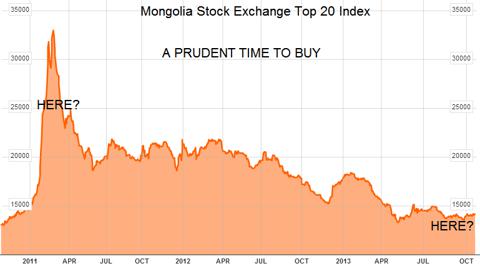 For completeness I am compelled to mention that there are risks but they are mainly currency and sovereign yield risks due to weakening balance of payments due to poor export and FDI inflows. Desmond Lee and Gaurav Singhal at Morgan Stanley in their October 21, 2013 research note cover these risks in detail. My two comments are these risks have been more than priced into Mongolian equities and they under-estimate the positive impact of the new "Investment Law" (discussed above) which was passed October 2013 with immediate effect on FDI inflows. Also they specifically discuss the significant positive impact on balance of payments the Oyu Tolgoi (OT) mine resolution and revenue inflow would have. On October 21, 2013 Turquoise Hill Resources announced Chinese import approvals were completed and revenue is now being recorded.
For those interested in reading more on the bullish case for Mongolia I suggest, "Where Did All Of The Mongolia Bulls Go?", also published this month (October 2013).
The main difficulty is liquidity on the MSE which is why I will be participating again in the interesting HB Oil (HBO) offering expected to close end-October or early-November, and additional offerings expected early 2014.
Two other investment options that allow for direct exposure to Mongolia via US and Canadian exchanges are Mongolia Growth Group (US: OTCPK:MNGGF, TSXV: YAK) and Turquoise Hill Resources (NYSE:TRQ, TSX:TRQ).
Mongolia Growth Group has terrific management, directors, and staff and is broadly exposed to the rapidly growing Mongolian economy through prime location real estate in Ulaanbaatar. Management and directors are also the largest investors and shareholders. The synergies of their conservative real estate purchases have yet to be realized.
Turquoise Hill Resources is well known; much has and will be written about it and the complicated investment relations involving Rio Tinto (NYSE:RIO) and the government of Mongolia. My comments will be brief. TRQ, like MNGGF and many Mongolian equities, is heavily oversold while their largest asset, the new and huge Oyu Tolgoi (OT) mine in Mongolia is running at 100% production. Few mines run at 100% production, especially those in frontier markets due to labor strikes, civil unrest, war, weather, poor infrastructure, etc.
Mongolia also has excellent international relationships with western countries and communist countries yet is pragmatic in implementing pro-market reforms such as the recent Investment Law and organizing with the UK FTSE Group a FTSE-MSE index expected 1H 2014. These developments along with the MSE entering the MSCI Frontier Index sometime in the future will have frontier funds and 'index huggers' scrambling to own MSE listed companies.
I'll end with the observation that this yak looks healthy and well able to weather a couple of storms should they arise: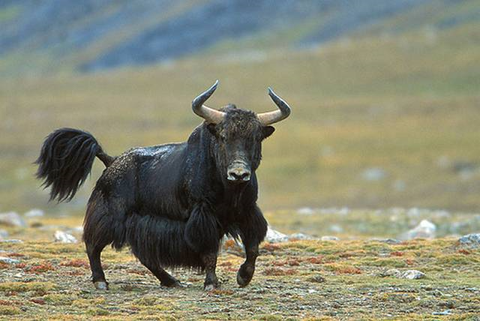 Ulaanbaatar, Mongolia: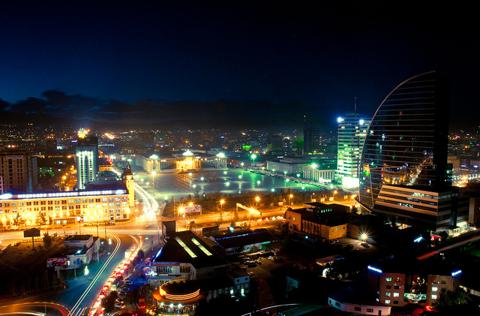 Personal Comments and Disclosures
Since 1998 I have managed US accounts at Datek, Wit Capital, Morgan Stanley Dean Witter, E-Trade, Fidelity, TD AmeriTrade, Charles Schwab, and RBC. The first four were closed some time ago and replaced by the last four. I give this as background because I had minimal expectations with some far-flung Mongolian brokerage. Boy was I wrong.
Not only has BDSec been terrific, it has given better service than all of the above companies. A lot of the highly personal service comes from Nick Cousyn (from Southern California) who is BDSec's COO and a terrific resource for MSE stocks. Nonetheless everyone I have interacted with at BDSec has been helpful, pleasant, and professional, in particular Undram Soyolkhuu and Sainbayar Jadamba. BDSec JSC was founded in 1991 and is Mongolia's largest broker. I include this as many incorrectly assume investing in Mongolia is 'impossible'. My experience has been and is, possible and pleasant.
When using the MSE click on the upper right "English", then click on any ticker symbol and in the "Symbol:" box enter any ticker of interest. I now prefer using the MSE but for those using Bloomberg, etc., the country extension is MO, for example TCK:MO.
I am not an investment advisor and therefore my financial and market comments are meant for educational content, not investment advice. I do not currently own any of the funds or ETFs discussed in this article although this could change. I do own all the Mongolian stocks mentioned in this article and many more as part of a diverse long-term investment portfolio.
Disclosure: I am long OTCPK:MNGGF, TRQ, EGI. I wrote this article myself, and it expresses my own opinions. I am not receiving compensation for it (other than from Seeking Alpha). I have no business relationship with any company whose stock is mentioned in this article.
Additional disclosure: Long: TCK:MO, TTL:MO, HBO:MO