By David Russell
Eli Lilly (NYSE:LLY) did the expected today, but investors were hoping for more.
Bears mauled the drugmaker, unloading shares and snapping up puts, after management failed to address concerns about major patent expirations beginning in 2011. LLY dropped 3.67% to $35.22 in heavy morning trading. Option volume surged to 38,596 contracts, making it the busiest name so far in today's session.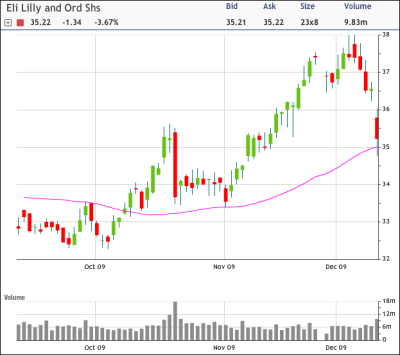 Money streamed into the January 36 puts, which traded more than 7,000 times for $1.60. Using in-the-money options allows the investor to profit from a modest decline in the shares. In this case, LLY only needs to fall about 2% for them to make money.
Other investors bought December 35 puts for $0.55, although volume was below open interest.
Speaking to investors in New York, company CEO John Lechleiter forecast earnings in line with analysts' expectations for 2009 and 2010. But he wouldn't give an indication of how LLY's business will look the following year when drugs such as Cymbalta and Zypexa face generic competition, according to a Reuters report.
On a brighter note, the shares appear to be finding support around the $35 level. Some investors aggressively sold the January 33 puts for $0.40, wagering that the shares will remain above that strike price.
Overall activity in LLY was almost four times greater than average. Puts outnumbered calls by more than 3 to 1.

(Chart courtesy of tradeMONSTER)