"Trees don't grow to the sky…"

-- Wall Street adage
For most people watching popular stocks for key events - such as this past week's Apple (NASDAQ: AAPL) "iPad Air" announcement and next week's Tesla (NASDAQ: TSLA) announcement - there were two less-noticed, but huge moves in the private education sector.
Apollo Group Inc. (NASDAQ: APOL) spiked 28% on Wednesday and Career Education Corp. (NASDAQ: CECO) vaulted 57% on Friday.
APOL Chart: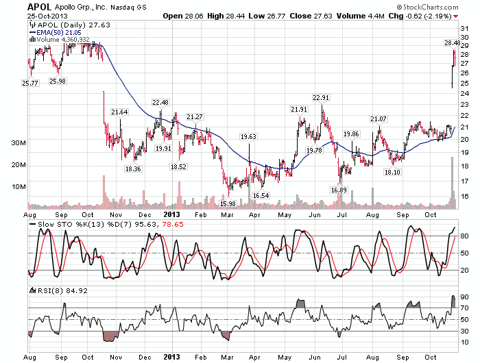 CECO chart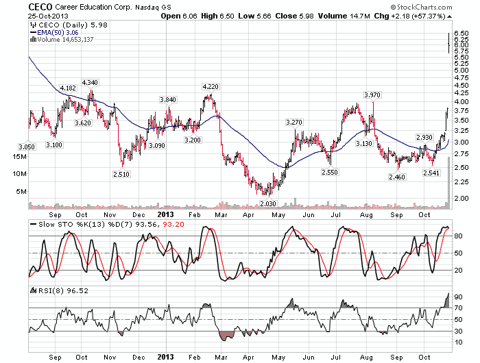 Short traders routinely scan the market for such dramatic price swings in equities in hopes of catching a quick ride down and covering for a profit. Like all investors, shorts seek to minimize risk. Shorting a strong stock that continues its upward momentum can be gut-wrenching. But in some cases, when the reason for a stock's trajectory going parabolic can be determined to be rather temporary, a short player can have more confidence in taking on a short position.
Of these two stocks (APOL and CECO), which one would be a better short option?
On the surface, a blunt analysis might tell us that CECO is likely to retrace more simply because it ran up more than APOL (CECO up 57% on Friday, versus APOL up 28% on Wednesday).
However, it's not always that simple...
It's always prudent to combine both Technical Analysis and Fundamental Analysis in investing decisions. After doing so, it appears that APOL is most likely a much better short than CECO for the following reasons:
Technical Reasons to short or not to short:
Both APOL and CECO are now in "Overbought territory" from a Stochastics charting perspective (see above chart indicators), so that doesn't help us much other than to tell us that we're on the right track.
SHORT SQUEEZE ANALYSIS: The key part of this discussion is the influence of short squeezes in which stock spikes are compounded by a high number of shorted shares that have to be covered (bought back) if the stock runs up too high. The difference between APOL and CECO is that APOL has a thinner float (33.5M shares) and 20.8M of those were short as of the recent 10/15/13 short interest measurement date. CECO only had 3.7M shares shorted of its 60M share float. Having a large fraction of the tradeable shares short was a recipe for a violent short squeeze and that's precisely what happened for APOL because their earnings report other than the top-line EPS upside surprise was truly uninspiring.
By contrast, CECO's rally was no doubt due to some short covering activity, but more likely was new longs initiating positions based on hugely different fundamentals now that CECO monetized their Euro holdings for $276M. The strong fundamentals bolster the move (see below).
Clearly, APOL's massive short covering in a relatively low-float stock explains much of the parabolic run-up in the past two days. And when those "buy-to-cover" forces are depleted (mostly done Wed/Thu/Fri of this past week), there is a lot of air below because there are most likely few longs initiating new long positions at these price levels. After a short covers (buys back) their shares, the net result is a loss of rocket fuel for further upside and there is no new long position in the stock.
Note also that in the past 3 trading days, about 35 million APOL shares have traded! The most recent short interest as of Oct 15th showed about 20.8M shares short. This would imply that most of the shorted shares were "burned off" in Wednesday's 28% blast-off after the earnings report and the two days following as brokerage houses usually do immediate forced liquidations of short positions that are becoming risky for the firm (they don't even give you the usual 3 days to wire funds in).
Light volume Friday and lack of further upward movement in APOL shares (-2.16% loss Friday) would imply dwindling short-covering activity. In other words, the short squeeze is essentially over and it would be probably be a good time to wade into a short position now than on the initial pop as most shorts often mistakenly do.
In summary, regarding APOL and CECO from a technical standpoint (charting and underlying trading metrics such as short interest and float), if we can assume the majority of "buying" at these nosebleed levels was shorts covering, then the stock price surge will prove to be precisely the temporary action that shorts love to help coax the markets to reconcile back to normal. Such a temporary technical phenomenon appears to be less involved in CECO's rise.
Fundamental Reasons to short or not to short:
CECO's cash position improved dramatically overnight with the unexpectedly huge sale European education division to private-equity firm Apax Partners for $276.5 million
By contrast, APOL doesn't have the same "bricks & mortar" assets to sell as CECO and APOL has already been reducing their holdings to match declining enrollment. Meanwhile having a competitor such as CECO rich in cash - who could decide to compete more with APOL in the online education space - appears to be a huge net-negative for APOL.
APOL just announced earnings Tuesday after the close (10/23/13) and the stock went parabolic - up 40% from a week ago (from $20 to $28) on Wednesday and Thursday primarily because of the EPS upside surprise of 55c vs. 25c consensus estimates.
In summary, regarding APOL and CECO from a Fundamental standpoint, it appears that APOL's hugely positive EPS upside surprise was a key trigger in the stock's parabolic rise on Wednesday, while CECO's rise celebrated CECO's windfall gains on the sale of their European division.
The question going forward is will APOL be able to provide similar upside EPS surprises in the future? Or is this a one-time surprise in the face of declining enrollments and 11 straight quarters of declining revenues? Cost cutting can only go so far (for APOL) before the street will demand more enrollment and revenue growth. This would seem to be a good rationale to short after a short squeeze on the shrinking enrollment and poor revenue growth alone.
For CECO, selling less-productive assets and amassing a $276M cash stash with which CECO can buy growth via acquisitions appears to be a more lasting proposition that will be more intimidating to shorts.
Sean Williams of Motley Fool said it best:
Flight of the Phoenix

Sometimes when a company soars after an earnings report, it just leaves you scratching your head. That's exactly what happened following the Tuesday evening release of for-profit educator Apollo Group's (NASDAQ: ) fourth-quarter results.

On paper it was a pretty good quarter relative to what Wall Street had forecast. Apollo, the parent company of the University of Phoenix, delivered $845 million in revenue and a profit of $0.55 per share which was modestly higher than the $0.46 in EPS it reported in the year-ago period. Comparatively, Wall Street expected just $0.25 in EPS and revenue of $823 million.

But if you look past this headline figure, there wasn't much to cheer about. Overall revenue sank 15% to that $845 million figure as enrollment at the University of Phoenix was down 18.1% over the year-ago period. Things got even worse when Apollo issued its fiscal 2014 forecast, which called for revenue of just $2.95 billion-$3.05 billion. That's much lower than the $3.2 billion the Street had forecast, and well below the $3.7 billion and $4.3 billion in revenue it brought in for fiscal 2013 and 2012. In other words, the ship just keeps sinking!

The only saving grace for Apollo has been its cost reductions. For fiscal 2014 the company notes that it plans to reduce operating expenses by another $300 million. Unfortunately, cost-cutting can only drive earnings so far, and heavy industry regulations and the lack of organic growth are becoming quite evident in its results. My suggestion would be not to get suckered in by yesterday's rally and stick to the sidelines until Apollo demonstrates organic enrollment growth once again.
Next week, don't be surprised if analysts step out of the wordwork to declare that APOL has gone too far, too fast - and it'll retrace back to $25 or below.
CECO will probably be left alone because their fundamental picture and their balance sheet have dramatically changed for the better and the short interest metrics prove that CECO's rise couldn't have been driven by a short squeeze nearly as much as APOL's rise.
Short squeezes often implode rapidly once short-covering activity winds down. Such might be the case with APOL.
Disclosure: I have no positions in any stocks mentioned, but may initiate a short position in AAPL, TSLA, APOL over the next 72 hours. I wrote this article myself, and it expresses my own opinions. I am not receiving compensation for it. I have no business relationship with any company whose stock is mentioned in this article.
Additional disclosure: The author makes no warrant for the accuracy of the content herein other than the links provided to traditional online sources of information for verification purposes. Additionally, investors shall not take any comments stated herein as advice to buy or sell any equities and if investors do so, they acknowledge that they have done their own proper due diligence and proceed at their own risk.