Smartphone sales gave a boost to the data usage rate around the globe. Telecom companies are coming up with various strategies to capitalize on the growing numbers. Telefonica (TEF), which has a huge revenue share in the European and Latin American regions, is applying all possible strategies to penetrate the growing data usage. Through the cash generated from the stake sale in the Czech Republic's phone company, it will invest in network technology in the European region, and it partnered with the famous Napster to provide music streaming to its Latin American customers.
Telefonica - Czech deal
Telefonica has 69% stake in Czech Republic's largest phone company, Telefonica Czech Republic AS. Recently, Telefonica decided it should sell its stake, which is worth around $3.6 billion, as on Oct 14. Presently, the company is in talks regarding this stake sale with Mr. Petr Kellner, owner of PPF Group NV, which is one of Europe's largest investment companies.
Telefonica Czech has been experiencing declining revenue over the past few years. One of the major reasons is the growing competition from telecom giants like Vodafone (VOD) and Deutsche Telekom (OTCQX:DTEGY). After this deal Telefonica will be able to focus more on the other countries in Europe, as 49% of its revenue comes from this region. With the growing importance of data traffic, Telefonica will aim to grow its business, especially in countries like Spain, where it generates over 46% of its total European region revenue.
For this, it has formed a strategic alliance with Alcatel-Lucent (ALU) for developing its 4G LTE network infrastructure in Spain. According to the deal, Alcatel will install about 4,000 4G LTE base stations, through which Telefonica will able to grow its 4G network presence in this region. With only 1% penetration of 4G-LTE coverage in Europe at present, this poses as a huge growth opportunity. As of the third quarter of this year, Europe is trailing markets like the U.S. and South Korea, which have 20% and 45% coverage respectively.
We are bullish on Alcatel-Lucent. Please read: Alcatel-Lucent: Is A Turnaround Possible?
On the other side, Vodafone has launched its 'Project Spring.' It will be investing about $9 billion in network improvement in the entire European region, which includes Spain. Though ranked second behind Telefonica, in terms of market share in Spain, we expect Vodafone's project to have a significant impact on the market share ratio in the coming future, due to its high rate of investment.
Latin America business set to grow
The smartphone sales skyrocketed in the first quarter this year. One of the regions to experience this high growth was Latin America. Overall, smartphone sales in the second quarter of this year grew 53% year over year, and individually it grew 61% in Mexico, 89% in Brazil, 34% in Chile, and 98% in Peru. Telefonica aims to use this growing demand for smartphones as a tool to boost its smartphone and wireless revenue.
With the huge opportunity through the growth in smartphones, the data usage is expected to experience a significant rise in the coming future. To monetize this opportunity, Telefonica recently struck a deal with Napster's Rhapsody, a music service provider. This is a subscription-based website, where customers can listen and stream music. It also has an application on the Android operating system, which has crossed over 10 million installations.
Given that Telefonica has a strong customer base of 200 million customers throughout Latin America, this poses to be a huge opportunity for Rhapsody to grow outside the U.S. On the other side, through such strategies, Telefonica will be able to attract more customers towards its network. Henceforth, it will be able to grow its business and market share in the Latin American region with such strategies.
Peer Valuation Comparison
In order to provide a valuation for Telefonica, we will be comparing it with Vodafone and Deutsche Telekom, as it competes with these companies in the European region. We will consider price to sales ratio as a comparison tool. The industry standard for this ratio is 2 times, while the price to sales ratio of Telefonica, Vodafone, and Deutsche Telekom are 0.9 times, 2.5 times, and 0.9 times respectively. This wouldn't be enough to conclude the valuation stance. So, we will be also considering debt, as to pay it, companies might opt for new equity, which can further boost the price to sales ratio. The net debt of Telefonica, Vodafone, and Deutsche Telekom are $81.15 billion, $66.54 billion, and $41.4 billion respectively. This makes Deutsche Telekom a much more attractive stock in comparison to Telefonica, due to its low debt, while Vodafone displays overvalued attribution, being higher than the industry standards.
Dividend Distribution
As a dividend centric industry, telecom companies are prone to provide dividends to shareholders at every quarter. The dividend yield of Telefonica, Vodafone, and Deutsche Telekom are 4.20%, 5.60%, and 5.80% respectively. In terms of dividend distribution, these companies have well favored investors. The foreign telecom industry has a dividend yield average of 3.4%, while the domestic telecom industry has an average of 4.9%. All three companies have provided dividends in last five years, and based on their past trends and current activities, we can expect these companies to continue this activity similarly. Noteworthy, that Telefonica, due to economic crunch stopped paying any dividends or conducted any share buybacks since July 2012. The last dividend paid by the company was in May 2012. Prior to that, Telefonica paid dividend every year since 2006. This year, on Sept 25th, it declared to compensate for the past five quarters, by paying dividend of approximately $0.97 per share in two parts, first on Nov 6 of approximately $0.48 per share, and the remaining in the second quarter of 2014.
To find out the efficiency of these companies to provide dividends, we will be comparing their free cash flow yield. The ratio of Telefonica, Vodafone, and Deutsche Telekom are 0.09 times, 0.02 times, and 0.07 times respectively. Telefonica has the most efficient free cash flow yield. Based on its above discussed fundamentals, we expect this ratio to further improve in the long term. Regarding Vodafone, the company experienced a good rise in its stock price in the past month, based on the news of its stake sale in Verizon. With cash flows of $130 billion expected through this sale, the ratio will definitely improve by the coming fiscal year. Deutsche Telekom doesn't have any big fundamental in the near short term that may bring any change in this ratio. We expect the company to sustain at this level in the coming quarters.
Business growth and price performance expected in future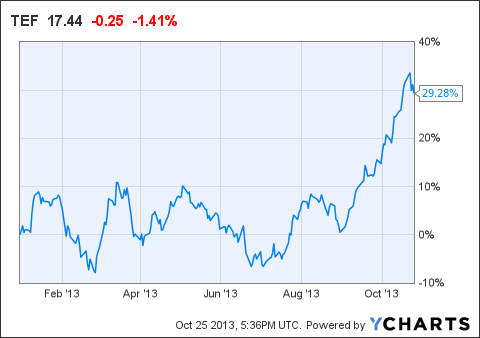 With the growth opportunities in Latin America, we believe Telefonica will be able to grow its market share through its various strategic measures. Also, with the improvement to its network in the European region, Telefonica will be able to sustain its No.1 position in markets like Spain from major competitors such as Vodafone. Overall, we expect these fundamentals to support the present ongoing upside in Telefonica's stock price, which has already experienced over 30% rise in its stock price year-to-date basis.
Disclosure: I have no positions in any stocks mentioned, and no plans to initiate any positions within the next 72 hours. I wrote this article myself, and it expresses my own opinions. I am not receiving compensation for it (other than from Seeking Alpha). I have no business relationship with any company whose stock is mentioned in this article.
Additional disclosure: Fusion Research is a team of equity analysts. This article was written by Rohit Gupta, one of our research analysts. We did not receive compensation for this article (other than from Seeking Alpha), and we have no business relationship with any company whose stock is mentioned in this article.