As investors reposition for changing expectations at the Federal Reserve, Dollar-weakness has hit extremes and the SPDR Gold Trust ETF (NYSEARCA:GLD) has moved to its highest levels in a month. As gold is priced in Dollars, the inversely correlated relationship between these two assets looks more pronounced than at any time in recent memory.
But the real question is whether the latest rallies in GLD are sustainable, based on fundamentals, and indicative of a renewed need for investors to find protection in safe haven assets. The conclusion that should be drawn, however, is that this is highly unlikely. The real driver here is the market's reaction to changing expectations in the Dollar and the apparent reluctance at the Fed to put its "money where its mouth is," and actually commit to an exit strategy.
An end to quantitative easing stimulus is inevitable, and if we see a stronger than expected performance in fourth quarter GDP in the US, markets will again be forced to position for that inevitability. At the moment, the government shutdown has created an environment where enhanced market volatility could be seen at any time. This ties the Fed's hands to some degree and would mean that any tapering suggestions could be interpreted as a bold (and highly bearish) move for markets.
But this environment of caution has yet to be validated by economic data, and this removes many of the arguments for being long GLD at these elevated levels. It can be argued that measures like September weakness in orders to manufacturers and 10-month lows in consumer sentiment readings support the argument for a negative outlook. But the real question of resilience in the US economy will become evident in the fourth quarter GDP reading, a measurement which has stabilized in recent quarters.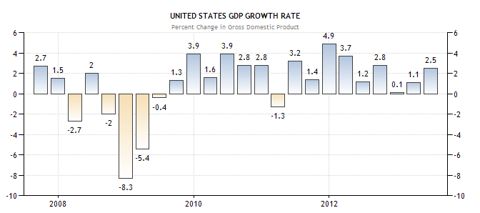 US Dollar Impact
In terms of market valuations, price levels in GLD have taken the brunt of extreme weakness in the US Dollar, which is trading at its lowest levels in almost two years against the Euro. The PowerShares DB US Dollar Index Bullish ETF (NYSEARCA:UUP) has posted year-to-date losses of more than 2%, and the latest moves are based on the assumption the Fed will maintain its stimulus programs as a means for supporting growth. With investors expecting that the pace of $85 billion in monthly bond purchases will continue, declines in the Dollar Index rest on arguments that money supply will hold steady. But from a chart perspective, UUP has some very solid support levels just south of 21 that should start to slow the momentum of these extreme losses.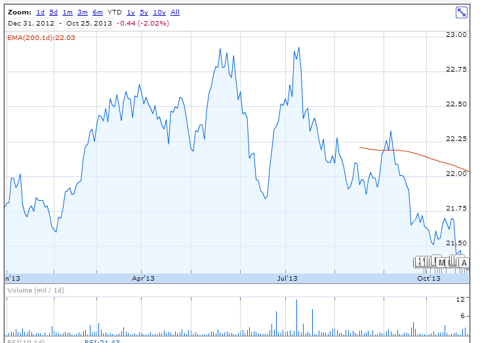 Whether or not these losses are even justified is another story, especially when we start to look at the growth performances posted in areas like the Eurozone, the UK, and Japan. We are seeing a clear divergence here in valuations, market perspective, and the underlying fundamentals. All of this suggests that the price moves we have seen in GLD and UUP are in desperate need of a correction.
GLD: Chart Perspective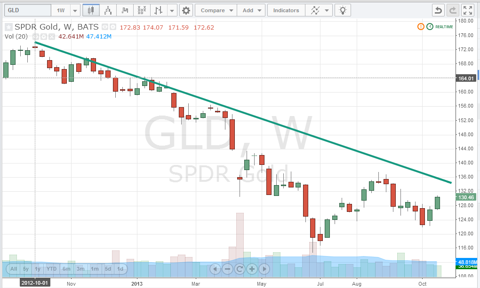 The rally in gold futures above the $1,356 mark was the highest since September 20th, with a gain of nearly 3% for the week. In GLD, this has put prices back near important trendline and historical resistance in the 136.80 region. Going forward, this is the critical level to watch as there is mounting evidence prices will be unable to extend past this area.
Disclosure: I have no positions in any stocks mentioned, and no plans to initiate any positions within the next 72 hours. I wrote this article myself, and it expresses my own opinions. I am not receiving compensation for it (other than from Seeking Alpha). I have no business relationship with any company whose stock is mentioned in this article.