Altria (NYSE:MO) produced solid Q3 results on Thursday with improved EPS figures y-o-y. The key takeaways are:
Adjusted diluted EPS increased 12% from $0.58 in Q3 2012 to $0.65 in Q3 2013
Adjusted diluted EPS increased 9% from $1.66 in the first nine months of 2012 to $1.81 in 2013
Altria's 2013 guidance for adjusted diluted EPS suggests a figure between $2.36 and $2.41 (up 7-9% from $2.21 in the previous year)
Altria's guidance for full-year reported diluted EPS suggests a range of $2.57 to $2.62 (up 25-27% from $2.06 in 2012)
In terms of dividends Altria aims to pay out around 80% of its adjusted diluted EPS
In Q3 2013 Altria repurchased $156 million worth of common stock. In August Altria expanded its authorized April 2013 share buyback program to $1 billion. Altria will spend the remaining $709 million until Q3 2014.
Share performance
The two dominant US tobacco heavyweights Altria and Philip Morris (NYSE:PM) haven't been doing quite as well as Reynolds American (NYSE:RAI) and Lorillard (NYSE:LO). Philip Morris has gained just 0.36% over the last year and hasn't managed yet to catch up to its competitors. Altria ranks mid-field with a gain of 14% while Reynolds American returned 23% and Lorillard 30%.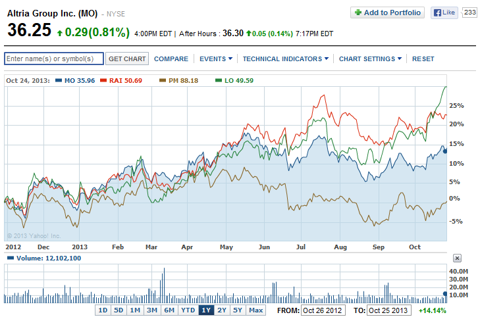 Market valuation
Since beginning of the earnings season, stocks have experienced momentum across the board. It is a good time to be invested in stocks since the tide is rising with many companies getting pulled along. Positive company results are easily met with investor enthusiasm.
From a P/E perspective, the tobacco sector seems now to be fairly valued. Low P/E variance for the companies in the sector, as well as an average P/E multiple of 14.45 indicate that the sector is neither over- nor undervalued on an earnings basis. Altria now commands a multiple of 14.15 which is slightly below the peer group average. Philip Morris currently has the highest P/E ratio in the peer group at 14.88.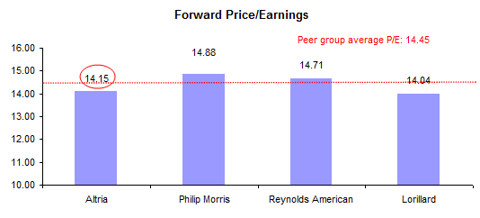 Tobacco companies have a high representation in income oriented portfolios due to their high dividend yields. The tobacco segment regularly belongs to the highest yielding sectors as those companies have comprehensive shareholder remuneration policies in place: High payout ratios, extensive share buybacks and outstanding dividend (growth) records all make tobacco companies highly attractive for dividend hunters. Altria certainly gets a top spot in dividend yield comparisons: Its dividend yield stands at 4.86% which is only ranking behind Reynolds American's yield of 4.98%. The graph below shows that tobacco companies are clustered together with dividend yields between 4 and 5%.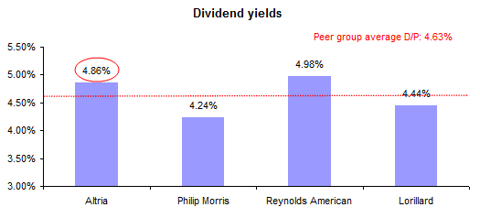 Free cash flow
I have adjusted my 2014 free cash flow per share estimate to account for better performance in Altria's smokeless products division. In Q3 2013 this division achieved operating income before impairments of $277 million vs. $246 million in Q3 2012 (up 12.6%) and income for the first nine months of 2013 of $769 million vs. $678 million for the same period last year (up 13.4%).
Adjusting my valuation model for higher YTD operating cash flows, assuming unchanged growth rates in free cash flow per share of 4.88% in 2015 and 4.65% in 2016, a long-term growth rate of 3% and equity capital costs of 10%, the DCF model yields an intrinsic value of $33.12 per share. Altria's current share price of $36.25 implies that Altria is still overvalued at about 9% on a free cash flow basis.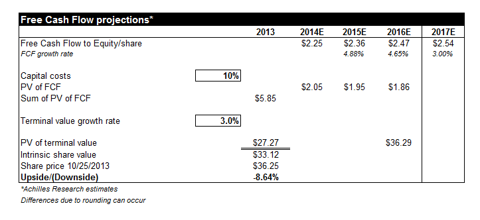 Conclusion
The tobacco sector seems now to be fairly valued from an earnings perspective. Altria's valuation is also in line with its peers suggesting that the company is neither relatively under- or overvalued. The picture changes after consideration of free cash flows. On a free cash flow basis, Altria is slightly overvalued with an implied downside potential of 9%. Despite stronger performance in Smokeless Products, Altria faces significant revenue challenges ahead. Net revenues from Smokable Products decreased 1% y-o-y to $16.45 billion. The company is still heavily reliant on this division to remunerate shareholders and create cash flow for dividends and share buybacks (90% of group net revenues are coming from the Smokable Products segment). Shareholder value ultimately needs to be driven by top-line growth rather than cost savings programs and share repurchases. Given the weak revenue growth prospects, a fair valuation based on earnings and an indicated overvaluation based on free cash flow, Altria clearly isn't a bargain anymore.
Disclosure: I have no positions in any stocks mentioned, and no plans to initiate any positions within the next 72 hours. I wrote this article myself, and it expresses my own opinions. I am not receiving compensation for it (other than from Seeking Alpha). I have no business relationship with any company whose stock is mentioned in this article.