Citrix's (NASDAQ:CTXS) share price has declined substantially as the firm recently reported calendar third quarter earnings. During the period, profit declined relative to the year-ago quarter, but that was a non-core Citrix story; core Citrix performance was rock solid.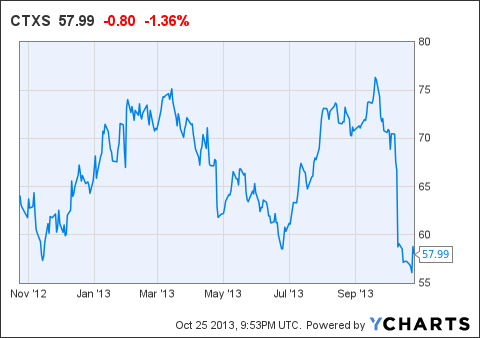 But, the Citrix story is not a "bed of roses" as I attribute declining profitability to competitive pressures.
That said, at this valuation, given the industry, company, and economic growth rates, I'm bullish on Citrix. Tactically, the market is still trending lower, but there are early signs of accumulation.
Recent Developments
Citrix CloudPlatform 4.2, a web portal that manages the delivery of cloud services, is available.

Citrix is automating deployment and configuration of NetScaler functionality within networks that will use the new VMware NSX network virtualization platform and other VMware virtualization technologies. As I love to say, it is better to partner while competing.

Citrix announced the release of ByteMobile 7, a software that powers the company's industry-leading solutions for mobile network solutions.
Fundamental Analysis
During the most recent quarter, total operating expenses grew in line with total net revenues as both were up 11% relative to the year-ago quarter.
The increase in total operating expenses was largely driven by an increase in sales, marketing, and services expenditure and to a lesser extent driven by an increase in research and development expenditure.
Increased total net revenues were driven by license updates and maintenance, and software as a service. While its contribution to total net revenues growth was smaller, products and licenses revenue growth of 3% was solid.
The 2% decline in net income is attributable to the decline in other income, net, which is not part of core Citrix.
Management plans to significantly accelerate the share repurchases in calendar 2013 Q4, which will have an adverse impact on assets and shareholders' equity and is value neutral unless management repurchases shares above the market price. The book value per share should decrease, which would increase the price/book ratio, and the earnings per share would increase, which would decrease the price/earnings ratio. Citrix has been repurchasing shares for more than 5 years now; consequently, the share repurchases do not have substantial valuation implications for the 5-year average multiplier model valuations.
Goodwill represents 34.4% of total assets and about 50% of total shareholders' equity.
The impact of recent acquisitions on the results of operations has been accretive.
Also, Citrix is showing growth of positive cash flows from operations, which is a bullish indicator.
Lastly, management is predicting sequential and year-over-year revenue growth in the calendar fourth quarter.
Overall, these fundamentals appear bullish, but the trend of profitability margins is a cause for concern and suggest competitive pressures may be weighing on the results of operations.
Portfolio Management
The share price of Citrix is in a bear market of primary and intermediate term degree. This has helped the share price enter my buy zone, which is below $61 per share. With the bear market having begun in 2011, I expect Citrix's next primary degree bull market to begin at any moment. With that said, the tactical perspective of the situation tempers my optimism as the bear market of intermediate-term degree continues.
In terms of valuations, on an absolute basis, 4 times sales for mid-teens growth does provide me with some upside potential. On a time series basis, Citrix is undervalued.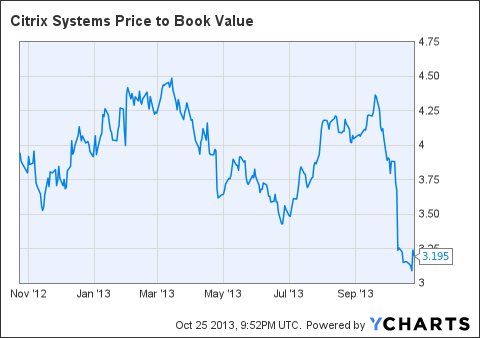 CTXS Price to Book Value data by YCharts
In the previous report, I estimated the intrinsic value of Citrix as $70.25 per share; I'm lowering the estimate to $69 per share. This estimate is based on the historic average valuations.
Given the current share price, I would be looking at about 20% upside potential using the intrinsic value.
Using statistical techniques, the 52-week price target is $89.33 per share, which is above the current intrinsic value.
Since March 2009, the monthly compound rate of return is 1.8%; that is an excellent rate of return.
The return distribution is positively skewed and is not leptokurtic; both are positive indications.
In summary, Citrix is a growth stock that is undervalued and is in my buy zone; all that is left to do is to tactically execute the long investment.
Disclosure: I have no positions in any stocks mentioned, and no plans to initiate any positions within the next 72 hours. I wrote this article myself, and it expresses my own opinions. I am not receiving compensation for it (other than from Seeking Alpha). I have no business relationship with any company whose stock is mentioned in this article.