Zynga (NASDAQ:ZNGA), just like Facebook (NASDAQ:FB), Amazon (NASDAQ:AMZN) and LinkedIn (NYSE:LNKD), is a much hyped new technology company that seems to hypnotize investors by the mere fact that it operates in a growth market. The valuations of those companies, however, are largely detached from what can be fundamentally justified based on earnings, cash flow and profitability. Amazon for instance trades at an insane multiple of 100x earnings as well as free cash flow. Facebook's stock exchange debut also was everything but glamorous although the company has managed to bounce back in market capitalization. The stock now trades at 53x forward earnings - a valuation level at which downside risks massively outweigh upside potential. Facebook now has a market capitalization of $125 billion which isn't too bad for a website.
Twitter also is on its way to reach a massive valuation. The company is set to achieve a valuation of $11 billion and is supposedly underpricing its IPO to avoid Facebook's disappointing IPO performance. However, the valuation is still extreme by solid valuation standards that seek to relate valuation to earnings and cash flow. I am also skeptical when insiders sell their stakes at extreme valuations to retail investors which in turn are hoping to quickly double their money. Like in the case of Zynga, tech companies with a leading position in a niche market often demand excessive valuation premiums while still being earnings negative. The entire valuation rests on hopes of revenue growth and future profitability. Just like in the dotcom bubble of the 1990s.
After presentation of Q3 2013 results, Zynga's shares jumped 5.49% based on a smaller than expected loss: Zynga lost $0.02 per share compared to consensus estimate of ($0.04) per share. Analysts, on average, expected Q3 revenues of $190 million compared to a realization of $203 million: A revenue beat of roughly $13 million or 7%. Earnings- and revenue beats sound nice but sort of conceal the core developments at Zynga.
Quarterly revenues are in a sequential decline that already persists for six quarters. In Q2 2012, a time when Facebook was still riding high, revenues totaled $332 million. In Q3 2013 those revenues were down to $203 million - a decline of 39%. Zynga's flagship product FarmVille steadily contributes less and less to Zynga's revenue mix indicating that gamer appeal is fading. Other products such as Mafia Wars, FrontierVille and CastleVille only contributed revenues for several quarters. The revenue decline in "Other Online Games" likely reflects the massive competition in the online and mobile game industry which took off in the last two years.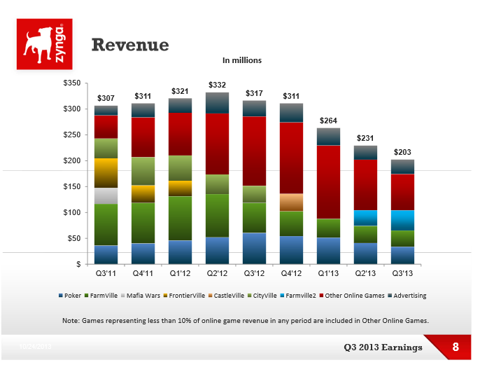 Zynga's revenue base faces a couple of challenges that pushed the company to close offices and lay off staff in order to control costs in the face of massive revenue contraction. First off, many Zynga games are marketed and played on Facebook. But Facebook is starting to experience new competition from Twitter (as well as other platforms) and loses appeal for younger people that are most likely to resort to online games such as FarmVille and its spin-offs. Piper Jaffray illustrated that the consumer shift towards alternative communication platforms hits Facebook the hardest which clearly isn't good for Zynga.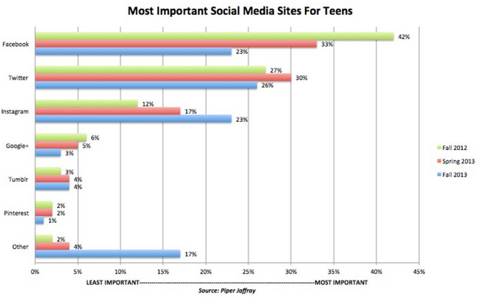 Another area of concern is the explosion of mobile device gaming. Not only is this market highly competitive due to exponential growth rates in smartphone users but many developers also offer free games that make it so much harder to establish a recurring revenue base. In addition, Zynga will not be able to indefinitely feed off its core FarmVille product but needs to come up with other blockbuster products that give the company an earnings perspective for the future.
Share performance
Zynga's shares reflected the developments described above and lost 61% of its value over the last two years. They are still way off their IPO price of $10 a share.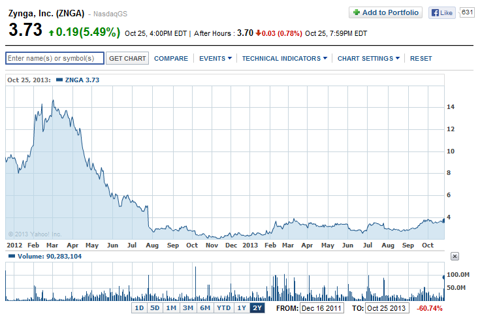 Other high-valuation, high-growth companies that command extreme multiples are Amazon with a forward multiple of 126 (Amazon is a great Sell candidate at 100x free cash flow), LinkedIn with 109 and Facebook with 53. Those companies have performed much better than Zynga but, nonetheless, remain deeply overvalued with high correction potential and risk for investors.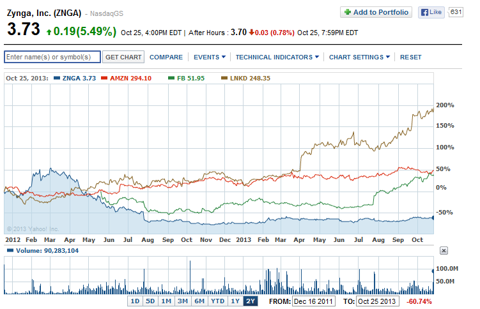 Summary
Until Zynga comes up with an alternative game plan and new blockbuster products that give the company a recurring earnings perspective, investors should stay away from the company. The depicted downward trend in revenues (as well as bookings and adjusted EBITDA) is cutting deep and indicates that the company has not yet found its way to turn the company around. The highly competitive mobile device gaming market is not going to make it any easier for Zynga to deliver value for shareholders. For now, investors/shareholders can find better value elsewhere in the marketplace.
Disclosure: I have no positions in any stocks mentioned, and no plans to initiate any positions within the next 72 hours. I wrote this article myself, and it expresses my own opinions. I am not receiving compensation for it (other than from Seeking Alpha). I have no business relationship with any company whose stock is mentioned in this article.