Introduction
Microsoft (NASDAQ:MSFT) is currently up 6% after it Thursday reported EPS of $0.62. This was a big earnings surprise as analysts had predicted EPS of just $0.51, but as I wrote in a previous article, one needs to be careful in not overemphasizing the importance of EPS. As some types of earnings have a stronger effect on the long-term earnings, I believe it is important to analyze how Microsoft earned its money.
Therefore, this article will look into each of the business segments in order to provide the reader with a better understanding of how Microsoft's segments fared in the quarter, and what we should expect in the December-quarter.
Devices & Consumers - Licensing
In this segment, Microsoft report earnings from "Consumer Windows", "Consumer Office", Windows Phone and IP royalties.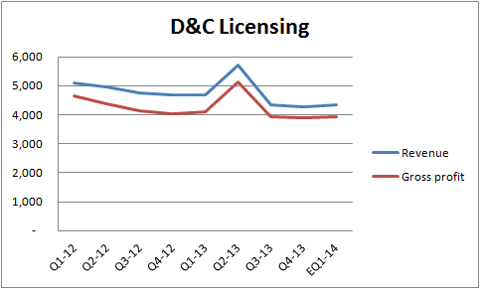 Prior to the earnings release, I had predicted revenue to decline from $4.6B in Q1 2013 to $3.9B in Q1 2014. There were 2 arguments behind my "pessimistic" forecast;
1) Microsoft is in a phase where it is transforming Office from a license-based service to a subscription-based service. According to management, this change will have a short-term negative impact on revenue. Therefore, I had expected Office revenue to decline in the September quarter.
2) Windows revenue should have declined by roughly 14% due to the decline in x86 PC sales.
But it turned out that my forecast was way too pessimistic as revenue came in at $4.35B. So where exactly did I go wrong?
After having studied the earnings release, it seems that there wasn't any problem with my 1st argument, as CFO Amy Hood during the earnings call confirmed that Office revenue had indeed declined.
However, apparently Windows did much better than expected, as it "only" declined by 7% y/y. One possible explanation is that W8 finally got some momentum this quarter. As you can see in the below diagram, W8 increased its market share from 4.2% in Q4 to 7% in Q1.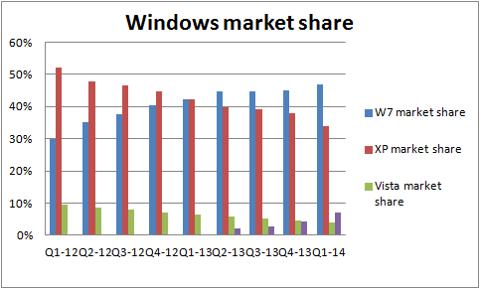 Source: Netmarketshare.com
D&C Hardware
Since Microsoft is reinventing itself as a hardware company, it is quite important for the long-term profitability of the company that the D&C Hardware segment is performing well. While it didn't obtain any huge growth in the quarter, it still did much than I had expected.
I had forecasted Surface and Xbox sales of 0.5M and 0.8M respectively. However, if you do the math, it seems that Xbox 360 sold roughly 1.2M units and Surface 0.9M units. As the Surface 1 was replaced by its successor earlier this month and the new Xbox One will be released in November, I had anticipated that consumers would delay their purchases until the new versions were released.
At the earnings call, CFO Amy Hood made the following remarks to explain the better than expected Surface sales;
With improved sales and marketing effort, combined with pricing and promotional activities, we saw Surface units and revenue growth sequentially from Q4, with the mix of sale shifting towards 32 gigabyte RT device. Demand increased for this device both, in retail and in education.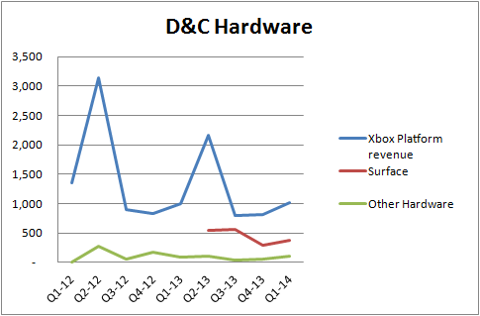 However, one (negative) thing that has gone unnoticed so far in the media is the "disappointing" guidance for the next quarter. Management predicts that revenue will come in between $3.8B and $4.1B. By combining that guidance with a bit of math, we can actually calculate the implied sales forecast of the Xbox One for the December quarter.
Assuming Surface sales of 1M units, management implicitly assumes Xbox One sales of a mere 6.2M units. As you can see in the below graph, that is actually quite mediocre compared to historical Xbox 360 sales in Q2.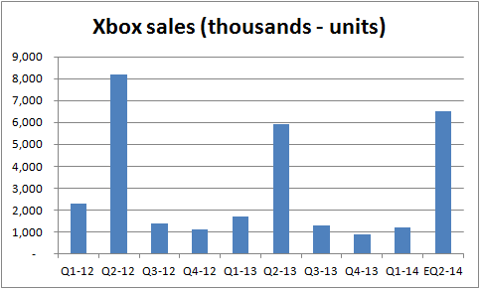 D&C - Other
In D&C Other, Microsoft reports revenue from Xbox Live transactions, Bing and Market Place. Revenue grew by 17% y/y which primarily is due to Microsoft's search engine, Bing, growing by 47% y/y. However, that also caused a small decline in gross margin as Bing isn't particularly profitable.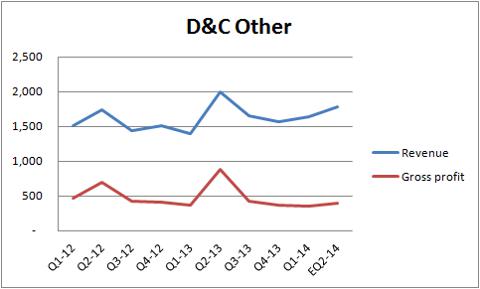 So how on earth did (one of) Microsoft's laughing stocks grow at such an impressive rate? CFO Amy Hood had the following answer when asked to explain the growth rate;
A couple of things. It was or going to - as you noted both by RPS improvements and volume improvements which is encouraging. I also think underlying matters some real technical improvements we made within the search engine, algos are better and the investments we are making are really allowing us to monetize at a higher level.
Commercial Licensing
Commercial Licensing is Microsoft's most profitable segment with several multibillion dollar businesses. Office Business is obviously the largest contributor, and besides Word and Excel, it also consists of Sharepoint and Lync. The latter is growing at a phenomenal rate of around 30% a year.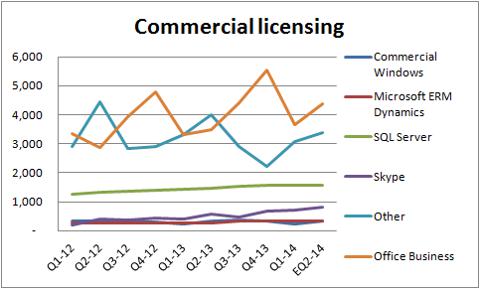 Segment revenue declined sequentially, however, that was expected due to Office Business benefiting from roughly $650M of deferred revenue in Q4. In terms of y/y, revenue grew by 7% and it maintained a very high gross margin of 83%. For Q2, management expects the solid results to continue as it guides for y/y growth of 6.3%
Commercial Other
Microsoft's smallest segment is also the highest growing segment. It consists of a few very "exciting" businesses such as Azure, Dynamics CRM and Office 365 (excluding Home Premium).
Office 365 grew an impressive 100% y/y in Q1, which signals that Microsoft is successful in getting business customers to sign up for the subscription-based solution.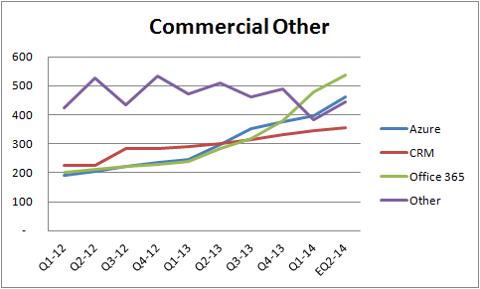 For Q2, management is guiding for revenue between $1.7B and $1.9B. The midpoint - $1.8B - implies a y/y growth rate of 28%!
As the market for the cloud is expected to grow significantly over the coming years and as Microsoft is gaining market share, I wouldn't be surprised if this segment doubled its revenue within 2-3 years.
Conclusion
Overall, this was a fantastic quarter for Microsoft. All of the segments either outperformed or lived up to my expectations.
For Q2, I expect EPS to increase to $0.69 (below table). There are a couple of reasons why I expect such a high EPS;
Microsoft will benefit from the launch of Xbox One in the next quarter
Windows revenue will likely increase
Microsoft's cloud businesses will continue to grow
"Consumer Office" is the only multibillion dollar business/service I expect to decline sequentially.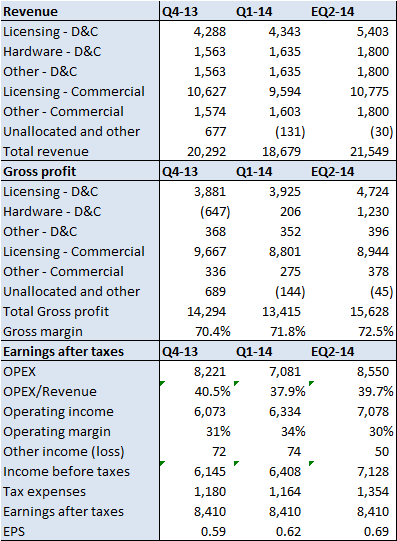 So to sum up; Yes, the 6% increase in the share price is definitely deserved. Going forward, Microsoft looks like a really strong business.
Disclosure: I have no positions in any stocks mentioned, and no plans to initiate any positions within the next 72 hours. I wrote this article myself, and it expresses my own opinions. I am not receiving compensation for it (other than from Seeking Alpha). I have no business relationship with any company whose stock is mentioned in this article.