Compete recently led a workshop at the PhoCusWright conference in Orlando, FL that provided a high-level pulse on the travel industry's level of recovery based on data through September 2009*. One of the conclusions was that different travel categories (hotel, cruise, air, car rental) have recovered at different rates. The analyses were based on the number of visitors to sites in aggregate that represent those industries (suppliers and category-specific sections of OTAs). Note that each visitor is counted only once in a month in a travel category. Someone who visits than one hotel site in the same month is counted only once in the hotel totals for that month. The data presented at PhoCusWright are updated here to include results through October.
Compete analysis suggests that the hotel and cruise categories recovered faster than did airlines and car rental, based on comparing monthly 2009 results vs. the same period in 2008. The hotel and cruise categories posted sustained year-over-year gains starting in early 2009 (first two charts) with aggregate traffic in 2009 above 2008 levels in all months. The gains coincide both with the US emerging from the recession but, as important, very aggressive price cutting and deal creation by the travel industry. The results also highlight the dip in consumer traffic during the brunt of the recession (Q4 2008) and more so than simple seasonal patterns would suggest.
Click to enlarge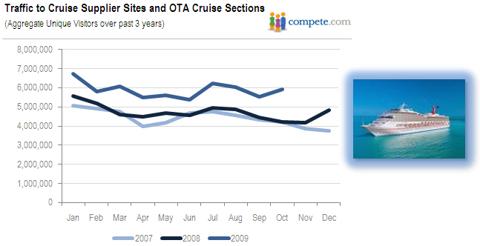 Click to enlarge
In contrast to the hotel and cruise industries, the airline and car rental industries took longer to recover (next two charts). Sustained airline traffic did not lift year-over-year until July 2009; sustained car rental year-over-year gains did not start until June 2009.
Airlines and Car Rentals also show the effects of the Q4 2008 recession bottom. Both had 2008 Q4 traffic below Q4 2007, with Car Rental showing the longest and deepest drop in that period among the four categories shown.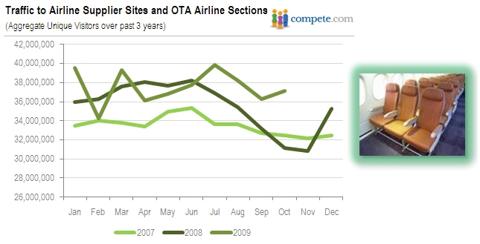 Click to enlarge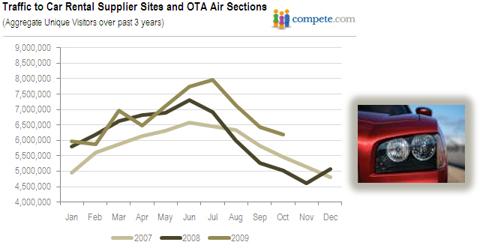 Click to enlargeIn summary, all four categories are showing signs of recovery, and in general consumer research levels are leading indicators. But results here are based on domain level visits: a deeper assessment would include consumer engagement (deeper funnel steps like conducting a search or choosing an itinerary) and actual bookings. A true recovery will be supported by more overall research by travelers, more engagement, and more bookings – coupled with a return of pricing power.