This is a simple observation, but one that I believe is incredibly relevant and powerful. The first commercially available system based on Intel's (NASDAQ:INTC) low power "Bay Trail" system-on-chip, the ASUS T100, is selling like hot-cakes. Indeed, on Amazon.com (NASDAQ:AMZN), the systems have sold out for a second time since the device became available for purchase on Oct. 18.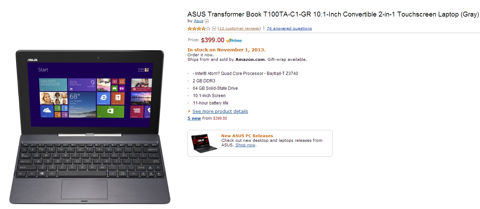 Click to enlarge
Indeed, according to Amazon's sales rankings, this machine - a $399 convertible powered by an Intel Z3740 and Windows 8.1 - it is the #2 best selling laptop and the #15 best selling device in all of Amazon's "Computers and Accessories" segment (this includes all tablets, including the Kindle Fire):

Click to enlarge
The T100 has also sold out on Newegg.com: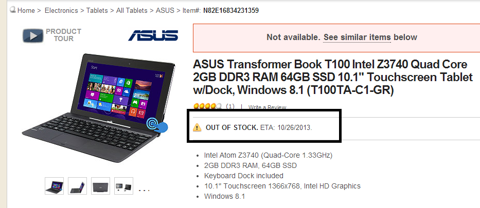 Click to enlarge
While too early to really know, I believe that there is a very legitimate chance that systems based on Windows 8.1 and Bay Trail - particularly at these attractive price points - will drive a meaningful uptick in "PC" sales and, as a result, could lead to Intel beating its tepid, sub-seasonal sequential growth estimates in the coming quarter.
What's Going On?
But, why? What has fundamentally changed? It's, in my view, simple: the ASUS T100 is the first in a new wave of low cost PCs that don't suck. Until now, Intel has poured so much of its attention towards Ultrabooks. These are generally expensive notebooks, and frankly not the devices that are being cannibalized by tablets. It's the low end PCs that came with power-guzzling silicon, poor displays, slow 5400 RPM hard disk drives, all with terrible battery life and portability that users objected to. This is likely a big reason that there was a massive form factor shift to tablets for the mainstream consumer.
That being said, I believe these early signs vindicate the "2-in-1" trend. While it has been obvious that this is the right way to go, particularly as many third party tablet accessory vendors make a mint selling external keyboards, it hadn't ever really been executed correctly by the PC ecosystem. Either you got some completely misguided attempts from PC vendors trying to stick a 20W Core i5/i7 into a thick and expensive machines (the worst of both worlds), or you had the woefully underpowered "Clover Trail" based Atom systems that were barely passable. Oh, and did I mention that some vendors, like Samsung, had the gall to try to sell these for $700 (I am convinced that Samsung doesn't want any tablet with an Intel chip to sell).
But this time it's different. Apparently, Microsoft (NASDAQ:MSFT) is playing along, too, as the $399, 64GB beauty above also comes with a copy of Office Home and Student 2013. The Z3740 processor in this device is faster than any ARM CPU available today (except maybe the Apple A7 in single-threaded tasks) and the GPU is quite good (unlike Clover Trail's absolute abomination of a graphics processor). In fact, it's good enough that even top end 3D PC games from 2007 like Call of Duty: Modern Warfare at decent settings (click to see a video of the tablet running this game).
So, What Now?
I'm legitimately excited. I think Bay Trail based systems - assuming they're priced low enough and are of good quality - will fly off the shelves as consumers for the first time finally get cheap, fanless, long battery life Windows PCs that run all of their old applications while, at the same time, providing a very friendly touch interface. While "Bay Trail" is really the product that Intel should have had available last year, that's just not how it panned out.
Further, while these convertibles/tablets are doing well, I am also expecting that once systems with Bay Trail-M (i.e. cheap notebook version of Bay Trail with PC I/O) begin to roll out at attractive price points, they will also sell quite well. The key all along for Intel's growth story was to be able to provide silicon into high growth, low cost areas. A strong "low power" processor core built on the company's leading edge process technology was the key to this - something it didn't have with the original Netbooks/Atom.
But it's here now, and I believe that if 4Q is a success, Intel's full year guide for 2014 should be a veritable blowout. Remember, the Street is only modeling $53.71B for FY2014. If these Bay Trail (and their 2H 2014 successors, Cherry Trail) processors can bring back the low end PC volumes that were lost, then that alone could easily account for that year-over-year revenue growth, not to mention smartphone apps processors + LTE baseband/RF as well as the datacenter growth story.
Of course, we'll just have to wait and see how this all plays out, won't we? But in any case, now's the time to place your bets - bullish and bearish.
Disclosure: I am long INTC. I wrote this article myself, and it expresses my own opinions. I am not receiving compensation for it (other than from Seeking Alpha). I have no business relationship with any company whose stock is mentioned in this article.