On Friday, October 25th, Hawaiian Electric Industries (NYSE:HE) announced that the company had asked Hawaii state regulators to approve its plans for a 15 MW photovoltaic system. This system, which Hawaiian Electric says could produce electricity at a cost equal to a power purchase agreement with a price of $0.145/kw-hour vs. the $0.227/kw-hour cost of power created by burning fuel, would be the state's largest. In the wake of the Friday's news, I wanted to highlight several reasons behind my decision to remain bullish on shares of Hawaiian Electric.
Recent Performance & Trend Status
At the close of Friday's trading session shares of HE, which currently possess a market cap of $2.63 billion, a P/E ratio of 19.31, a forward P/E ratio of 15.61, and a dividend yield of 4.65% ($1.24) ended the day at a price of $26.65/share.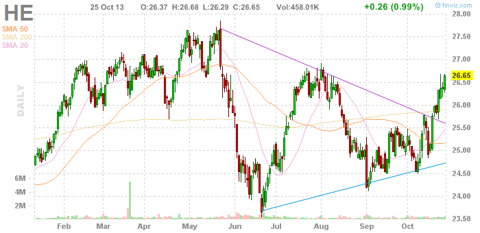 Based on their current price of $26.65/share, shares of HE are trading 4.91% above their 20-day simple moving average, 5.89% above their 50-day simple moving average, and 2.89% above their 200-day simple moving average. These numbers indicate a short-term, mid-term, and long-term uptrend for the stock, and that generally translates into a moderate buying mode for near-term traders and longer-term investors.
A Note on the Company's Dividend Behavior
Since February 13, 1998, the company has maintained its quarterly dividend of $0.31/share whereas its industry peer, the Empire District Electric Company (NYSE:EDE), has actually reduced its dividend from $0.32/share to $0.25/share over that same period.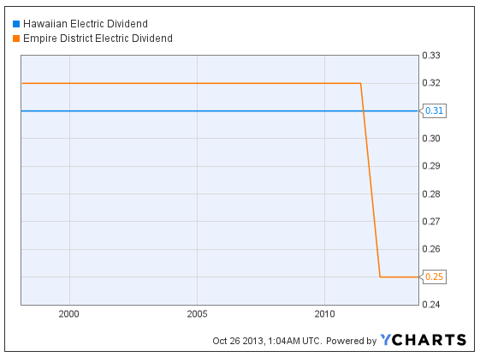 Unprecedented Renewable Generation Levels
According to the company's Q2 earnings presentation its YTD renewable generation is at unprecedented levels and if the company continues to maintain similar levels during the third quarter we may even see those levels go even higher. One of the things that sticks out the most is the fact that company is already a at level (18% renewable generation vs. 82% fossil generation ) that is 20% above its 2015 RPS target (15% renewable generation vs. 85% fossil generation).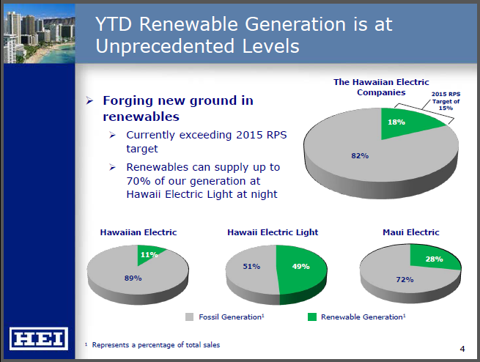 During the third quarter, I'm actually looking to see if this particular ratio has risen any higher than its current level of 18% renewable vs. 82% fossil. If it has, then there is a very good chance this ratio could continue to tick upward over the next 12-24 months and potentially reach a level that is at or near 22% renewable vs. 78% fossil or possibly even 25% renewable vs. 75% fossil.
Upcoming Earnings
On November 7th Hawaiian Electric Industries is scheduled to report its third quarter earnings. Analysts are estimating that the company will report net income in the range of $0.46/share - $0.52/share and revenue in the range of $861.75 million - $869 million. Based on the company's earnings performance over the last 12 months (where estimates were surpassed by an average of $0.0325/share) and the full year guidance of $1.52/share to $1.62/share that was noted during its Q2 conference call, there's a possibility earnings could surpass estimates by between $0.02/share and $0.04/share and revenue could exceed $867 million.
Risk Factors
According to Hawaiian Electric's most recent 10-K (February 2013) there are a number of risk factors all investors should consider. These factors include but are not limited to risks associated with the Hawaiian economy, volatile U.S. capital markets and changes in the interest rate and credit market environment that have and/or could result in higher retirement benefit plan funding requirements, declines in electric utility KWH sales, declines in ASB's interest rate margins and investment values, higher delinquencies and charge-offs in ASB's loan portfolio and restrictions on the ability of HEI or its subsidiaries to borrow money or issue securities.
Conclusion
For those of you who may be in the market for a higher-yielding regionally-based utilities play, Hawaiian Electric could be exactly what you're looking for. Why do I think that? Since the company has reported fairly solid earnings over the last 12 months, maintained its dividend of $0.31/share over the last 15 years and demonstrated unprecedented renewable generation levels, I think Hawaiian Electric could be a very solid investment for any long-term investor.
Disclosure: I have no positions in any stocks mentioned, but may initiate a long position in HE over the next 72 hours. I wrote this article myself, and it expresses my own opinions. I am not receiving compensation for it (other than from Seeking Alpha). I have no business relationship with any company whose stock is mentioned in this article.