Great progress on the Microsoft (NASDAQ:MSFT) front. You have to admit that despite Surface troubles and Windows 8 issues in the past, Microsoft has presented a quarter of great results with improving metrics across the board.
Microsoft increased
Revenues to $18.5 billion in Q1 2014 from $16 billion in Q1 2013 (up 16%)
Gross margin to $13.4 billion compared to $11.8 billion last year (up 13%)
Operating income to $6.3 billion in Q1 2014 up 19% vs. $5.3 billion in Q1 2013
Net income by 17% to $5.2 billion which compares to $4.5 billion in the previous year
Diluted EPS to $0.62 up from $0.53 in Q1 2013 (plus 17%).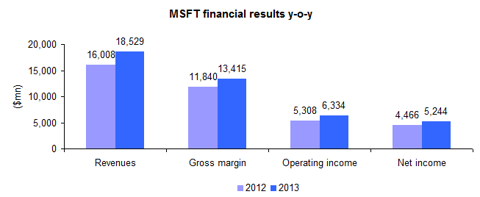 Segment results
Commercial
Microsoft's business unit Commercial has posted a 10% increase in both revenues and gross margins. Commercial cloud growth stood at 103% and licensing revenues increased 7% to $9.6 billion. The Commercial segment has great potential going forward to capitalize on momentum in cloud and business services.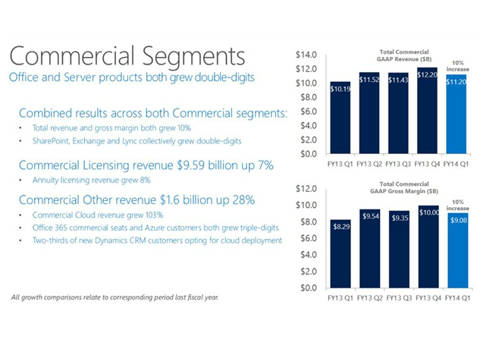 Device & Consumer
Microsoft's OEM Pro revenues increased 6% and non-Pro revenue decreased 22%. GAAP revenues decreased 7% y-o-y but increased 1% q-o-q. Microsoft's hardware segment was driven by increased Surface sales with sold units doubling compared to the previous quarter. D&C hardware revenues increased 37% ($401 million) driven by Surface sales which contributed $400 million. D&C cost of revenues increased 101% or $643 million mainly due to higher sales and inventory build-up for the new Surface 2 product roll-outs in October.
Share performance
Since October 2010 Microsoft traded in a trading range of $25 to $33. The recent (repeated) break of the $35 level could be a sign that Microsoft is leaving its trading range behind once and for all. Shares have done well so far this year and are up 29% while shares gained 60% over the last five years.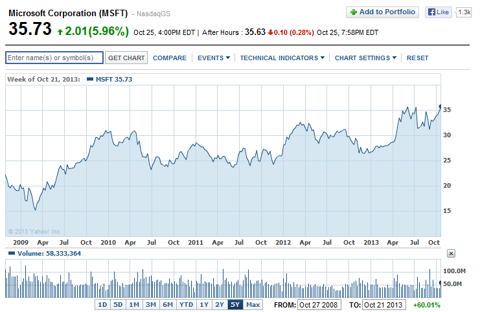 Low valuation
Microsoft currently trades at just 12 times forward earnings while Oracle (NASDAQ:ORCL) trades at 10.5 times future earnings and Automated Data Processing (NASDAQ:ADP) at 21.6. Microsoft remains a cheap stock in the Business Software & Services sector. The multiple comparison table from Morningstar (see below) shows that Microsoft scores favorably on a variety of metrics:
(Source: Morningstar)

In addition to its low valuation I think that the market disregards Microsoft's strong net cash position. At the end of September Microsoft held $80.7 billion in cash and short-term investments on its balance sheet. It also showed a total of $15.9 billion in short- and long-term debt bringing Microsoft's net cash position to $64.7 billion. With 8,348 million shares outstanding Microsoft's net cash stands at $7.75 per share. In other words, 22% of Microsoft's current market valuation consists of cash and cash equivalents and provides investors with a high margin of safety.
Summary
Despite Microsoft's push into the hardware business its flagship product continues to be Windows. Microsoft's purchase of Nokia's (NYSE:NOK) device unit as well as Microsoft's Surface line could be powerful catalysts for the company in the future if Surface 2 and Surface Pro 2 roll-outs gain market traction. The hardware business complements Microsoft's software footprint although the company will be exposed to serious scrutiny whether the software business subsidizes its hardware business. In addition to catalysts coming from its hardware business (Surface and mobile device sales with Windows platforms in particular), Microsoft is still a bargain. Considering $7.75 net cash per share Microsoft would trade $27.98 ex-cash and exhibit an ex-cash P/E ratio of 9.3. A ratio of just around nine is way too low for a market leading software developer with great cash flow generation and increasing exposure to high-growth Cloud markets. Strong long-term Buy on rebound in the Commercial segment, upside potential coming from increasing Surface sales and low ex-cash earnings valuation.
Disclosure: I am long MSFT. I wrote this article myself, and it expresses my own opinions. I am not receiving compensation for it (other than from Seeking Alpha). I have no business relationship with any company whose stock is mentioned in this article.