The trucking industry is responsible for more than 68% of total freight moved in America, according to a report by the American Trucking Association. In 2012, 9.4 billion tons were transported by truck. Industry-wide total revenue generated was in excess of $642 billion.
In other words, a lot of economic trade is carried on the back of an 18-wheeler.
The problem is figuring out how to fuel the engines capable of hauling all that freight, while still ending up with a positive bottom line.
Profit margins for trucking companies average less than 5%, with fuel costs taking up more than half of operational expenses. Fluctuating diesel prices have a big impact on quarterly earnings reports and efforts have been made to improve fuel efficiency like using speed governors and fuel additives.
The advent of new technologies has brought to light the feasibility of natural gas engines. And this isn't a far-fetched concept. The natural gas engine infrastructure is being developed right now.
Truck stop chain TravelCenters of America (NYSEMKT:TA) has partnered with Shell (NYSE:RDS.A) to add liquefied natural gas (NYSEMKT:LNG) fuel lanes at 100 different facilities across the United States. Clean Energy Fuels (NASDAQ:CLNE) has partnered with private truck stop giant Pilot Flying J to embark on a mission to provide as many as 150 facilities with a natural gas solution.
As oil prices have recently been up around $100 a barrel and diesel prices have topped $4.00 a gallon on average nationwide, natural gas starts to look like an extremely cheap form of fuel.
(Click to enlarge. Sourced from Zacks Investment Research.)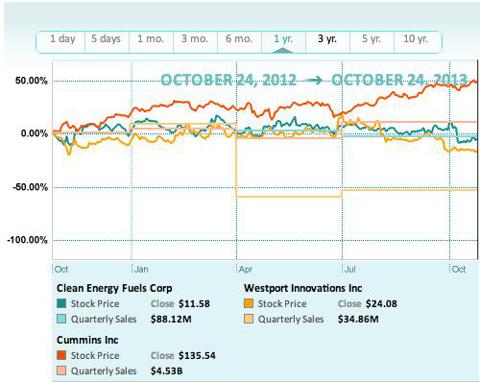 And oil and natural gas prices are not exactly correlated, so a move in the price of one commodity won't necessarily impact the price of the other.
Andrew Littlefair, CEO of Clean Energy Fuels, explained it this way: the commodity cost per gallon of natural gas is around $0.47 cents. Adding in the expenses of having to haul it and store it, the cost at the pump would still only be around $1.50. Natural gas prices could double and total costs per gallon would still only be about $2.00. It should be easy competition against diesel at $4.00 and rising.
The collaboration of Cummins (NYSE:CMI) and Westport Innovations (NASDAQ:WPRT) is leading the way with new engine designs that run on natural gas. Westport develops the technology while Cummins manufacturers the equipment. The joint venture is responsible for roughly 28% of all revenue generated by Westport for the first half of 2013. All three companies, Cummins, Westport, and Clean Energy Fuels are dependent upon each other for success in the natural gas enterprise.
Cummins is a large $25 billion dollar equipment manufacturer that has achieved success with their natural gas engines. The acclaimed 15-liter ISX engine paved the way for the development of the ISX12G and investors are taking notice.
Shipments from the Cummins-Westport joint venture were up 38% and Cummins is taking over a larger share of the trucking market, aiming for 40% this year.
Cummins has a $1 billion dollar stock buyback program and a history of solid dividend increases - up 300% since 2008. And while a current dividend of 1.8% is modest, it could still provide some downside protection for investors.
Meanwhile, Westport Innovations is a relatively small $1.4 billion dollar company, but has made big waves with investors over the past few years with its proprietary natural gas technologies.
Westport Innovations is one of the most hotly debated companies, with a heavy short interest - over 23%. Cash flow concerns and negative earnings fuel the bear story, but with continued investments in infrastructure for natural gas vehicles and the success of the joint venture with Cummins may belie that story.
Long-term earnings are expected to be over 30% and Westport Innovations has given investors a target of end-of-year 2013 to be cash-flow neutral, removing one of the biggest hurdles for the company to overcome.
And the average analyst price target is $31.31 - representing a 27% increase from its recent price range.
The third play on the natural gas engine is Clean Energy Fuels, which claims to be the largest provider of natural gas fuel for transportation in North America.
Recently, Clean Energy Fuels took a hit after a pair of sell calls by Piper Jaffray and Jim Cramer, based on incomplete data that the company only used LNG, when in fact Clean Energy Fuels uses both LNG and compressed natural gas (CNG).
Clean Energy Fuels has initiated an endeavor to supply motorists with a natural gas alternative concept called "America's Natural Gas Highway" and is expanding on this idea in the commercial arena through its deal with Pilot Flying J.
The recent stock sale has placed Clean Energy Fuels at a potentially very attractive price. And insider buying of 127,000 shares by the CEO could be a sign that the company is undervalued.
The biggest risk to investing in the evolution of the natural gas engine via Cummins, Westport Innovations, and Clean Energy Fuels is that all three companies are so linked to each other's successes and failures.
It's an ecosystem that requires engines that use natural gas, along with the facilities and infrastructure to provide the natural gas to consumers. Demand is strong and should remain that way as long as diesel prices continue to squeeze trucking margins.
Disclosure: I have no positions in any stocks mentioned, and no plans to initiate any positions within the next 72 hours.
Business relationship disclosure: Kapitall is a team of analysts. This article was written by Daniel Cross, one of our writers. We did not receive compensation for this article (other than from Seeking Alpha), and we have no business relationship with any company whose stock is mentioned in this article.