Large businesses can be complicated, with numerous data points to be crunched and evaluated as part of the investment decision making process. But the human mind prefers simplicity: after looking for a while at complexity, we frequently make decisions based on one or two key considerations.
As a retail investor looking at Exxon Mobil (NYSE:XOM), reviewing the financials, reading various analyst reports, and studying company presentations, I see the company's proven record of project management as the key point.
Big Projects, Long Time-frame, Excellent ROIC
From the 10-K, under Risk Factors:
Project management. The success of ExxonMobil's Upstream, Downstream, and Chemical businesses depends on complex, long-term, capital intensive projects. These projects in turn require a high degree of project management expertise to maximize efficiency. Specific factors that can affect the performance of major projects include our ability to: negotiate successfully with joint venturers, partners, governments, suppliers, customers, or others; model and optimize reservoir performance; develop markets for project outputs, whether through long-term contracts or the development of effective spot markets; manage changes in operating conditions and costs, including costs of third party equipment or services such as drilling rigs and shipping; prevent, to the extent possible, and respond effectively to unforeseen technical difficulties that could delay project startup or cause unscheduled project downtime; and influence the performance of project operators where ExxonMobil does not perform that role.
To evaluate the company's success, please consider the following, from the 2013 Analyst Presentation: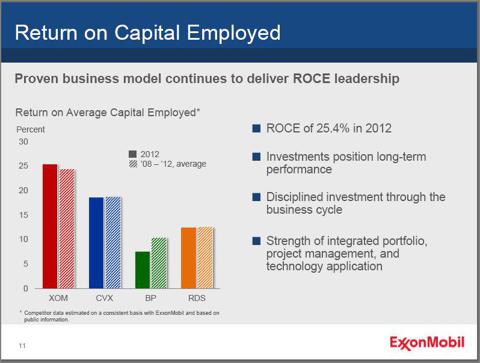 Click to enlarge
That 25% has my attention, particularly when compared to the competition. The thinking is, the company earns money, which it reinvests on my behalf, at a 25% return. Sweet.
When CEO Rex Tillerson talks about favorable expectations for the 2014-2017 time frame, the past record provides credibility.
Valuation
From FASTGraphs: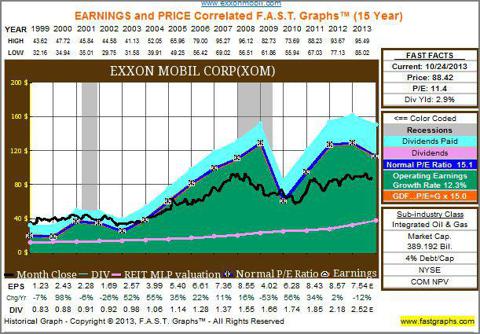 Click to enlarge
Note the 15 year period. For a 10 year period, average P/E is 11.9. Energy companies seem to be permanently undervalued lately, but looking back further XOM's normal P/E for 15 years is 15.1, as compared to the current 11.4. David Van Knapp discusses the question of "always undervalued" in a recent article, worth reading both for content and for the comment stream.
I'm investing on the basis that the stock is worth $100 dollars today ($8 X 12.5 = $100), and will increase 7.5% per year for the next 4 years, to reach $134 within that time frame. The return, from an $88 starting point, would be 10.8% annualized, to which one could add the dividend.
Dividend
XOM is a Dividend Champion, with a 30 year record of increases. The dividend is well-covered by earnings and cash flow, and most recently was increased by 10.5% from 57 to 63 cents quarterly. The yield is 2.84% at recent prices.
Historical Growth of EPS
Exxon earned $3.23 per share in 2003. Estimating 2013 at $8.00, the annualized increase is 9.5%. I'm looking for 7.5% going forward.
Strategy and Tactics
Investing at recent prices in the $88 area, an investor has a reasonable expectation of receiving an increasing flow of dividend income and eventual share price appreciation.
For those who use options, the cost of controlling the shares by means of LEAPS is quite reasonable. I'm long XOM Jan 2015 70 calls, against which I sold Apr 2014 92.5 calls.
Disclosure: I am long XOM. I wrote this article myself, and it expresses my own opinions. I am not receiving compensation for it (other than from Seeking Alpha). I have no business relationship with any company whose stock is mentioned in this article.