Knight Transportation (NYSE:KNX) recently attempted a hostile takeover of USA Trucks (NASDAQ:USAK), which was rebuffed because USAK felt the offer of $9 per share was too low. After the offer was turned down, KNX issued a press release stating their disappointment in the decision to turn down the offer.
Since then, USAK has begun legal action to sue KNX for the breach of contract with the press release. USAK states that KNX has used, and intends to use, information that previously disclosed to KNX, in order to pursue a hostile takeover of the company and bypass the board of directors.
Background
I previously wrote about this take over, and still feel that there is more upside to USAK shareholders if KNX decides to pursue the deal. In the previous article, I stated that USAK presented 30% upside for investors as a result of the takeover. Since then, USAK is up over 30% to $12.59, and reaching a high of $13, due to increased operations and not the takeover bid.
USAK is a truckload carrier that transports full dry van trailer loads of freight from origin to destination within the US, Mexico, and Canada. It operates in three segments: Trucking, Strategic Capacity Solutions, and Rail Intermodal. Its fleet consisted of 2,202 in-service tractors and 6,061 in-service trailers headquartered in Van Buren, Arkansas. The company is currently trading at $12.59, and has a market cap of $130 million.
In contrast, KNX has a market cap of $1.4 billion. KNX operates as a short to medium-haul truckload carrier of general commodities primarily in the United States. The company operates in five segments: Dry Van Truckload, Temperature-Controlled Truckload, Port Services, Brokerage, and Intermodal Services. It operated 3,627 company-owned tractors, as well as had 507 tractors under contract that are owned and operated by independent contractors. The company's trailer fleet comprised 9,564 53 -foot long trailers, including 1,092 temperature-controlled trailers headquartered in Phoenix, Arizona.
How this has been good for USAK
The trucking industry as a whole is seeking to consolidate as fuel costs have driven prices higher. KNX operates primarily in the historically more efficient less-than-truckload market, but has seen the value created by USAK with dedicated transport. Prior to the announcement of the initial takeover attempt, USAK was trading in the $5-6 range.
In spite of the company operating struggling to turn a profit for shareholders, KNX saw the value in USAK and felt that a takeover at $9 would still be a great deal for KNX. The board of USAK saw their brand and industry improving, and felt that $9 was severely undervalued. For investors, this has validated the vision and operating strategy of USAK, and attracted attention to the improving company. While USAK has turned down the offers so far, it's due to their fiduciary responsibility to maximize shareholder value, and has been great for investors.
And then 3rd Quarter results came in
On October 17th, USAK released their 3rd Quarter 2013 results, which were significantly better, and sent the price up over $12.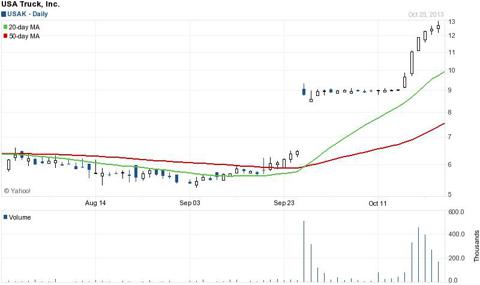 Click to enlarge
"The continued, accelerating improvement in our results clearly illustrates the rapid progress we're making in our turnaround," said President and CEO John Simone. "The third quarter of 2013 marked our fourth consecutive quarter of substantially improved operating and bottom-line results. Our increased cash flow enabled us to pay down debt for the first time since the fourth quarter of 2011. These achievements are even more impressive given the challenging conditions the truckload industry has been facing and the fact that our third quarter is usually seasonally weaker than our second.

Mr. Simone concluded, "We are pleased with our sequential and year-over-year progress and expect to build even further on the strong business momentum we have established. The sustainability of this momentum is demonstrated by the increasing rate of improvement in our bottom-line results up 49% in the first quarter of 2013, 60% in the second quarter, and 90% in the third quarter. With meaningful opportunities for improvement in several areas of our business, including insurance and claims, maintenance costs and tractor utilization, we expect to continue to show significantly improved quarter-over-quarter results in the fourth quarter irrespective of industry conditions and seasonality."
Part of the increase in revenues, was also an increase in operating performance. The company recorded longer hauls, increased revenues per truck, and an increase in rate/mile.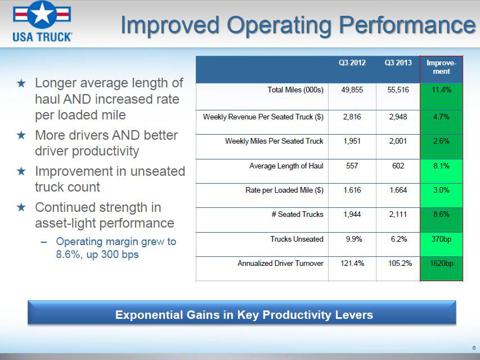 Click to enlarge
Will KNX give up or keep pushing?
When KNX first made the offer, USAK was trading in the $5-6 range, and made the offer for $9. KNX felt like they were getting a great deal at $9, but after the refusal, KNX said they would go back and reevaluate their offer, potentially coming in higher. Now that USAK has once again posted better results, sending the stock higher, KNX will have to decide how much they will pay for the company. Prior to the better results, $12 seemed like a better offer, but now that USAK is looking better, KNX will have to offer even more if it wants to get its hands on USAK.
KNX has already invested significant money into the takeover, acquiring over 11% of outstanding shares, or 1,192,364 shares. If they acquired those shares at $6 per share, that would represent an investment of just over $7 million, which would now be worth almost $15 million. Should they decide to abandon the transaction, they would still post a healthy profit for their shareholders.
On top of that, USAK has signaled they are a serious company too by reacting to the KNX press releases with lawsuits stating breach of contract. If this deal continues, it will truly be a "hostile takeover".
Conclusion
USAK is in a significant turnaround. The company has posted improvements in revenue, debt, and operations that shareholders and investors are excited about. It's yet to be seen if KNX will continue to try and take over the company or abandon the deal and take their profits. Either way, investors should anticipate further appreciation for their shares.
Disclosure: I have no positions in any stocks mentioned, and no plans to initiate any positions within the next 72 hours. I wrote this article myself, and it expresses my own opinions. I am not receiving compensation for it (other than from Seeking Alpha). I have no business relationship with any company whose stock is mentioned in this article.