Ample availability of oilfield equipment and services has been a critical factor that has contributed to the continued spectacular success of the North American Shale Revolution. Quite remarkably, notwithstanding the colossal ramp-up of drilling activity in oil and liquids-rich shales in the past two-three years, drilling and completion costs have been steadily trending lower across the industry.
The highly favorable service cost environment should continue to benefit North American Oil & Gas operators for at least several more quarters, supporting an undisrupted growth of crude oil and NGL production volumes in the U.S. and Canada. Quite notable in that regard is a comment from Schlumberger (NYSE:SLB), the world's largest oilfield service provider with market capitalization of $122 billion, during the company's third quarter conference call a week ago:
In the land market, the U.S. rig count remained flat sequentially while the seasonal recovery in Canada was more or less on par with last year. The downwards pricing pressure continued in most product lines in the third quarter including pressure pumping, although at a slowing rate.

In terms of pricing, we are not seeing any signs of an inflection point.
Schlumberger characterized the current operating environment as one with highly competitive pricing on basic services and slow but steady activity growth where service providers can get a premium for new technology and for the quality of execution. Schlumberger's comments were echoed by Baker Hughes (NYSE:BHI) and Halliburton (NYSE:HAL) during their earnings calls last week.
The favorable surplus of oilfield service equipment in the North American onshore market is to a great degree the consequence of the massive expansion cycle that the service industry went through several years ago during the peak of the Shale Gas drilling boom. By 2011, the year when the North American gas-directed rig count went into a steep and irreversible decline, a substantial amount of new capacity had already been put in place to satisfy the gas industry's urgent need for a new generation of drilling and completion equipment.
As the productivity of the U.S. gas shales, on a per well basis, has continued to grow far beyond the industry's most optimistic expectations, the resulting excess oilfield service capacity has been re-directed towards the emerging oil and liquids-rich shales.
Still, given the massive scale and powerful momentum that have built up in the oil shale area, it may appear somewhat counter-intuitive that the excess oilfield service capacity is having difficult time to be fully absorbed by the highly service-intensive oil shale industry (particularly given that natural gas drilling has remained more or less stable for more than a year). The persistent, even increasing, capacity surplus is attributable to a great degree to significant equipment productivity gains which have allowed Oil & Gas operators to get more done with less equipment. While productivity improvements have been broadly publicized, the magnitude of such gains is truly striking and may not be fully appreciated.
The productivity growth trend is vividly illustrated by the following two slides from a recent presentation by Nabors Industries (NYSE:NBR). The first slide (below) shows drilling productivity statistics for four major U.S. basins - the Eagle Ford, Marcellus, Permian and Williston - since the first quarter of 2012. Excluding the Permian where the average number of wells drilled per active rig has remained little changed (which is explained by the increasing weight of more complex horizontal wells in deeper plays), the other three basins show productivity improvements over the seven quarters in the 30%-69% range.
It is important to note that these statistics capture only one dimension of the drilling productivity gains (average wells drilled per rig) and do not reveal the fact that the average well has grown longer and more complex and would have taken more time to drill two years ago.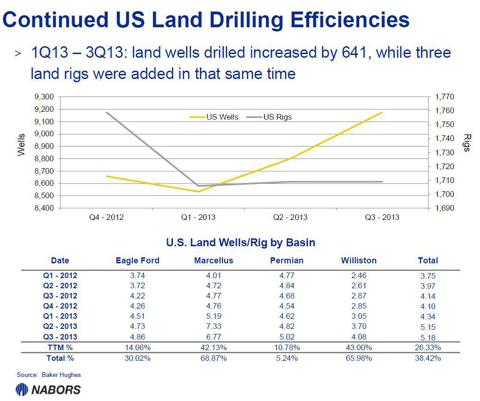 Click to enlarge
(Source: Nabors Industries' October 2013 Investor Presentation)
The second slide (below) highlights a similar efficiency trend in the completion segment. The slide implies that excess capacity in the U.S. pressure pumping market has been growing substantially faster than total capacity installed. Given the continued trend toward higher stage densities and bigger frac jobs, these statistics can only be rationalized by rapid gains in the service industry's productivity.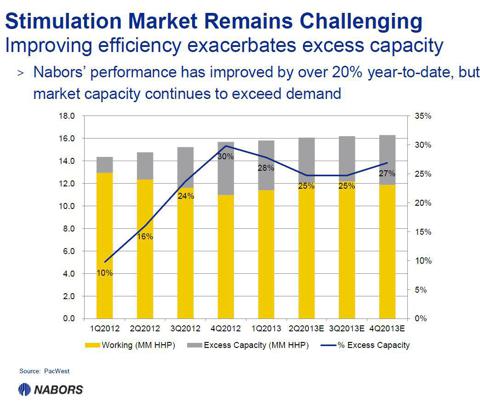 Click to enlarge
(Source: Nabors Industries' October 2013 Investor Presentation)
The oilfield service industry is far from having exhausted its productivity reserves. The majority of the established U.S. resource plays are still transitioning into pad drilling mode which drives efficiency gains (Halliburton sees approximately half of drilling activity in the major plays to be done off pads in 2014). Many emerging plays will not reach full development mode (and efficiencies associated with it) for another several years.
The equipment replacement cycle (the displacement of older generation equipment with modern capacity) also has long ways to go in some areas. Another slide from Nabors shows the bifurcation in the land rig market where modern generation, fit-for-purpose drilling rigs are generally in high demand and almost fully utilized while legacy rigs are suffering from poor utilization and are gradually being retired. Specifically, the slide shows a high 94% utilization among the company's AC (alternating current electric) rigs whereas its old generation equipment is languishing at a 39% utilization. Needless to say, modern rigs have greater productivity than older rigs.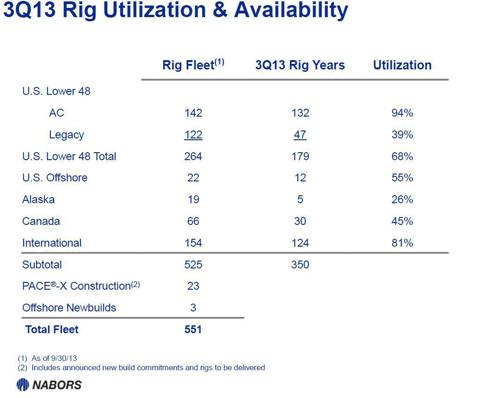 Click to enlarge
(Source: Nabors Industries' October 2013 Investor Presentation)
As the equipment replacement cycle continues over the next several years, older rigs will play an important role as the capacity reserve for the fast expanding oil shale industry and should help avert potential equipment shortages and dayrate spikes.
Productivity gains will also continue to be driven by new technology and work flow implementation. To provide just one relevant example in the completions market, a more precise targeting of specific areas within the formation with fracture stimulations may yield higher recoveries while potentially reducing the total size of the frac job. The potential of this approach remains largely untapped but may become a broadly accepted practice within the industry. According to Schlumberger:
...We have confirmed that in order to optimize production, recovery and costs of the shale developments, there is a clear need to shift focus from the level of a [frac] stage down to the level of the individual perforation clusters that make up a stage. The reason for this is that the studies including production logs show that in traditional completions on average between 30% and 70% of the perforation clusters do not contribute to production.

This means that we are not effectively addressing the available shale reservoir throughout the entire length of a stage and that we generally over-fracture a subset of the perforation clusters. Based on these findings, we are actively working on a number of technologies that target this opportunity.
The most important consequence of the capacity surplus in the oilfield service market is that the nascent shale oil industry in the U.S. currently faces no major constraints to growth and has ample headroom to expand production volumes in a cost-effective manner.
While the oilfield service market will likely remain highly favorable to Oil & Gas operators in the near term, the cost "honeymoon" will obviously not last forever. Assuming the current high oil prices can be sustained and continue to stimulate the rapid expansion of the U.S. oil shale activity, the industry will "burn," by way of natural equipment attrition, through some of the existing excess capacity and may face the need for another round of capacity additions to meet its growing needs. Rapid oil service cost increases would follow to reflect replacement cost economics. That point appears at least eighteen months away.
Disclaimer: Opinions expressed herein by the author are not an investment recommendation and are not meant to be relied upon in investment decisions. The author is not acting in an investment advisor capacity. This is not an investment research report. The author's opinions expressed herein address only select aspects of potential investment in securities of the companies mentioned and cannot be a substitute for comprehensive investment analysis. Any analysis presented herein is illustrative in nature, limited in scope, based on an incomplete set of information, and has limitations to its accuracy. The author recommends that potential and existing investors conduct thorough investment research of their own, including detailed review of the companies' SEC filings, and consult a qualified investment advisor. The information upon which this material is based was obtained from sources believed to be reliable, but has not been independently verified. Therefore, the author cannot guarantee its accuracy. Any opinions or estimates constitute the author's best judgment as of the date of publication, and are subject to change without notice.
Disclosure: I have no positions in any stocks mentioned, and no plans to initiate any positions within the next 72 hours. I wrote this article myself, and it expresses my own opinions. I am not receiving compensation for it (other than from Seeking Alpha). I have no business relationship with any company whose stock is mentioned in this article.