Focus on expanding its presence in emerging markets as well as increased productivity will help Mondelez trade at a higher P/E multiple, and that is why Bidness Etc. rates this stock a buy.
Mondelēz International, Inc. (NASDAQ:MDLZ) operates in the US packaged food and meat industry. It comprises many famous food brands such as Cadbury Dairy Milk, Oreo, Trident and Halls. The company was formed when Kraft Foods Inc. split into Mondelēz and Kraft Foods Group Inc. (KRFT) in October 2012. Its main competitors are The Hershey Company (NYSE:HSY), Kellogg Company (NYSE:K) and General Mills, Inc. (NYSE:GIS).
The company beat analysts earnings estimates by 8.5% in the second quarter (2Q) of fiscal year [FY] 2013. Its stock price was also up by 4.6%, mainly due to significant revenue growth from emerging markets and from what Mondelēz calls its power brands, including Oreo, Tuc, belVita and Cadbury Dairy Milk.
Revenues in Mondelēz's power brands grew 7.9% YoY whereas the company's organic sales grew 3.8% over the same period. In the same period, its brands such as Oreo, Tuc, belVita and Cadbury Dairy Milk grew at double digit growth rates. Furthermore, the company's revenues from emerging markets grew 9.7%, with Brazil, Russia, India and China [BRIC] contributing the most.
Gross Margins Expected to Rise:
Mondelēz has a lower gross margin of 37.3% compared to the industry average of 39.4%. The industry average comprises figures from Mondelēz, The Hershey Company , Kellogg and General Mills. Its operating margin of 8.6% is also lower than the industry average of 14.6%. However, Mondelēz has shown consistent improvement in margins since FY08; its gross margins expanded by 392 basis points from FY08 to FY12.
The margins are expected to expand further as a result of the management's plans to improve productivity, higher coffee prices and lower costs of cocoa. Analysts estimate gross margins will improve in FY13 and FY14.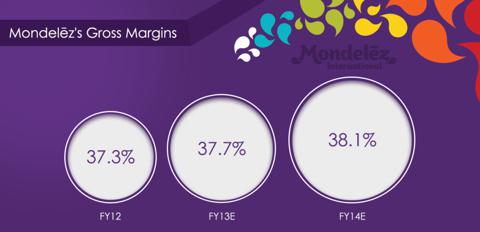 Improving Productivity:
More Productive Manufacturing Lines:
Mondelēz's management plans to improve productivity by restructuring its supply chain and installing new manufacturing facilities to further improve gross margins. The company plans to install new manufacturing lines for its Oreo brand. These new manufacturing lines require 30% less capital compared to old manufacturing lines. This would not only help the company reduce operating costs by $10 million per line but cut labor costs as well.
Margin Expansions in North America and European Regions:
Mondelēz's biscuit facility in Mexico is expected to be operational by the second half of 2013. The company estimates that this facility will lead to a margin expansion of 500 basis points for the North American region by 2016. Additionally, the company estimates a 250 basis points expansion in its European region margins by 2016 because of supply chain restructuring.
Total Gross and Net Productivity Savings:
The company estimates these productivity improvement initiatives to result in $3 billion gross savings over the next three years, translating into net savings of $1.5 billion. Analysts estimate that these improvements will result in a 4.5% lower cost of goods sold and save 2.3% in operating expenses. This is even higher than the company's prior long-term targets of 4% for gross productivity savings and 2% for net productivity savings. Furthermore, the company also expects an improvement in revenues per plant from $210m in 2012 to $300m by 2016, and $500m by 2020.
Coffee Prices and Raw Material Costs:
Expected Increase in Coffee Prices:
Coffee, which contributes 11% to Mondelēz's total revenues, has been witnessing falling prices for the last two years, thus negatively impacting Mondelēz's revenues. Arabica coffee prices, which stand at $1.15 currently, have declined by 39% year-to-date [YTD].
Although the decline in coffee prices raises concerns about the company being able to meet its targets of organic revenue growth of 5-7% in 2013, the future seems secure. The future contracts of coffee prices show an uptrend, which reflects that the pressure on revenues from the declining coffee prices would reduce by 2014. This would help the company benefit from higher pricing and grow its revenues at higher rates going forward.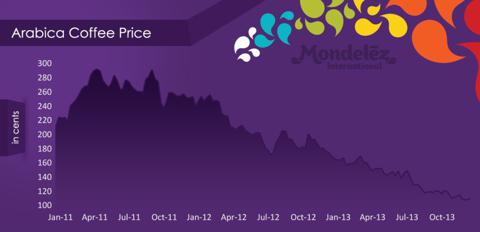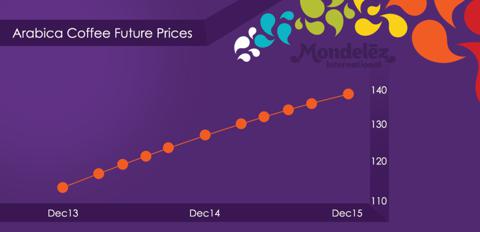 Expected Decline in Cocoa Price:
Cocoa is a significant raw material in the production of biscuits, chocolate, gum and candy, which contributes 74% to Mondelēz's total revenues. Therefore, any rise in cocoa prices impacts Mondelēz's margins. Although cocoa prices have increased over 23% year to date [YTD], its future contracts show a downtrend till March 2015. The downtrend in futures contracts reflects expectations for a decline in cocoa prices, further helping the company to achieve its margin targets.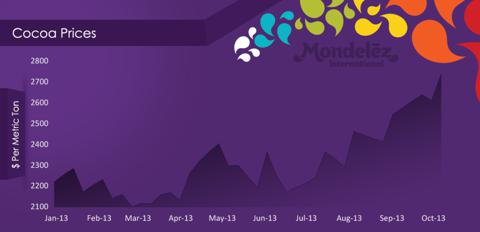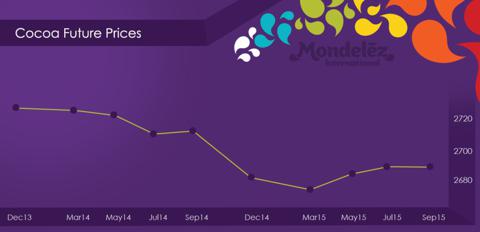 Expansion into Emerging Markets:
Emerging markets, which contributed 44.7% to Mondelēz's total revenues, remain a key driver for Mondelēz's future growth. The dependence of Mondelēz's growth on emerging markets is evident from the fact that its emerging markets revenues grew by 20.3% annually over the last five years, while its total revenues fell by 0.63% annually over the same period.

The revenue share of emerging markets as a part of Mondelēz's total revenues has more than doubled over the last five years, following significant growth.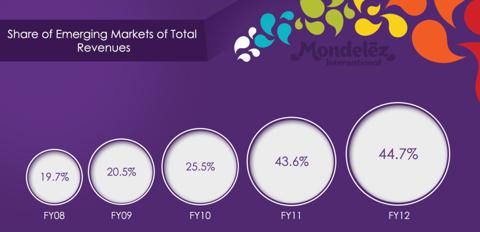 Increasing Spending into Emerging Markets:
The company plans to use its productivity savings from North American and European regions to invest into growing emerging markets. The company has increased its capital expenditure from 4% of total revenues to 5% to expand its operations and production capacities. Furthermore, the company is expected to increase investments into emerging markets by $100 million in 2013, $200 million in 2014 and $300 million in 2015.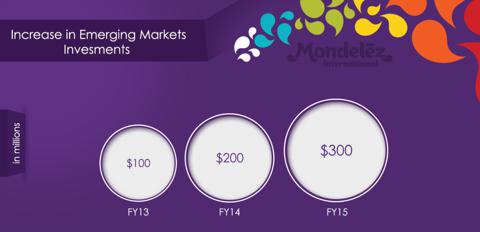 The company is focused on emerging markets with rising investments and aggressive expansion plans, which can be a significant driver for its future growth. Some of its plans include the expansion of biscuit plant in China, construction of manufacturing facility in Mexico and establishing new sites in India.
Valuation:
Mondelēz is currently trading at a one year forward P/E multiple of 18x, in line with the industry average. However, analysts estimate its earnings will grow by 14.9% annually over the next three years, which is higher compared to its competitors' average of 9% annual growth for the same period. It has the same P/E multiple as its peers, but a much higher estimated growth in earnings. Because of this, Bidness Etc. believes the stock is a good investment.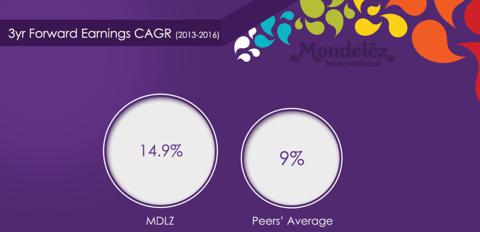 Conclusion:
The expansion plans for emerging markets, supply chain restructuring and other initiatives indicate that Mondelēz's P/E multiple would expand and trade at a premium to its peers. It has a higher estimated earnings growth of 14.9% compared to its competitor Hershey's 11.2%. If the company delivers on its plans, its P/E multiple can expand even beyond Hershey's' 23x.
Even if Mondelēz's stock trades at the current one-year forward P/E multiple of 18x, its price using consensus earnings estimates would be around $35 by 2014 year end, and that is 13% higher compared to the current stock price.
The high growth potential resulting from the expansion and productivity improvement plans of Mondelēz makes it a good investment option. Furthermore, the company also plans to repurchase $6 billion worth of shares, over 10% of the current market cap, by 2016. The $1 to $2 billion annual share buyback planned by the management would further benefit investors and improve its EPS.
Sources:
Company Reports
Bloomberg
Disclosure: I have no positions in any stocks mentioned, and no plans to initiate any positions within the next 72 hours.
Business relationship disclosure: This article is written by Bidness Etc's Consumer Staples analyst. Bidness Etc is not receiving compensation for it. We have no business relationship with any company whose stock is mentioned in this article.