In our article titled "Is Netflix Going to $300", published in February, we went over the reasons why we felt Netflix, Inc (NASDAQ:NFLX) was poised to return to the $300 per share level. This past week, NFLX hit an intraday high of $389, a 100% gain from our article, an article that received a lot of negative comments regarding our statement that "Netflix has traded at $300 previously, and it will trade at $300 again." In this article, we are going to discuss why we feel investors should consider selling NFLX now and swapping it with a position in Starz (NASDAQ:STRZA).
Starz is the last independent premium pay channel and media content company. Starz is a leading provider of premium subscription video programming through the flagship STARZ® and ENCORE® pay TV network. As of June 30, 2013, STARZ and ENCORE serve a combined 56.9 million subscribers, including 21.8 million at STARZ and 35.1 million at ENCORE, making them the largest pair of premium flagship channels in the U.S. Starz was a segment of Liberty Media Corporation (NASDAQ:LMCA) until it was spun off into a separate company in January.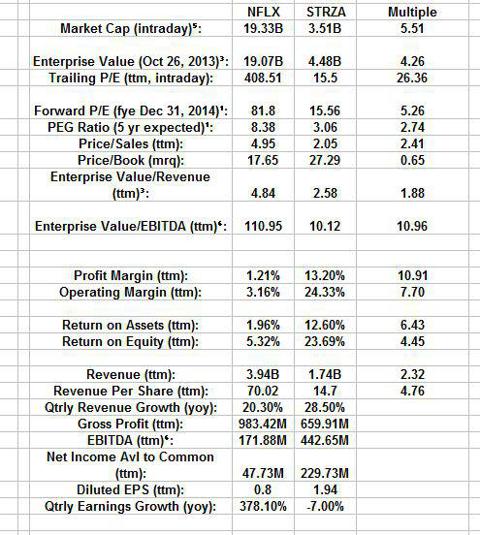 The above diagram details the major financial metrics investors use to examine a stock. The data was obtained from Yahoo Finance. NFLX is aiming to become an entity exactly like Starz, so let us see how they stack up in a direct comparison. Aside from the common price to sales multiples and PE difference, let us focus on some other equally, if not more important, metrics. On a profit margin standpoint, Starz is 10.9 times more profitable, posting a 13.2% return to the 1.21% of NFLX. Looking at Return on Equity, a measurement that looks at how efficiently a company is deploying investors capital, Starz turns in a very impressive 23.69% return, 4.5 times the 5.32% rate NFLX offers. The last key standout on this comparison is the quarterly revenue growth. Based on the massive run in shares of NFLX over the last several months, it would be logical to assume that NFLX would have the higher rate. Investors may be surprised to find that Starz actually has the higher growth rate at 28.5% year over year. After this straight up metric analysis of Starz versus NFLX, it should be obvious that Starz offers tremendous value.
The headlines this week talked about how NFLX has now surpassed Time Warner's HBO (TWC) subscriber number of 31 million. Yet again there is no mentioned of Starz, which dwarfs both these services with its 59.6 million subscribers. According to the Wall Street Journal, NFLX is in talks with US cable companies to offer its subscription service through set-top boxes. These discussions are early, as US cable companies still view NFLX as a major competitive threat. However, with the argument being made by NFLX bulls that the company is morphing into a cable channel itself, this transition to set-top boxes is logical. What investors should realize is that Starz is ALREADY doing what NFLX is trying to do. For value investors looking at NFLX and shaking their heads at the valuation, Starz is the logical choice. Ignoring the premium that NFLX has in the content media sector, Starz is a value play all by itself.
Netflix is projecting that subscriber growth will slow year over year in the current quarter. Aside from its sky high PE, which at 408 is over three times greater than the P/E Amazon Inc (NASDAQ:AMZN) trades at, the growing cost of content will only eat into margins as the subscriber growth rate slows. NFLX is banking on international expansion to deliver on the numbers, but the company, in last week's report, mentioned how poor a quality the international subscribers were and will continue to be. Now before you NFLX bulls jump all over this analysis, we will admit that NFLX is being afforded time by the market on the international side, just as Amazon has been afforded time on its growth over the last decade.
As for Amazon, while its streaming service has been a disappointment, and good news for NFLX thus far, things may be about to change. This past week, Amazon announced it was raising the minimum price per order to obtain free shipping from $25 to $35. The main reason for this, other than pushing higher sales, is to convert Amazon shoppers to their Prime Service for $79 a year. This service includes free streaming. This simple move by Amazon may impact NFLX subscriber numbers in the coming quarters. Amazon has thus far failed to slow down the NFLX machine, but as numbers increase for Amazon Prime, there is no doubt it will hit NFLX growth margins in the US.
What we have not heard mentioned anywhere is that NFLX is trying to become Starz. The media is always focused on NFLX becoming an HBO. If one steps backs and looks at the big picture, everything that NFLX is doing, Starz DOES now. Original content - check. Millions of subscribers - check. Set-top box viewing - check. We have, over the last few years, heard many rumors and stories of who should buy out NFLX. Amazon inc is the most talked about suitor. Google Inc (NASDAQ:GOOG) and Apple (NASDAQ:AAPL) are also mentioned in this context. What we have not heard mention of is who NETFLIX could buy to further their original content footprint and grow their subscriber numbers. We propose Starz as the likely target if NFLX does embark on this course. Not only would NFLX triple its subscriber numbers, but it would give it what it is already trying to negotiate -- a place on every cable companies channel list. Also, as we have noted above, Starz is very profitable and has a positive annual cash flow of $371m compared to the $5.94m of NFLX. That's 62.5 times more free cash flow.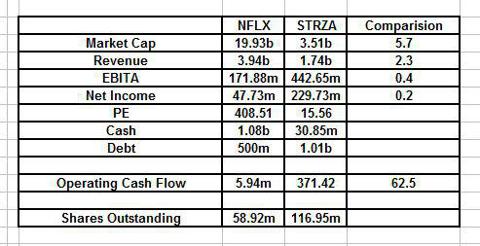 When NFLX traded at $389 last week right after its earnings report, it had gained $5.8b in market cap over the last three weeks. STRZA trades at an enterprise value of $4.48b. In only three weeks, the market cap increase of NFLX was 125% of the total enterprise value of STRZA, a company that posts a 15 PE compared to the 408 of NFLX. STRZA posts annual net income of $229m versus $48m at NFLX. STRZA has 62 times more free cash flow than NFLX. Starz is a content creation media play with 59m subscribers. Starz is already doing what NFLX is trying to do. Content media is the place to be right now for investors. That is why we say now is the time to sell NFLX, just like Carl Icahn did, and buy Starz.
Disclosure: I am long STRZA. I wrote this article myself, and it expresses my own opinions. I am not receiving compensation for it (other than from Seeking Alpha). I have no business relationship with any company whose stock is mentioned in this article.