If you are currently retired or getting close to retirement age, building a portfolio that generates stable income is probably your primary focus right now. That said, it's extremely important for retirees to stick to an investment plan that balances risk and reward.
The "kicking the can down the road" nonsense in Washington will likely continue to add uncertainty to the market for years to come. The current Fed-induced rally has expanded P/E multiples across the board and the markets continue to be priced for perfection. In addition, interest rates are expected to remain near zero for the foreseeable future and income investors will have to continue to scramble for safe yield.
In the current market environment, it is important for retirees to choose their dividend stocks wisely as they are putting new money to work. As volatility increases (especially downside volatility), investors may want to add some low beta stocks to their holdings to help dampen portfolio volatility. In general, companies with low betas will tend to be less volatile than the general market.
Low Beta Dividend Stocks For Your Retirement Portfolio
Stocks in "defensive" sectors (like consumer staples, healthcare and utilities) typically have low relative betas since these companies tend to generate stable cash flow regardless of the state of the overall economy.
That said, we recently scanned our entire dividend stock universe and came up with our current "All-Defensive" Team. This team is made up of 20 "defensive" dividend stocks with the highest Parsimony Ratings (that also meet the parameters below):
Stock Price > $10.00
3-Month Avg. Volume > 250,000 shares
Beta (5-year) < 0.60
Dividend Yield > 2.5%
Parsimony Rating > 75
We will highlight each of these stocks over the course of a 4-part series. Below is a schedule of the entire series.
The All-Defensive Team: Second Team
Our 20 All-Defensive Team stocks have an average beta of 0.44 and an average dividend yield of 3.6%. This article highlights the 5 stocks that made the Second Team (stocks ranked #6-10). The tables below summarize some of the key data points that we analyze when ranking our dividend stocks.
#10 Verizon Communications (NYSE:VZ)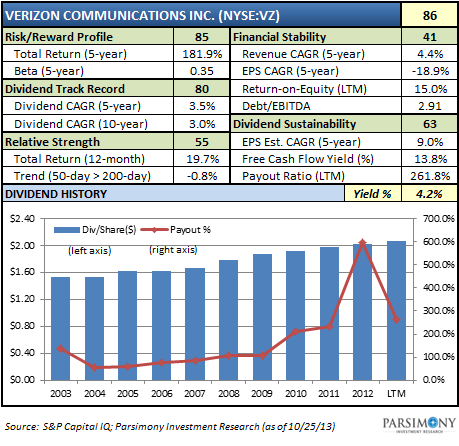 VZ recently increased its dividend for the six consecutive year in 2013 and we believe that this trend will continue for the company. Telecommunication providers like VZ tend to rate relatively low in Financial Stability and Dividend Sustainability due to the capital intensive nature of their business model. However, VZ generates a very consistent level of free cash flow every year, which is extremely attractive to long-term dividend investors. Also, VZ has a relatively low beta (0.35) and we think that its cash flows are very "utility-like."
#9 Wisconsin Energy Corp. (NYSE:WEC)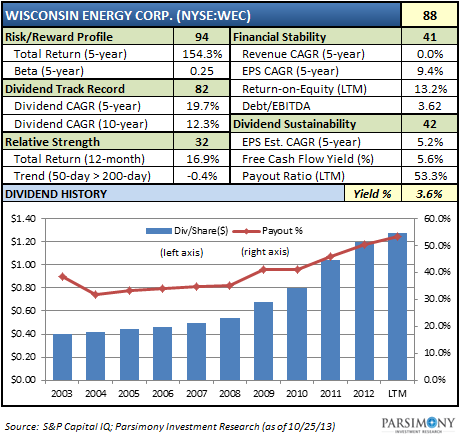 Wisconsin Energy has delivered shareholders a 154% total return over the past five years, and it has increased its dividend at a compound annual rate of 19.7% over that period. In addition, the company still has a modest payout ratio of 53%, so it has plenty of room to continue to increase its dividend in the future.
#8 Kinder Morgan Partners (NYSE:KMP)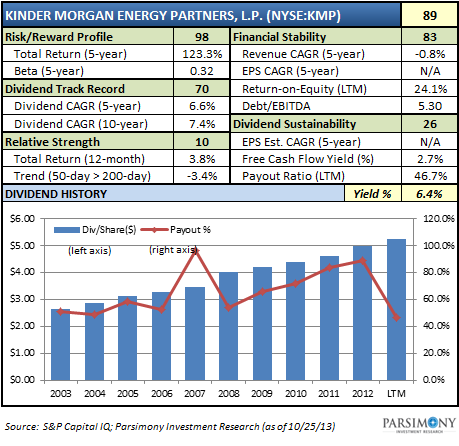 Master Limited Partnerships ("MLPs") are not traditionally considered to be "defensive" in nature. However, we believe that the large cap diversified MLPs are very "utility-like" in that they tend to deliver stable and consistent income in any market environment. For example, KMP has increased its dividend at a compound annual rate of 6.6% over the past 5 years, while delivering shareholders a total return of 123%. In addition, KMP has a low beta (0.32) and it had a relatively small maximum drawdown (28.0%) during the recession (which is why its Risk/Reward Rating (98) is so high). Also, KMP has a very attractive dividend yield of 6.4%.
#7 Wal-Mart Stores (NYSE:WMT)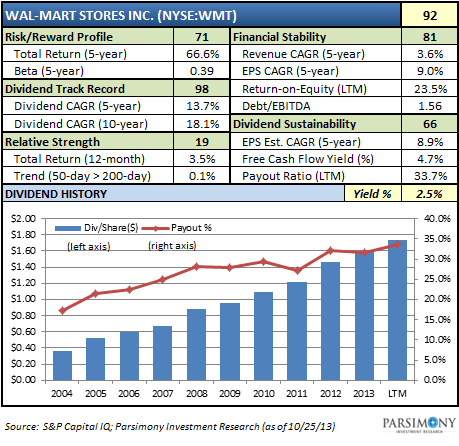 WMT is one of the best dividend growth stocks of all-time (in our opinion) despite only delivering shareholders a 67% total return over the past five years. WMT has increased its dividend at a compound annual rate of 13.7% and 18.1% over the last 5 and 10 years, respectively. Also, WMT still has a very modest payout ratio of 34%, so it has plenty of room to continue to increase its dividend in the future.
#6 Bristol-Myers Squibb (NYSE:BMY)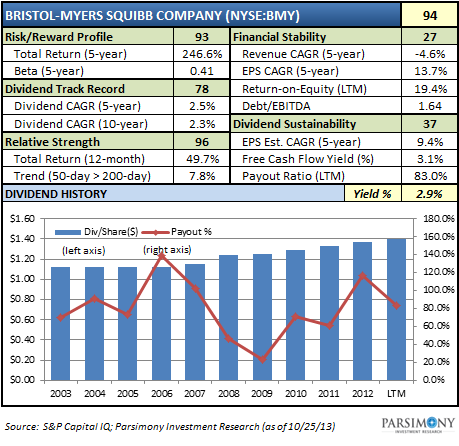 While BMY's dividend growth rate has been relatively modest over the past 5 years (2.5%), the company has delivered shareholders a total return of 246% over that time period. In addition, BMY has a decent dividend yield (~3.0%) and we think that it is a great long-term hold for DIY dividend investors.
Summary
If you are looking to generate safe and stable income in a volatile market environment, low beta dividend stocks in defensive sectors are a great way to accomplish this goal. We believe that any of the 20 stocks on our All-Defensive Team would make a nice addition to a retirement portfolio.
Disclosure: I am long VZ, WEC, KMP, WMT. I wrote this article myself, and it expresses my own opinions. I am not receiving compensation for it (other than from Seeking Alpha). I have no business relationship with any company whose stock is mentioned in this article.