As the battle between streaming video content providers continues to heat up, the companies providing the content will probably be the biggest winners over time, as the need to offer popular and/or exclusive content is imperative in order for companies like Netflix (NASDAQ:NFLX) to survive and thrive.
One of the media companies that has a lot to offer and gain in that regard is AMC Networks (NASDAQ:AMCX). As a matter of fact, there are those that believe AMC is a key driver behind Netflix rather than Netflix being a driver of ratings of AMC's popular programs.
When thinking in terms of popular AMC programs like "The Walking Dead," "Breaking Bad" and "Mad Men," that's probably true.
source: Yahoo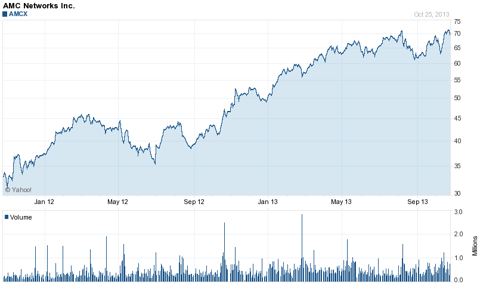 Content is Still King
In a note to clients last week, Richard Tullo from Albert Fried wrote this:
In our view, we think roughly 1 million of the subscribers added by NFLX since March 31, 2013 have been due to the strength of AMC's tent pole content: "Breaking Bad," "Mad Men," and now "The Walking Dead." Thus our view, content is king and AMC is making Netflix not the other way around is our observation. That insight is very good news for AMC shareholders in our view. We suspect if Netflix had no second party content and only "House of Cards," "Orange is the New Black," "Hemlock Grove," "Arrested Development Season IV" and "Mako Mermaids," only +/- 7,500,000 million users would subscribe to be generous.
The point is of course there is no defensible moat with a streaming company like Netflix, Hulu, and Amazon (NASDAQ:AMZN), among others, so its the quality content that is driving Netflix, and not the streaming service itself.
This is why Netflix is spending such a high amount of capital to secure deals for popular shows, as well as for shows created for them by media outlets such as Lionsgate (LGF), which is also uniquely qualified to take advantage of the streaming video wars.
Netflix and AMC Networks
I totally agree that it's the content that will determine the winner in the streaming battle, and not the streaming business that will boost various networks.
Netflix itself is the largest of the content streamers by far at this time, so I'll use them as a proxy for all streamers.
Netflix offers the best of the networks like AMC to tremendous opportunities to generate significant revenue with its content, which is already generating revenue on cable and satellite networks.
And it's not only a revenue source that is slightly incremental, as in the past, as competition has driven up the value of quality content, and Netflix and others are willing to pay top dollar to secure it, knowing that is what will determine the most profitable streaming business in the future.
AMC and Other Streamers
There are other streamers in the mix, including Amazon.com, Hulu, HBO Go, and others. This is driving up the cost of content, to the benefit of AMC. This will be a big part of its success in the near and long term, and bodes well for the entertainment industry as a whole, which has been performing extremely well over the last year.
Why this is so attractive is that the selling of content rights will be on a guaranteed basis, which makes it predictable and profitable, no matter how many people view it on streaming outlets.
The value in this for AMC is, again, that there is a content streaming war escalating, and since it has some of the most desirable properties, it will only improve the revenue and earnings of AMC.
AMC Overall
In the near term "The Walking Dead" has become a juggernaut for AMC, and is even more valuable as free marketing, as just about everyone is talking about the record-breaking debut of the first episode in the 2013 season.
What is most important is it places AMC on the top of the heap of cable networks, and that will give it pricing power beyond the majority of its competitors. Advertisers will want to align themselves with the network, if only to associate themselves with a winner.
In the recent third season, approximately 7 million viewers in the coveted 18-49 demographic watched "The Walking Dead," with expectations that the show will exceed that number in its fourth season.
One show does not a content company make, but when added to its other major breakout hits over the recent years, it points to a pattern that investors and shareholders can have confidence in.
Conclusion
AMC Networks has been performing very well over the last couple of years, and should continue to be one of the favorites of advertisers and streaming companies, even if the economy slows down.
There is no doubt AMC will be one of the top beneficiaries of the streaming wars, and when you add to that its advertising revenue, it will grow revenue and earnings for some time into the future.
AMC Networks, which includes WE tv, IFC and Sundance Channel, along with the AMC channel, grew its advertising revenue 14 percent in the second quarter year-over-year. That type growth should continue.
The negative free cash flow in the quarter of $154 million isn't concerning, because it was a one-time event associated with the VOOM HD settlement of $234 million. Minus that, the company generated $80 million in free cash flow.
For AMC Networks, the bottom line will always be content, and its performance shows that there are few media companies that can churn out the quality the company does. As long as it continues to do so, this is a company that will continue to reward shareholders, especially with the added revenue boost from streaming companies.
Disclosure: I have no positions in any stocks mentioned, and no plans to initiate any positions within the next 72 hours. I wrote this article myself, and it expresses my own opinions. I am not receiving compensation for it (other than from Seeking Alpha). I have no business relationship with any company whose stock is mentioned in this article.