There's no other tech company that's more synonymous with consumers than Apple (NASDAQ:AAPL). Its poplar iPad and iPhone product lines have propelled the stock into the big leagues where it now sits with Exxon (NYSE:XOM) and Google (NASDAQ:GOOG) fighting for largest public company. There's also no other stock that has broken more hearts than Apple. After getting nearly cut in half from its all time high, Apple now sits in the $500s.
My recent concern for the upcoming quarter has to do with Apple's delay of important product launches. Other than its yearly update of the iPhone, Apple has only recently updated its Macbook Pro and iPad lines. I believe this delay has caused Mac shipments to decline for the first time in over a decade. According to Gartner, Mac sales are down 2.3% from this quarter last year. In addition, after watching the keynote I really don't see any innovation in Apple's products that would make consumers feel the need to upgrade.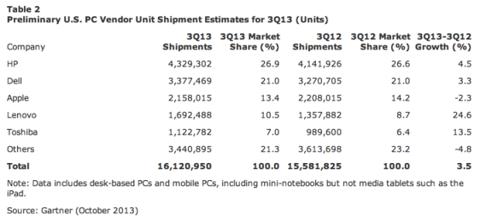 From the mobile front I am concerned with this year's lack of "new features" for the iPhone. With Apple's main features for the iPhone 5s being a fingerprint scanner and a 64 bit processor I don't see any reason for current iPhone 5 users to upgrade. Apple is also trying very hard to advertise the iPhone 5c, which leads me to believe they may not be doing as well as it had hoped in the "cheaper" phone segment. Any consumer who is going to be using the same phone for almost two years will most likely spend a little more cash to have the phone of their choice. Reviews for iOS 7 claim that while they were much needed changes, its not enough of a game changer to stop consumers that are looking for something new. In addition while the adoption rate at seemed like it was going great, it has since slowed dramatically in comparison to past updates (http://bgr.com/2013/10/18/ios-6-ios-7-adoption-rate/) with the likely cause being the new "flat" design of apps. This lack of innovation will allow Samsung's Galaxy line to take even more marketshare as consumers decide they want a larger screen and a completely new experience. Comparisons such as (www.youtube.com/watch?v=hyFZpYmHRAA) have swayed me to purchase a Galaxy Note 3 to replace my iPhone 5.
Apple is set to release earnings on October 28 after the bell. While Apple usually handily beats the EPS number I don't believe the expected sales of its product lines will be met due to Apple's unusually late release of essential products. I would hold off on buying the stock before the quarter and instead, sell a put at a price you wouldn't mind owning the stock at. This will also allow you to take advantage of the higher than usual premium. Apple is a great company with an incredible balance sheet but I think those who are patient will get a better entry point.
Disclosure: I have no positions in any stocks mentioned, and no plans to initiate any positions within the next 72 hours. I wrote this article myself, and it expresses my own opinions. I am not receiving compensation for it (other than from Seeking Alpha). I have no business relationship with any company whose stock is mentioned in this article.