Introduction
In this article, I'll have a look at the operating performance of AMR Corp (AAMRQ) which is the parent holding above American Airlines and American Eagle, one of the largest airline companies in the world. I wil have a look at the Q3 results and the outlook for Q4. I'm also looking forward to the merger with US Airways (LCC) which will generate a lot of benefits for both companies, as a (pro forma) combination of both carriers would have resulted in a $1.1B operating income in Q3.

My view on the Q3 financial results
In Q3, AMR's operating margin increased by 8% to 10.2%, which is a very decent performance. Moving over to the operational income, investors see a huge 13-fold increase to $698M, which was caused by a higher revenue (6.2%) and lower expenses (-3.9%). Investors might be disappointed by the fact that the net income was 'just' $289M as AMR doesn't have to pay taxes yet, but I would like to emphasize this lower net profit number was mainly caused by a non-recurring reorganization cost of $151M.
I'm extremely happy with the huge revenue increase, as total revenue increased by $400M compared to last year. American Airlines' (and subsidiary American Eagle) passenger revenue was actually the highest in the history of the company, which gives investors a lot of confidence in the outcome of the current Chapter 11 procedure. I would also like to emphasize that AMR was able to reduce the wages by $240M in Q3, which is an impressive reduction. One of the main reasons for AMR to enter the Chapter 11-procedure was the high employee cost, which has now been drastically reduced. In the first 9 months of this year, AMR reduced wages by $850M, which allowed the operating income to triple compared to the first nine months of last year.
I'm really impressed with the financial results, and I dare to say the Chapter 11-procedure of AMR corp is the text book example of why this procedure is extremely important for the American economy. Just two years after entering the Chapter 11 procedure, AMR is reporting record revenues and fantastic operating cash flow.
The outlook
Looking at the expected fleet change in the fourth quarter, I see American Airlines is planning to retire not less than 14 fuel-guzzling MD80 birds. These 14 will be replaced by Airbus'es (OTCPK:EADSF) and Boeings (NYSE:BA). This is an important development, as the Airbus uses 30% less fuel and the Boeing 738 uses 20% less fuel than the MD 80's.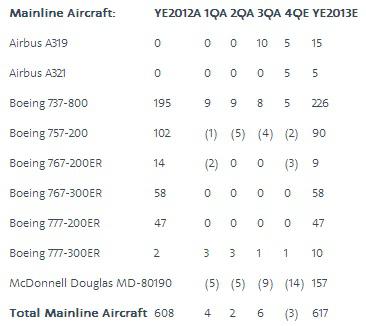 This means that by retiring 14 more (old) planes and replacing them with 15 new planes, AMR's fuel cost will decrease dramatically and its revenues will increase thanks to more higher revenue-generating seats. Retiring 14 MD80s will result in a capacity loss of 1960 seats, but by adding the Airbus and Boeings' new capacity of 1800 seats, the net loss is just 180 seats in this segment of planes. This might sound negative, but I would like to emphasize that the A321's will mainly be used for transcontinental flights (such as New York- Los Angeles of Dallas - Seattle) with not less than 30 flat seat beds in First and Business, which will obviously generate much more revenue than the standard seats in the main cabin.
As such, American Airlines is switching to more efficient planes with a better revenue structure, which I can only applaud. This also means I'm expecting an ever lower fuel cost in Q4, and a higher operating profit and margin. This is also good news for EADS and Boeing
The merger with US Airways
As I said in my previous article on US Airways , everybody knows AMR Corp is trying to finalize merger talks with US Airways. The combined entity will be the largest carrier in the world and would thus benefit from gigantic economies of scale.
I explained that as a platinum member of American Airlines' AAdvantage program, I can only applaud a merger between two relatively strong companies. There will be huge benefits for the travelers (as I will have more hubs and connection points to choose from, as well as a flight schedule which might better fit my needs) as for the merged entity (as the synergy benefits will be huge (estimated at $1B by 2015)). As such, as both a traveler and potential investor in the 'new American Airlines,' I hope both companies will get the nod from the regulators soon.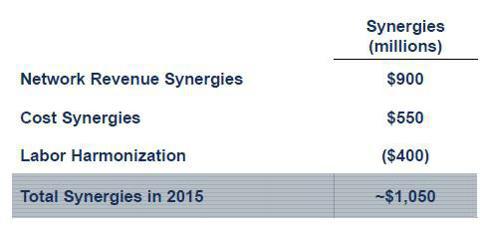 Conclusion
American Airlines and its subsidiaries are more than ever on the right track. The company has reported record revenues and its operating income has exceeded the $600M mark in Q3 of this year. I'm glad the company will retire some more MD 80's and will replace them with more efficient planes such as the Airbus 319-321 and Boeing 738's.
Because of these reasons, I'm expecting an even lower fuel consumption rate in Q4 which will immediately influence the bottom line and operating income. I'm also looking forward to finalizing the merger with US Airways, as the combined entity would have generated an operating income of in excess of $1.1B in Q3 alone (and this does not even include any synergies from the merger). I am convinced the 'new American Airlines' will regain its status as flag carrier of the USA.
Disclosure: I have no positions in any stocks mentioned, and no plans to initiate any positions within the next 72 hours. I wrote this article myself, and it expresses my own opinions. I am not receiving compensation for it (other than from Seeking Alpha). I have no business relationship with any company whose stock is mentioned in this article.