By Chris McKhann
The XLK technology exchange-traded fund has an average options volume of 3,500 contracts, but more than 140,000 have lit up our screens in a single trade on Thursday morning.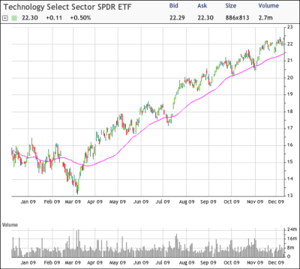 The Technology Select Sector SPDR has raced from the March low of $13.08 to its current level of $22.30, hitting new 15-month highs yesterday (click chart to enlarge).
optionMONSTER's systems show two blocks of the December 22 calls sold, 33,899 and 40,000, both going off for 0.41 less than a minute apart. At those same times, the same size blocks of the January 23 calls were bought for $0.24. The open interest in the December strike was more than 81,000, while in January it is just 1,159.
It appears that this trader is rolling long calls up and out, selling the longs from December and buying the January contracts for more time. The trade also take some profits off the table as it is done for a credit.
(Chart courtesy of tradeMONSTER)