November retail sales showed a 0.3% decline over the year ago period according to last week's release by the International Council of Shopping Centers. That number took analysts by surprise along with those that are wholeheartedly believing in the economic recovery story being spun by the media and the government. As expected during a recession, sales increased at the discount chains, but dropped off sharply at the higher end stores.

One area that was most telling with regard to the economy was the steep decline in sales at stores that market teenage clothing and accessories. That shows two things. First, it shows that parents have less disposable income to keep their teens 'fashionable'. Second, it shows that part time positions for teens old enough to work may not be as plentiful as in years past. Neither of these scenarios scream economic recovery.

The weak November same store sales report was forecast by the drop in relative strength in retail shares vs. the broader market. In the chart below, I have plotted a spread chart of XRT (SPDR S&P Retail Index) vs. SPY (S&P 500). I have also plotted the XRT itself as the red dashed line as a reference. When the black line is moving higher, that means that XRT (retail) is outperforming or leading the broader market. When the black line is falling, XRT (retail) is lagging the broader market.

Notice how XRT led the market higher off of the March low as investors piled into retail stocks due to lean inventories and hope of an economic turnaround. That theme played on until October 26, when XRT hit its relative strength peak vs. SPY. Since then, as we have entered the most important time of the year for retailers, XRT has lagged, pushing the black line lower. That shows distribution in retail shares as the broader market has continued to push higher. The difference is really evident when the black line is compared to the red dashed line which is the actual price of XRT. Notice how XRT itself (the red dashed line) has traded in a range while XRT loses relative strength vs. the broader market (the black line is falling). This is not a positive signal for retailers or for the economic 'recovery' in general.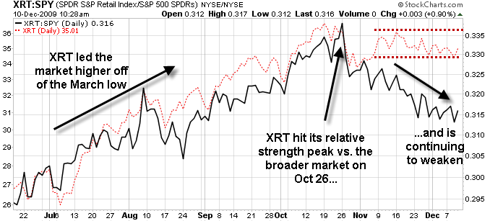 So while there are still many out there telling us how good everything is, let the subtleties of the market tell you how good things really are. Yes we have rallied tremendously off of the March low due to the cheap, easy money provided by the Fed, but what happens to the rally when the excess liquidity is reined in? That will be about as cruel to oblivious longs as kicking the crutches out from a one legged man.

The trend is still up and long positions are advised, but keep your hedges on and stay away from retail for now.

The stock market is still the best discounting mechanism around and right now it is saying that this will be a dismal holiday season for retailers.

Disclosure: No positions