By any measure, Procter & Gamble (NYSE:PG) has an extraordinary record of paying dividends to its shareholders. In fact, PG has paid a dividend in each of the past 124 years, a streak that is simply astounding. Given PG's ample yield, many investors hold the stock because of the dividend growth that the company provides. In light of that, investors would do well to understand exactly how much of a payout the company can afford while still investing in its business for the long term. In this article, I'll take a look at a common misconception regarding dividend safety and a more meaningful metric that may have some surprising implications for PG shareholders.
First up, most dividend investors pay close attention to a company's payout ratio, defined as the company's dividend payout divided by its net income. However, that metric is inherently flawed for one simple reason; net income is an accounting metric and in many cases, doesn't represent a company's true profitability. Since net income is computed for the purpose of calculating a company's income tax liability, it contains many non-cash items such as depreciation that have no bearing on the company's ability to pay dividends or any other cash outlay. Thus, since net income is just an accounting metric and not a representation of the amount of cash a company generates, comparing this metric to a cash payout like dividends is completely meaningless. Instead, investors should determine how much free cash flow a company generates and compare that to the dividend payout to get a more accurate picture of the company's ability to fund its stock's yield.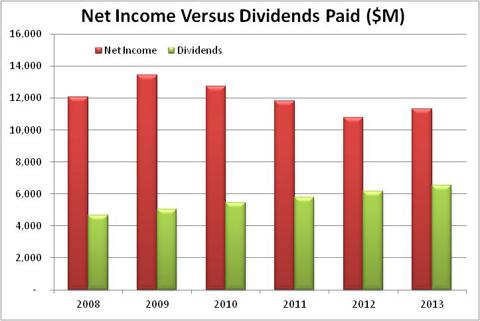 This graph shows PG's net income for the past six years in relation to its dividend payout. There are a few things to notice here. First, the company's net income has been stagnant to down over the past six years, although it rebounded in fiscal 2013. Second, the company's dividend payout has been increasing pretty rapidly over the same time period, growing from about $4.5 billion in 2008 to about $6.5 billion in fiscal 2013. This is tremendously rapid dividend growth and shareholders are no doubt appreciative of this payout. Third, as dividend investors love the payout ratio metric, you can also notice that PG's dividend is consuming a larger and larger portion of its net income each year, a trend that dividend investors should find troubling. This is particularly true if you believe in the payout ratio.
Here's what I believe to be a more meaningful look at PG's ability to service its dividend commitments; its free cash flow in relation to its dividend outlays. For this exercise, I've defined PG's FCF as operating cash flows plus investing cash flows. Since PG's statement of cash flows is very clean (little active securities purchases and sales, etc.), operating and investing cash flows are a great representation of the company's true profitability.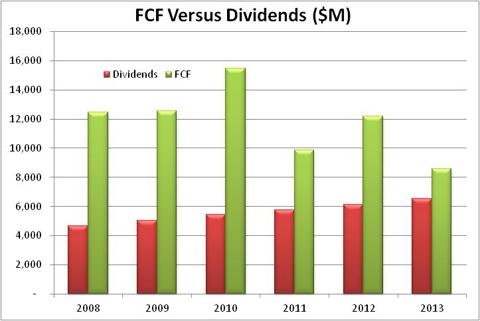 This graph should be more alarming to dividend investors as astute readers will notice a couple of things about this chart in relation to the net income chart. First, the company's FCF tends to be a bit lower than its net income and second, it is much more volatile than net income. This isn't unusual in any way as many companies' FCF is lumpier than its net income but this is no accident. Many management teams conduct "earnings management," wherein the company's income statement is managed to a particular number or goal, usually by the inclusion or exclusion of non-cash items. The statement of cash flows is much more difficult to "manage" in that way and thus, provides a truer picture of a company's profitability.
While both of these charts show that PG can afford its current dividend, the chart below represents what I believe to be an important trend in the data. If we look below, we can see that PG has a potential problem brewing and it isn't good for dividend investors.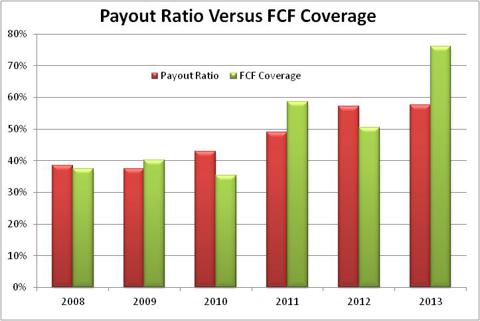 The trend is obvious; PG has been increasing its dividend much more rapidly than its net income and FCF each year. With payout ratios in the 30s six years ago, PG's dividend was very safe and had plenty of room to grow. However, if we take a look at 2013 in particular, PG paid out nearly 80% of its FCF (as I've defined it) in dividends. Even if you use the meaningless payout ratio it is still nearly 60%, or 20% higher than it was six years ago. The point is PG shareholders should take notice that their dividend growth may not be as safe as once thought.
Consider that PG is a serial buyback candidate, which I'm a big fan of, and also makes very large acquisitions on a fairly regular basis. These things take huge amounts of cash, as you cannot pay them with net income, and thus, PG may be forced to choose in upcoming years between increasing its dividend, buying back shares or growing the business.
The bottom line is that I think PG bit off more than it can chew with its latest round of dividend increases. If the company wants to continue material share repurchases or make another large acquisition, it will likely need to borrow some or all of the cash in order to do so. I love PG's long history of paying dividends but I don't think the last increases, as huge as they were, were a good idea given the company's declining free cash flows. If you don't believe me, the company's FCF of nearly $16 billion in 2010 has nearly been cut in half since then, leaving PG with a potential cash shortage if it tries to make a large acquisition or share repurchase. Finally, I think dividend increases of more than 1 or 2 percent should be off the table for PG in the coming years until management can figure out a way to increase its FCF. If management comes out with more large dividend increases, that should be a red flag to investors as the company cannot continue to diminish its FCF forever. Eventually, FCF will need to catch up with management's commitments and right now, we're seeing FCF trend the wrong way.
Disclosure: I have no positions in any stocks mentioned, and no plans to initiate any positions within the next 72 hours. I wrote this article myself, and it expresses my own opinions. I am not receiving compensation for it (other than from Seeking Alpha). I have no business relationship with any company whose stock is mentioned in this article.