3M (NYSE:MMM) is a diversified company with a wide-ranging product portfolio: From dental products to medical products and electronic circuits, the company produces nearly everything the consumer- and industrial base could need. The conglomerate has been doing well over the last years as the economy rebounded and confidence in the economic future returned. Now 3M appears to be overvalued compared to its peers and to its free cash flow prospects.
Share performance
3M has done well since its March 2009 low at $41.83 and conglomerates in general proved to be good generic bets on an economic recovery. Over the last year, 3M has gained 42% making its shares expensive on an earnings- as well as cash flow basis. Honeywell (NYSE:HON), another well-diversified conglomerate, has also gained 43% while United Technologies Corp. (NYSE:UTX) returned 38%. Just like 3M, United Technologies nearly doubled over the last five years. Increased momentum and expanding valuation multiples now indicate that United Technologies is overvalued just like 3M.
General Electric (NYSE:GE) and Siemens (SI) have gained 23% and 29% respectively.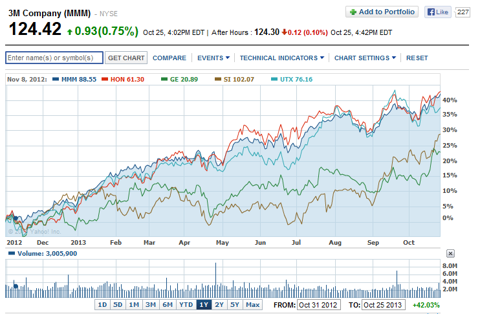 Free cash flow
3M's cash flows are very consistent over the last three years and I am having a hard time remembering another company that has such a high-quality cash flow profile than 3M. Operating cash flows have consistently been increasing over the last three years with little overall variation in either operating or investing cash flows (with the exception of acquisition expenses of course). The diversified nature of 3M's business contributes to stable cash flows that make the forecasting procedure relatively straightforward.
I estimate that 3M can achieve $5.8 billion in operating cash flow next year. Better economic momentum should justify a higher growth rate compared to its historic average. Other assumptions about various recurring cash flow items are depicted in the table below. Assumptions are either based on historical trends or averages to minimize forecast error.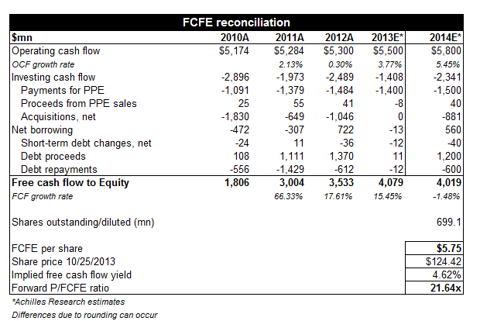 3M's 2014 free cash flow to equity comes out to be $4,019 million or $5.75 per share. With a current share price of $124.42, 3M trades at an estimated forward P/FCFE ratio of nearly 22. A rich multiple for a company that has already run up in price.
Market-based valuation
The increase in share price, of course, is also reflected in 3M's earnings valuation. 3M has the highest earnings multiple of 16.83 in the peer group which consists of large-cap, diversified companies with strong global footprints in engineering services and consumer/commercial products. Honeywell also seems to be trading at a premium valuation at nearly 16x forward earnings. General Electric and Siemens exhibit ratios of 14.39 and 14.20. At least in the case of General Electric, I see substantially more upside potential based on its free cash flow valuation. United Technologies trades at 15.56 times future earnings.
Basically, all conglomerates (3M, Honeywell, United Technologies) whose shares have done well over the last year now appear to be at least slightly overvalued. General Electric and Siemens might offer investors a better risk/reward trade-off as they demand lower growth premiums.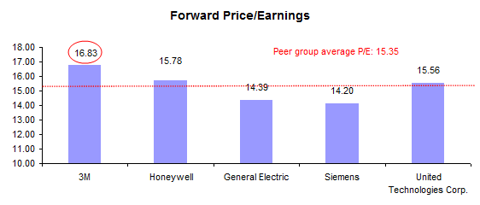 Conglomerates are diversified businesses that operate a variety of segments that might be differently affected by phases in the business cycle. Conglomerates usually have fairly stable cash flow patterns which allows them to pay a decent, recurring dividend. 3M currently pays 2.04% which is slightly below the conglomerate average of 2.30%. General Electric and Siemens both pay the highest dividend yields in the group with 2.94% and 2.26%. If General Electric wasn't included in the peer group, the average dividend yield would stand at 2.14%.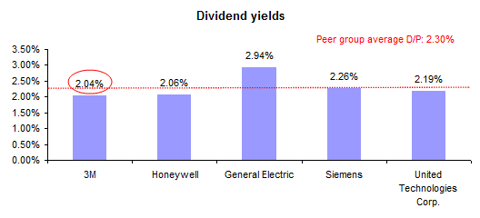 The table below depicts the premiums and discounts at which 3M trades compared to the peer group average. 3M currently commands a 10% premium to the peer group average P/E of 15.35 while at the same time paying a dividend yield that is 11% below the peer group average dividend yield of 2.30%.

Conclusion
Conglomerates, due to the variety of their business segments, can be understood as market proxies. Their diversified nature allows them to mirror the overall economic climate and increased economic momentum in the coming years will likely benefit conglomerates. Investors who want exposure to global growth can do so by purchasing a globally operating conglomerate to profit both from capital appreciation as well as dividends. Given the fundamentals provided above, I believe General Electric and Siemens are the better sector deals for investors right now based on their low relative earnings valuations, high dividend yields, lagging performance and lower growth premiums.
Disclosure: I am long GE. I wrote this article myself, and it expresses my own opinions. I am not receiving compensation for it (other than from Seeking Alpha). I have no business relationship with any company whose stock is mentioned in this article.