Canadian monetary policy may have experienced an important change-up. With last week's announcement on monetary policy, the Bank of Canada became a little more dovish. The sharp response in the Canadian dollar (NYSEARCA:FXC) made me take notice.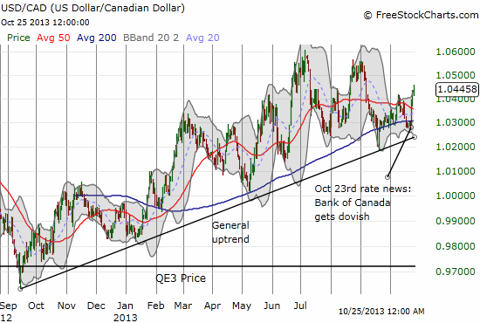 Click to enlarge
USD/CAD continues its gradual uptrend from last year's low
Source: FreeStockCharts.com
USD/CAD has had several sprints higher over the past year as a general uptrend continues from last year's low. The current sprint could become the most important of them all as the market adjusts to the Bank of Canada's slight downgrade of the Canadian economy.
In July, the Bank of Canada made the following forecast (emphasis mine):
In Canada, economic growth is expected to be choppy in the near term, owing to unusual temporary factors, although the overall outlook is little changed from the Bank's projection in its April Monetary Policy Report (MPR). Annual GDP growth is projected to average 1.8 per cent in 2013 and 2.7 per cent in both 2014 and 2015, supported by very accommodative financial conditions.
The Bank updated that forecast as follows (emphasis mine):
In Canada, uncertain global and domestic economic conditions are delaying the pick-up in exports and business investment, leaving the level of economic activity lower than the Bank had been expecting. While household spending remains solid, slower growth of household credit and higher mortgage interest rates point to a gradual unwinding of household imbalances. The Bank expects that a better balance between domestic and foreign demand will be achieved over time and that growth will become more self-sustaining. Real GDP growth is projected to increase from 1.6 per cent in 2013 to 2.3 per cent in 2014 and 2.6 per cent in 2015. The Bank expects that the economy will return gradually to full production capacity, around the end of 2015.
This downgrade further reduces the likelihood that interest rates will increase in Canada anytime soon. Indeed, the Bank omitted an important part of its statement that has always put Canadians on notice that the bias for rates was up.
From September's rate announcement (emphasis mine):
As long as there is significant slack in the Canadian economy, the inflation outlook remains muted, and imbalances in the household sector continue to evolve constructively, the considerable monetary policy stimulus currently in place will remain appropriate. Over time, as the normalization of these conditions unfolds, a gradual normalization of policy interest rates can also be expected, consistent with achieving the 2 per cent inflation target.
This bit has concluded the Bank's statement since April of last year. This is the classic statement saying that monetary policy will remain easy until it is no longer necessary. October's statement concluded MUCH differently:
Although the Bank considers the risks around its projected inflation path to be balanced, the fact that inflation has been persistently below target means that downside risks to inflation assume increasing importance. However, the Bank must also take into consideration the risk of exacerbating already-elevated household imbalances. Weighing these considerations, the Bank judges that the substantial monetary policy stimulus currently in place remains appropriate and therefore has decided to maintain the target for the overnight rate at 1 per cent.
This statement effectively opens the door to rate cuts and questioners during the press conference latched onto this possibility like glue. They were unable to get Governor Stephen S. Poloz to acknowledge directly that rate cuts were indeed coming or even a higher possibility.
Poloz essentially explained the change in the statement as representative of a potential extension in the timing for reaching the "destination" of a normalized economy. The Bank recognizes the on-going risks of financial imbalances (like a housing bubble) from keeping rates too low for too long, and a rate cut would only come if economic data reduced further the projection for inflation.
Poloz also insisted that the Bank believes that the "forces of Mother Nature" remain in play, meaning that normalization will come, just later than "originally thought." Poloz skillfully avoided making any direct suggestion that rate cuts are coming. Unsatisfied with these answers, other members of the audience asked the same rate cut question in different ways. Poloz held firm.
I remain bearish on the Canadian dollar with an ultimate target of 1.08 on USD/CAD. I have argued that the Canadian dollar's strength is hindering the export part of the economy. Poloz argued against this notion in the Q&A in response to a related question. Poloz claimed the bigger issue for Canadian exporters during the downturn was that businesses lost a lot of sales with the U.S. dramatically slowing down. Exporters started to look for other markets and were forced to get smaller. There are now 9000 fewer Canadian exporters, a 20% reduction. The losses in market share are likely to persist in the non-commodity sector.
Poloz added that when a company is ready to expand by buying new equipment, whether the Canadian dollar is up or down two cents does not matter. The business is making investments to get more efficient. He then went on to acknowledge that the currency DOES play into plans because changes in the exchange rate can quickly flow to the bottom line…"but it is not the most important thing."
On balance from these responses, I still think the Canadian dollar both needs to and will head lower in the "medium term" to support economic growth. Only a notable shift in Canada's exports away from the U.S. to, for example, Asian markets will change my assessment. In the meantime, I am looking for the next dip in USD/CAD to make a fresh trade...
Be careful out there!
Disclosure: I have no positions in any stocks mentioned, and no plans to initiate any positions within the next 72 hours. I wrote this article myself, and it expresses my own opinions. I am not receiving compensation for it (other than from Seeking Alpha). I have no business relationship with any company whose stock is mentioned in this article.
Additional disclosure: I may re-establish a long USD/CAD position at anytime in the near future.