I feel like I'm very vocal about stocks I believe in and those I don't. When that feeling becomes strong enough, I take a bigger, long-term position, which I call long-term speculative picks. What makes a good pick? In my opinion, the top 2 things are:
Significant upside
Very limited downside
Simple? In a way yes. But stocks that fill that criteria are rare. I personally follow the tech stock sector and have only acted twice in the past 2 years (Facebook (NASDAQ:FB) in 2012 and Apple (NASDAQ:AAPL) this year). I've made the case for Apple several times but I was told that I didn't explain myself enough. I think I usually discuss the upside part in-depth as Apple continues to work on new product categories (TV, watches, etc) and even one success on a new product could have a significant impact on Apple's value.
What I might not have explained so well is why I believe Apple has so little downside. Yes, that is true even at current levels, but was obviously more the case when I took my position a few months ago.
Not only about new products
If we had to look at more pessimistic scenarios, I think it's fair to say that we'd assume little to no success in terms of future products. Apple would be left with its current crop. The fact is that Apple's main products continue to be in fast growing markets (tablets, phones, etc), which means that even if Apple ends up losing some market share, sales will continue growing at a steady pace.
Apple's current P/E
Apple currently trades at a P/E of 13 or so. If you look at sales and earnings growth in recent years, you'll see that it's unlikely to go much lower.
Microsoft (NASDAQ:MSFT) is trading at a nearly identical P/E ratio despite the fact that it is obviously a much more mature company. We all know PC sales are declining, so how can anyone justify having those 2 names at the same pricing. Apple made that fact obvious this week when it announced it would no longer be charging for its software (O/S or iwork suite). Microsoft's 2 main products (Windows Operating system and Microsoft Office software) now compete against free alternatives from Google (NASDAQ:GOOG) and Apple. So yes, I'd much rather be in Apple's shoes, selling hardware in fast growing markets, than trying to compete with free.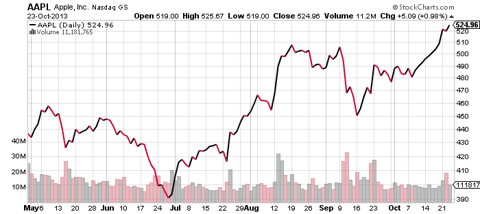 Apple = iPhone
It's easy to think about Apple as a company that produces all kinds of different products. The fact though is that Apple is not about iPods, macbooks, etc. Apple's revenues, users and profits are almost exclusively from iPhone sales. Just look at this chart if you're not quite sure: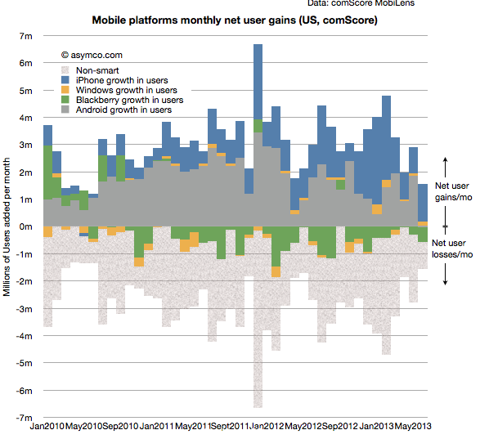 Other businesses such as iTunes (which now generates billions in revenues) are closely related to the state of the iPhone, so in many ways, it's all about making sure the iPhone remains the top selling phone on the market.
iPhone Remains Dominant
For all the talk about the lack of innovation in iPhone products, the surge of Android, Samsung (OTC:SSNLF) and others. Apple's iPhone is still doing extremely well. Its launches are miles ahead of the competition, it remains the top phone in the U.S. and is selling an increasing number of devices every year.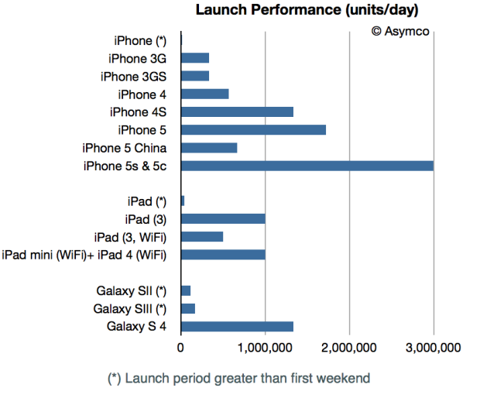 image credit: asymco
Why? A big part is the fact that apps are simply better on iOS. Why? Because many developers only work on iOS and because that is where they make their money. Here are 2 interesting articles that discuss these facts:
I'd actually argue that the iPhone franchise remains dominant and while there is a risk of decline actually, it would take time and the risk seems relatively small. So no, I can't imagine Apple's revenues or profits declining anytime soon. I personally think the downside risk of owning Apple, even at its current price remains very small.