It seems we are reminded on a daily basis how strange this stock market can be. A simple comparison between two names can make you scratch your head and scream out "REALLY?". Such is the case with Amazon (NASDAQ:AMZN), the online retail giant. Another quarter has passed, one where the results were not that great, but yet the stock has hit a new all time high. Yes, a company that has produced $34 million in profits through 9 months this year, and actually lost money in 2012, has a market cap of $166 billion. You might not believe this, but through the first 9 months of this year, Netflix (NASDAQ:NFLX) nearly doubled up Amazon in terms of profits, and we all know the Netflix story. Today, I'll break down the latest Amazon results, analyze some key business changes, and show why bigger isn't always better.
Third quarter results overview:
On Thursday afternoon, Amazon reported its fiscal third quarter results. On the top line, the company reported revenues of $17.09 billion, which beat analyst estimates for $16.76 billion. To be fair, estimates had come down since Amazon's Q2 report, but even at that time, analysts were calling for $16.98 billion. The revenue number is interesting. SA contributor Paulo Santos points out that an accounting change could have led to a nearly $670 million boost to revenues. A boost of that size would definitely have helped Amazon to beat on the revenue front. As Paulo also points out, Amazon didn't exactly give a number when asked about this on the conference call.
On an earnings per share front, Amazon came in at a loss of 9 cents, which matched analyst estimates. However, when Amazon reported Q2, analyst estimates were for a 9 cent profit. Amazon did have a tax benefit in the quarter, and this was an improvement from last year's Q3 which saw a 60 cent loss.
Breaking down some key numbers:
The income statement is something that it really interesting to analyze. Amazon reported an overall increase of 23.80% for revenues, and I'm not excluding anything from that. On the gross margin side, Amazon reported a 239 basis point increase in Q3 over the year-ago period. Those gross margins were down about 97 basis points from Q2 2013 levels, which Paulo Santos noted would be expected if an accounting change of the above mentioned size did happen.
But any gains Amazon gained on the gross margin side were quickly eliminated on the operating side. The numbers below are the percentage increases in year over year expenses for operating expense lines. Remember, revenues were up by 23.80% and gross margin dollars were up by 35.53%.
Fulfillment expenses up by 34.70%.
Marketing expenses up by 28.52%.
Technology and content expenses up by 45.47%.
General and Administrative expenses up by 20.87%.
Overall, Amazon had an operating loss of $25 million, which actually was a slight improvement from the $28 million loss in the year-ago period. It's still terrible though for a company with more than $17 billion in quarterly revenues. Additionally, even though operating margins were up year over year, the four month trailing figure declined, as you can see in the chart below.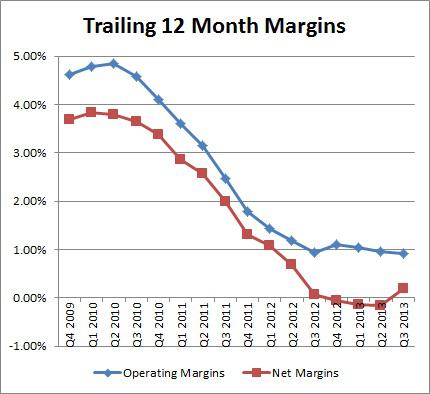 Over the last four quarters, Amazon has an operating margin (weighted average, not straight quarterly average) of 0.91%. To put that in perspective, it means that for every $10.00 of revenues the company has, its operating profit is about 9 cents. Net margins have rebounded, but still barely show a profit. I had the perfect back and forth with fellow SA contributor J Mintzmyer about this situation.
Bill: Everyone picks on NFLX, but NFLX has nearly doubled AMZN profits through the first 9 months of the year.

J: I can run faster than my obese neighbor, sign me up for the 400M Olympic trials!

Bill: And I used to be able to run a sub 5 minute mile...
That sums up this situation perfectly. Netflix made nearly twice as much ($64 million) in its first nine months as Amazon did in its first nine ($34 million). However, that doesn't mean that Netflix is a profit machine, which goes to J's comment about signing up for the Olympics. It really shows how bad Amazon is. My following comment is perfect too, as what happened in the past is not relevant to now. In Q3 of 2009, Amazon had an operating margin of 4.61% and a net profit margin of 3.65%. But that was then, as Amazon is now losing money on both of those fronts. For all of those who say this is just an "investment in the future" type business, that Amazon is actually quite profitable, let me know when Amazon's yearly (or 2, 3, or 4 year) profits get to the level Apple (NASDAQ:AAPL) does in a quarter. Think about it this way. Since the beginning of 2009, Amazon's total net income is about $2.7 billion. In its worst quarter this fiscal year (not counting Monday's upcoming report), Apple's net income was $6.9 billion. Basically, Apple's average quarterly profit for the year is about three times what Amazon has done from 2009 to 2013.
Guidance update:
Amazon provided the following headline guidance for Q4:
Net sales are expected to be between $23.5 billion and $26.5 billion, or to grow between 10% and 25% compared with fourth quarter 2012.
Operating income (loss) is expected to be between $(500) million and $500 million, compared to $405 million in fourth quarter 2012.
As was the norm with Amazon, this guidance was a little disappointing. The $25 billion revenue midpoint was almost a billion below the $25.89 billion analysts were looking for. The operating income guidance is very wide, with a midpoint of zero. Amazon had an operating profit of more than $400 million in Q4 last year, but just a 21 cent profit. Going into the Q3 report, analysts were expecting a profit of 72 cents.
Strangely enough, analyst estimates for Q4 revenues have actually risen since Thursday's report. As of Sunday, analysts were expecting $26.01 billion. Earnings per share estimates have come down by three cents to $0.69. Given the wide range for operating profit guidance, I would expect earnings estimates to be volatile, and I wouldn't be surprised if they drop over the next couple of weeks. Just remember that when Amazon reported Q4 2012 results back in January, analyst estimates called for $79.28 billion in revenues and EPS of $1.70 in 2013. Those numbers are now at $74.88 billion and $0.77, respectively. Since that date, the stock has gone from $260 to $363.
Balance sheet update:
Amazon had about $7.7 billion in cash and short term investments at the end of Q3, and that was up from $5.25 billion at the end of last year's Q3 period. That looks like solid growth, but Amazon also added $3 billion in long term debt over that time. Additionally, while Amazon's working capital has gone from $513 million to $1.2 billion over that time, the current ratio has only increased slightly from 1.04 to 1.07.
The more interesting ratio is one those of us in accounting call the debt ratio. It's also known as the liabilities to assets ratio. Amazon's debt ratio has been rising for a few years now, but it is hard to look at it quarter to quarter, since this is a seasonal business. The year to year numbers are definitely increasing, but in my past Amazon articles, I've tracked this a different way. I've done a four quarter rolling average, and the chart below shows the pattern.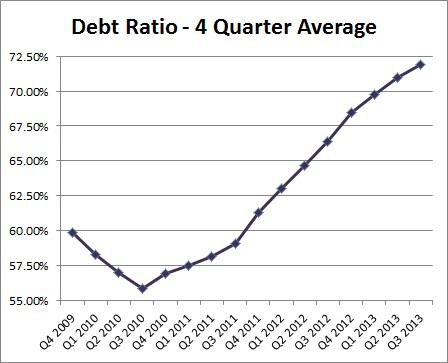 A couple of years ago, Amazon's assets were funded by about 56% to 58% liabilities. Now, that number is up to about 72%, and as you can see from the chart, it's going higher each quarter. As Amazon spends on fulfillment centers, content for Prime, and other items, it's becoming more dependent on liabilities, and you saw above the $3 billion in debt. Even though Amazon may be slowing some spending down, the balance sheet is clearly getting weaker. Amazon's financial flexibility is coming down a bit. Now, they are not in any sort of trouble in the moment, and I must make that clear. But let's say Amazon wants to issue some more debt. A weaker balance sheet could mean a lower credit rating on the bonds, and it probably will mean investors demand a higher spread (to treasuries).
It may not seem like much if Amazon has to pay say 25 basis points or more than it might have had to given the balance sheet's condition a few quarters earlier (ignore higher rates for this argument). But for every billion dollars of debt, 25 basis points is another $2.5 million in interest costs. That doesn't seem like much for a $75 billion revenue company, but if you look at the income statement, it is by the time you get down to the interest expense line! Amazon's interest expenses in Q3 2013 were $36 million as opposed to $22 million in Q3 last year. That's more than a 50% increase, and the extra $14 million hurt.
Valuation comparison:
For those that have read my past Amazon articles, you know that I like to value Amazon on a price to sales basis. With this name being more of a retailer and having no (or negative) earnings, this metric just seems better. Here is a price to sales comparison for Amazon, compared to Apple, Netflix, Best Buy (NYSE:BBY), and Wal-Mart (NYSE:WMT). These price to sales numbers are based on each name's current fiscal year and next one.

*For Apple, the 2013 year above is the fiscal year that ends in September 2013. For Wal-Mart and Best-Buy, the 2013 year is the one that ends in January 2014.
The four names' (ex-Amazon) average is 2.02 for 2013 and 1.80 for 2014. That basically means Amazon is about 10% overvalued on this year's number and 1% overvalued on next year's. This year's premium basically all came on Friday, when the stock was up more than 9.4%. There are a couple of key questions to ask when it comes to Amazon's revenues that will have a great impact on Amazon going forward:
The accounting change. How much does it increase revenues?
What will the impact of the free shipping limit from $25 orders to $35 be? Obviously, it's better for Amazon to have three $40 orders than four $30 ones, but what if it comes to two $40 ones instead of three $40 ones?
Will Microsoft's (NASDAQ:MSFT) improved Surface line and the new iPad line take down Amazon's tablet offering?
Will an increasing number of states where Amazon now has to charge sales tax hurt revenues?
When it comes to the names above, I think that Apple and Netflix will beat 2014 current estimates. However, I have a hard time seeing Amazon meeting the current estimate for more than $91 billion in revenues. I showed above how 2013 estimates have come down tremendously to this point. For that reason, I am arguing that Amazon is worth 1.75 times 2014 revenues, which I'll currently put at $90 billion. That gives me a fair value of $157.5 billion for Amazon, or about $345 a share. That's up a bit from my previous valuation, which I think more reflects the QE-boosted market than Amazon's results.
So how do you play Amazon? Well, I've not been one to argue a long term short play. I've been suggesting that you short Amazon, but if you make a quick profit, take it. The last two times I wrote on Amazon like this, there were $20 or $25 drops to take advantage of. That's the way to play this name, but don't get greedy if you get a quick profit.
Final thoughts:
Amazon beat revenue estimates, but it may have been due to an accounting change. The $17 billion revenue quarter wasn't enough to help the company make a profit, one of the strangest things in our market today. Amazon's operating margins are still coming down, and the balance sheet continues to get worse. The stock looks a bit overvalued, so a short position is probably warranted. However, I would probably wait until the next leg of the rally. This is because I wouldn't be surprised if a few more analyst price target hikes get this stock into the $375 to $400 range. Amazon will come down at some point, but if you make a quick profit, don't get greedy!
Disclosure: I have no positions in any stocks mentioned, but may initiate a long position in AAPL over the next 72 hours. I wrote this article myself, and it expresses my own opinions. I am not receiving compensation for it (other than from Seeking Alpha). I have no business relationship with any company whose stock is mentioned in this article.
Additional disclosure: Investors are always reminded that before making any investment, you should do your own proper due diligence on any name directly or indirectly mentioned in this article. Investors should also consider seeking advice from a broker or financial adviser before making any investment decisions. Any material in this article should be considered general information, and not relied on as a formal investment recommendation.