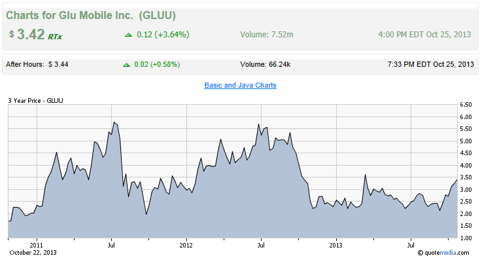 If you assumed that the recent rise in Glu Mobile's (NASDAQ:GLUU) share price and the flurry of analysts' upgrades stems from the successful release of Deer Hunter 2014, you are most likely focusing on an event and not the larger story that is unfolding inside Glu Mobile. Events come and go. Game downloads rise and fall. Stock prices pop and drop; but tangible, sustainable, growing revenue streams flow from a company's infrastructure and the business model implemented by management.
Understanding Causation
Success comes by design, not by chance. If we can identify and understand the cause of success, there is a strong likelihood we can duplicate its effect(s) over and over.
In the case of Glu Mobile's positive momentum, the cause is not the release of Deer Hunter 2014, although it plays an invaluable role, but the key elements of management's monetization strategy. The game is the vehicle through which success is manifested. It is not the cause of success, but only the outward visible effect of the underlying strategy. The real success is in Glu's new monetization strategy, games-as-a-service, aka "GluOn." CEO Niccolo De Masi explains:
Glu's solid execution and application of the company's recently developed games-as-a-service and monetization strategies are key drivers of Deer Hunter 2014's success.
In a previous article, Glue Mobile: The Story Behind The Vision, I explained in detail the "four pillars for success." It is the successful execution of these four pillars, "GluOn," that are the "key drivers" responsible for today's success. This success is the result of close to a year's research and development of "GluOn," and I am not surprised by flurry of recent upgrades because they were expected.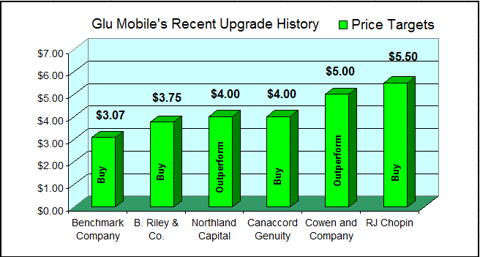 Understanding The Effects
The record breaking release of Deer Hunter 2014 has many thinking that Glu has achieved another hit game. But when you understand the "cause" and "effects," you will conclude that it's not just a winning game investors are celebrating, but a winning, lucrative, monetization strategy that is driving these new revenues and record breaking stats. Here are the recent effects of "GluOn's" winning strategy for Deer Hunter 2014 (source):
Over 5 million downloads in first 7 days of global release
Over 1 million global downloads in a single day from a single Glu title
Reached #7 U.S. App Store Top Grossing chart position for iPhoneSingle-day Glu record of gameplay sessions (18M+)
Single-day record for global revenues from a single Glu title
#1 Top Free App ranking in 19 countries
#1 Top Free Game ranking in 78 countries
De Masi's following comments help investors understand the difference between an event and a sustainable pattern of success:
We believe we are just scratching the surface of the organization's performance potential and look forward to launching a strong portfolio of titles in Q4 and beyond.
The chart below is from July 2013 and indicates a "Target Sell" of $4.50 with a "Second Breakout or Sell" at $5.60 sometime around January 2014. However, Glu's recent success may prove these estimates too conservative. Therefore, I am raising my "target sell" to $5.50 in January 2014.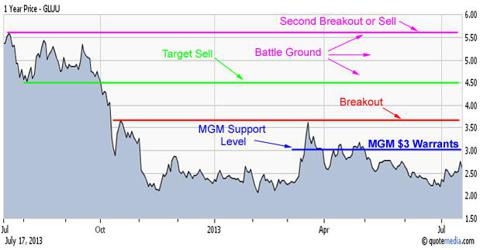 Financials
During Glu's Q2 conference call, Glu's CFO, Eric Ludwig, noted that he expected Glu to finish Q3 with about $11.5 million in cash. But since then the company has added $14 million cash from the sale of common stock. This will give Glu all the flexibility needed to complete the "GluOn" transition.
Now that Glu's shares are trading north of $3.00, investors can anticipate an additional $10 million cash from the MGM Interactive warrants deal that I told you about in a July article on Glu Mobile and MGM Interactive.
On Wednesday, October 30, 2013, Glu Mobile will release their Q3 financials and host the Q3 conference call at 4:30 EST. Anyone with a truly analytical mind has to be thinking that the recent flurry of "BUY" ratings, just ahead of Glu's Q3 financial release and conference call, is a very positive indication of good things to come. There are just too many upgrades to ignore or believe otherwise.
Glu Mobile is a leading global developer and publisher of free-to-play games for smartphone and tablet devices.
Disclosure: I am long GLUU. I wrote this article myself, and it expresses my own opinions. I am not receiving compensation for it (other than from Seeking Alpha). I have no business relationship with any company whose stock is mentioned in this article.