While some people may consider 3D-printing a fad, others consider it a piece of technology that will soon be as essential as normal printers are to our lives today. 3D Systems (NYSE:DDD) is the poster-child of the field and has quickly become one of the prime movers of the 3D-printing industry. In recent quarters, DDD has seen immense growths in both revenue and earnings, with analysts attributing that success to the growing consumer and commercial interest in 3D-printing, though DDD did disappoint investors in Q2 with low earnings. For this quarter, analysts predict that DDD will continue to grow. However, obstacles loom in the horizon as Hewlett-Packard (NYSE:HPQ) has announced an entrance into the 3D-printing frontier in 2014.
3D Systems is expected to report FQ3 2013 earnings on October 29th before the market open. The information below is derived from data submitted to the Estimize platform by a set of Buy Side and Independent analyst contributors.
The current Wall Street consensus expectation is for DDD to report $0.27 EPS and $12.962B revenue while the current Estimize consensus from 16 Buy Side and Independent contributing analysts is $0.29 EPS and $13.087B revenue. The magnitude of the difference between the Wall Street and Estimize consensus numbers often identifies opportunities to take advantage of expectations that may not have been priced into the market. In this case, we're seeing a greater differential between the Estimize and Wall Street numbers compared to previous quarters.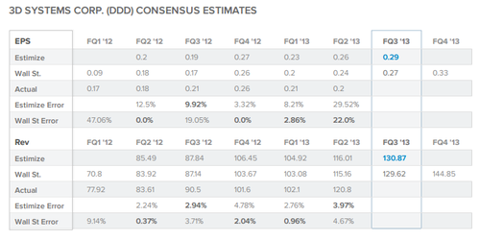 Over the past four months, the Wall Street consensus trend for EPS has risen from $0.24 to $0.27, while Wall Street revenue expectations have increased from $11.516B to $12.962B. The Estimize EPS and revenue consensus have surged throughout the quarter with EPS going from $0.26 to $0.29 and revenue decreasing from $11.601B to $13.087B.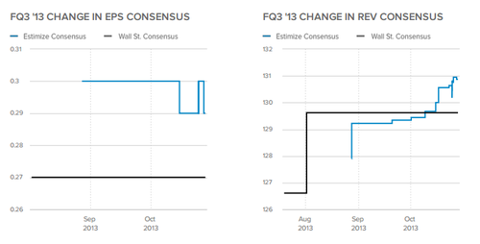 Over the previous 6 quarters, DDD has beaten the Wall Street consensus for EPS 4 times while beating the Wall Street Revenue consensus 5 times. Over the same time period, DDD has beaten the Estimize EPS consensus 6 times and the Estimize Revenue consensus 6 times.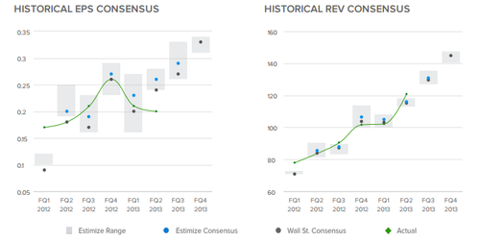 The distribution of estimates published by analysts on Estimize range from $0.26 to $0.33 EPS and $13.200B to $13.523B revenues. We're seeing a smaller distribution of estimates for DDD this quarter than normal. The size of the distribution of estimates relative to previous quarters often signals whether or not the market is confident that it has priced in the expected earnings already. A narrower distribution signaling the potential for greater volatility post earnings, a wider vice versa.
The analyst with the highest estimate confidence rating this quarter is Justin, who projects $0.29 EPS and $13.322B revenue. Estimate confidence ratings are calculated through algorithms developed by our deep quantitative research which looks at correlations between analyst track records and tendencies as they relate to future accuracy.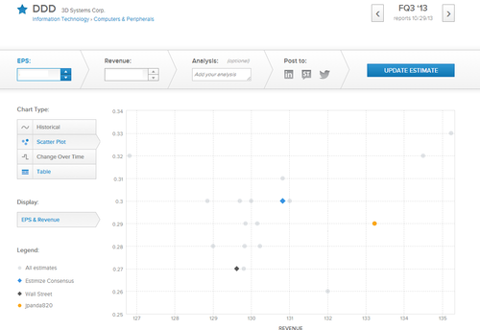 With profits increasing over the last four quarters, all analysts are watching if 3D Systems can continue to reproduce their success. However, recently HPQ has looked to growing its legacy operation of printing -- and to HPQ, the most logical direction to go is into 3D printing. Analysts are now watching to see in future quarters if HPQ's decision to enter the arena will have any real ramifications upon DDD and its future earnings.